Who on earth is Meghan Markle? Born and raised in Los Angeles, California, Meghan Markle studied theater and international studies. From 2011 to 2018, Meghan played paralegal Rachel Zane on the critically acclaimed legal drama, Suits. Then, as if out of nowhere, she announced she was to marry Prince Harry and retire from acting altogether. Not your average British Royal that's for sure, Meghan is a far cry from the usual Windsor princess. In fact, not only is Meghan older than Harry himself she is also American which goes against the traditional codes of the British Royal Family. And, that's not even the worst of it, Meghan is also, wait for it, a….divorcee. Not as scandalous as it was in the past, marrying a divorced American can still cause a stir in some circles. In fact, it was even suggested that the couple wouldn't be able to marry in the acclaimed Westminster Abbey (where older brother Prince William married teenage sweetheart Kate Middleton) due to their precious laws on marriage.
So who did she marry first? Meghan met producer and talent scout Trevor Engelson in 2004 and married him in 2011. The couple divorced no less than two years later and went their separate ways. The marriage ended in a no-fault divorce, citing irreconcilable differences with Markel sending her wedding and engagement rings back to her ex-husband by registered post. But surely there is more to say on the matter? So here are 15 secrets only Meghan Markle's ex-husband can expose about the future princess.
15

What Went Down On The Wedding Night
Meghan Markle met her first love, Trevor Engleson in 2004 and they were together for a lengthy six years, much longer than her and Prince Harry. In 2010, Trevor popped the question which led to their wedding on the 10th Septemeber 2011. Meghan had just turned 30 years old and expected the marriage to be her last. Little did she know that in a few years time she would be marrying the number one bachelor of the world, Prince Harry.
Meghan's wedding to Engelson was held at the Jamaica Inn in Ocho Rios, Jamaica and lasted for a whopping four days. The ceremony itself took place in front of 102 guests with guests wearing bikinis and bathings suits. With Meghan's wedding to Harry expected to be the complete opposite of what she experienced with Trevor, guests this time around will be expected to wear dresses and tuxedoes rather than beach wear. In fact, everything will be extremely different, with the British Royal wedding said to be not that much different from Harry's brother William's wedding to Kate Middleton in 2011. Yes, expect lots of formal attire, pompous affairs, and absolutely no bikinis or flip-flops.
14

The Real Reason Why They Got Divorced
For some reason, Meghan's divorce from movie producer Trevor Engelson has been shrouded in secrecy with Meghan saying nothing on the matter. For the English royal family, past relationships and divorces can be a touchy subject, so it's no wonder that Meghan is keeping quiet. So what really happened? Former friend Ninaki Priddy claims that Meghan was cold and calculating during the lead up to the divorce and "pulled the rug from under" her ex-husband.
Ninaki and Meghan had been friends since they were two years old, however, Ninaki claims they fell out after she disapproved of how Meghan handled her break up with Trevor, stating, "'It was such a shock when she told me they were getting divorced. After about three seasons of Suits, she called me and said she wanted me to know because it was going to come out in the papers." Ninaki, who was also the maid of honor at Meghan and Trevor's wedding in Jamaica, confessed, "What came to light after Trevor and I spoke ended my friendship with Meghan. I think everybody who knew them both was in shock." The court said otherwise as it was revealed that the pair had cited, "irreconcilable differences" as the main reason for their separating.
13

Meghan's Early Acting Career
Meghan Markle started her life in Hollywood on the popular game show, Deal or No Deal. Known as one of the "suitcase girls", Meghan was often pictured donned in a mini dress and 6-inch heels. Responsible for carrying and opening the metal briefcases that played a key role in the game, Meghan was a firm favorite with players. Meghan did not feel the same way and in a 2013 interview with Esquire, Meghan admitted that she took the role on the show in order to "make ends meet" while she was auditioning for other acting roles.
In fact, Meghan is often extremely evasive when discussing her life as a former game show girl and often attempts to change the subject when asked about her previous life and early acting jobs. Once, when asked about the show, Meghan confessed, "Working on Deal or No Deal was a learning experience, and it helped me to understand what I would rather be doing." Yep, Meghan most definitely wanted to act, but just not in quiz shows and who can blame her? Thankfully, the stint on Deal or No Deal didn't last long, and Meghan bagged the gig of a lifetime on popular comedy-drama, Suits, not long after.
12

Past Boyfriends 
Everyone has a past, just ask Prince Harry. That's right, Prince Harry has a long list of ex-girlfriends, including lawyer Chelsea Davy, who he dated on and off from 2004 to 2011 and model Cressida Bonas. But don't we all! Meghan is certainly no exception and has a few skeletons in her closet that she would probably like to forget. Rumored to have dated professional golfer Rory McIlroy in 2014, McIlroy initially helped Markle complete an Ice Bucket Challenge which was said to have trailed off into something more serious.
The pair were later spotted dining together on a few separate occasions and were said to appear cozy and close with one another. However, the fling was never confirmed and Meghan was later spotted with Candian chef Cory Vitello later that year. Sadly for Vitello, he was "the one" before "the one", with Meghan dumping him for Prince Harry in 2016. Later, it was revealed that Prince Harry had bombarded the actress with text messages after hearing that she had been "going through a tough time with her boyfriend." As soon as Meghan and Cory split, she agreed to go on a date with Prince Harry, and as they say, the rest is history. Nevertheless, we are sure ex-husband Trevor Engelson has a few stories he could share with regards to Meghan's previous lovers…
11

Married Life With The Engelson's
Trevor Engleson is surprisingly keeping a dignified silence, however, that's not to say that their relationship was kept private at the time. According to photographic evidence as well as reports from close friends and family, Trevor and Meghan's marriage was a happy one. They had a normal home life and would do normal husband and wife things such as go fishing, go shopping and watch television. When they first began dating, Engelson owned the production company, "Underground" and Meghan at the time was an aspiring actress. After they got married in 2011, the two set up shop in Los Angeles. However, once Meghan scooped up her career-defining role in Suits, she was forced to move to Toronto, Canada where the show was filmed.
This was said to have played a major part in their break up, with one source claiming, "It put a strain on the relationship. Trevor was in LA making movies, Meghan was in another country five hours' flight away and it simply took its toll." The two have stayed quiet on the matter, therefore the real reason for the divorce is unclear, but whatever the case the two seem better of apart.
10

Her Famous Friends
Meghan has a lot of famous and non-famous friends and even has some serious Hollywood connections. That's right, unlike Kate Middleton and Prince Harry's mother Princess Diana, Meghan was already used to rubbing shoulders with the Hollywood elite long before her Prince charming came along. Meghan is friends with such a wide range of people, it's crazy to think she might even be more famous than Prince Harry. Ok, well that's not true, but she is most definitely well known among her Hollywood and American peers.
From Barack Obama and Emma Watson to Larry King and Chrissy Teigen, Meghan is even friends with tennis legend, Serena Williams. The pair first met years and years ago while both attending the Super Bowl. Meghan asked the tennis ace for some pointers on how to handle fame. Serena Williams later recounted the story and said, "Her personality just shines, I told her, 'You've got to be who you are, Meghan. You can't hide.'" Serena's advice couldn't come at a more perfect time, with Meghan now likely to experience more than double the media interest than she's used to. That's what you get for marrying a Prince.
9

The Real Deal With Her Family
Meghan's family is just like any other messed up and crazy family, we all have to put up with it right? However, when you are in the public eye, family drama is not acceptable, especially if you are about to marry into the British Royal family. Meghan was raised by her mother (Doria) and father (Thomas) in Los Angeles. When Meghan was six years old her parents got divorced, with Thomas going on to have more children. Meghan is extremely close to her mother and was spotted with Doria at the Invictus Games (an event organized by Prince  Harry for injured veterans).
Harry and Doria are said to have a good relationship, with Harry even asking Doria's permission to marry her daughter during the Invictus games in which she attended and met Harry for the first time. In contrast, Meghan's relationship with her father is a little sketchy with Thomas behaving a little strangely during the build up to the Royal wedding, as well as the fact that he was involved in a staged set up which saw him being photographed in preparation for his daughter's big day. Thomas later backed out of the event and claimed that he did not want to embarrass his daughter on her big day. We are sure Trevor Engelson has a mountain of secrets under his sleeves with regards to this crazy family…
Featured Today
10 Times Kate And William Were Great Parents (10 Times They Dropped The Ball)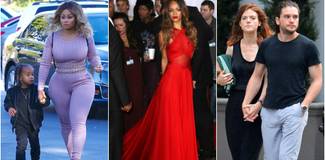 25 A-Listers Reveal Their Real Names (And It Totally Surprised Us)

10 Celebs Who Fit Their MCU Role (And 10 Who Clearly Don't)

8

Her Life As A Hollywood Actress
Although she may have left the Suits series behind, it doesn't mean that she's not still friends with her ex-co-stars. That's right, Gabriel Macht, Sarah Rafferty, Jacinda Barrett and on-screen boyfriend Patrick J. Adams has been extremely supportive with regards to her marriage to Prince Harry and the wedding itself, with Meghan leaving the show on good terms with all the cast and crew. However, before being cast as paralegal Rachel Zane, Meghan was still with ex-husband Trevor Engelson who was said to be jealous of Meghan's close relationships with her cast members.
Trevor was also irritated with the amount of time that Meghan spent in Toronto (where the show was filmed) and was said to "really battle with long distances." One source told reporters that, "it was a very difficult way to start married life" and that the whole show put a strain on their relationship. Although the pair did not divorce straight away, Meghan's friend and maid of honor, Ninaki Priddy claimed that Trevor made more of an effort than Meghan and that he embarked on many trips, "back and forth from LA and there was a lot of Skyping and FaceTiming going on." Nevertheless, the long distance eventually became too much, and the pair separated and divorced. With the reason for the divorce still unclear, it seems likely that this may have been a major part of the decision.
7

Her Childhood
Not only was Meghan's childhood completely different from Prince Harry's, she also grew up in the USA, a country so far removed from the stiff upper lip and reserved island of the United Kingdom. Meghan grew up in a small two bedroom, two bathroom Los Angeles apartment, a far cry from Prince Harry's multi-homed childhood and various humungous palaces. In fact, Meghan's home life as a child was just like anybody else's, with a childhood friend recently claiming, "Meghan had the most normal upbringing you could imagine – but we always knew she was destined for great things. Now she is set to live every girl's dream and become a princess by marrying Prince Harry."
After her parents got divorced, Meghan was raised by her mother, who was said to have done, "a great job raising her." Meghan was always interested in showbiz and wanted to become a star right from the very beginning, with her parents her biggest supporters. In fact, one friend told reporters, "We always knew she wanted more out of life. She was very driven and as an only child, she always wanted things to be just right and her way. She was always helping people, loved animals and was a very polite, well mannered little girl. She wasn't shy at all and was very outgoing and always chatting away. It is astonishing to think she's now one of the world's most famous and influential women."
6

The Difference Between Their Marriages 
Meghan's relationship with Prince Harry couldn't be any different from her first marriage to Trevor Engelson, with the relationship completely different in their own right. Meghan and Trevor seemingly took it slow in the beginning, with Meghan first meeting the Hollywood producer in 2004 and marrying 7 years later in 2011. In complete contrast, Meghan and Harry first met in 2016 only to announce their engagement one year later in November 2017, something usually unheard of within the British Royal family. In fact, Prince Harry and Meghan's whirlwind romance often shakes up the Royal tradition, with Meghan joining the Prince and his family for the Queen's Christmas in 2017.
Usually, those who are unmarried are not allowed to attend, however, Meghan was the exception with Queen Elizabeth II allowing her grandson to bring his girlfriend and celebrate amongst the Royal elite. In stark contrast, Meghan and Trevor took their relationship extremely slow, with even there wedding lasting a lengthy four days and what guests called, "one long party." Trevor is also 41 years old, a whopping five years older than Meghan herself, who at 36 years old is a whopping three years older than Prince Harry. Scandalous!
5

How They First Met
Meghan first met Trevor Engelson in 2004, although the circumstances of their meeting are still unclear. At the time, Meghan was low rate actress, earning money through small acting jobs or stints on Deal or No Deal. Trevor was a Hollywood producer as well as a talent agent, so it is likely that the two met through mutual friends or in and about the notorious Hollywood acting scene. Like most couples, the two began dating, moved in together and married, but eventually divorced.
However, Meghan's first meeting with Prince Harry couldn't be any more different. First set up through a mutual friend, Meghan told reporters, "I didn't know much about him, so the only thing that I had asked [our mutual friend] when she said that she wanted to set us up, was, 'Well is he nice?' Cause if he wasn't kind, it just didn't seem like it would make sense." The two met and immediately hit it off, with Meghan joining the sixth in line to the throne on a holiday to Botswana not long after. It was here where they fell in love, with Meghan's engagement ring sourced not far from where they stayed.
4

Her Love For Britain
Meghan Markle's romance with sixth in line to the British throne, Prince Harry, is something that would belong in a Hollywood movie. However, this time it's true, with Meghan set to become a real-life princess. More astoundingly, Meghan comes from a regular background with regular people, with a recently revealed photograph proving just how crazy the worldwide romance really is. That's right, taken when she was just 15 years old, the photograph shows Meghan sat outside Buckingham Palace with no idea that she would later return here 21 years later to marry a prince.
However, not everybody is on board, with Meghan's old school friend, Ninaki Priddy claiming, "I'm not shocked at all, It's like she has been planning this all her life. She gets exactly what she wants and Harry has fallen for her play. She was always fascinated by the Royal Family. She wants to be Princess Diana 2.0. She will play her role ably, but my advice to him is to tread cautiously." Whatever the case may be, you can't deny the romance, with Meghan proving that Hollywood movies do indeed come true… sometimes that it is.
3

Her Diva Antics
Samantha Markle (Meghan's half-sister) doesn't hold anything back when it comes to dissing her sister in public and has spoken out several times with regards to the romance of Meghan and Prince Harry. In fact, Samantha is even writing a book about it, with the book set to be called, "The Diary of Princess Pushy's Sister." That's right, Samantha is none too keen on her half-sibling and has labeled Meghan a diva as well as a social climber.
Samantha claims that Meghan has barely spoken to her since she was diagnosed with multiple sclerosis in 2008 and that, "Hollywood has changed her (Meghan). I think her ambition is to become a princess." Samantha also insinuated that marrying Prince Harry was Meghan's plan from the very beginning, stating "It was something she dreamed of as a girl when we watched the Royals on TV. She always preferred Harry — she has a soft spot for gingers." However, Meghan's stylist seemingly disagrees and recently revealed that Meghan was, "Super sweet and very down to earth. She never played the 'diva actress' card and was always unassuming and kind to everyone in the salon." Who do you believe?
2

Her Half Sister
It seems Samantha Markle just won't stop talking, when it comes to the subject of her half-sister, Meghan. That's right, often taped shooting her mouth off, Samantha has had some extremely unkind and negative things to say about Meghan. Samantha, who claims to have raised Meghan while their Dad was away working, was sensationally not invited to the Royal wedding and hasn't stopped talking about it since. In an interview, Samantha revealed, "There are some members of the family who have an air of entitlement about even a wedding invite, I don't understand why we didn't get one but I don't expect or demand one."
However, Samantha soon changed her mind and launched an attack on Meghan claiming that their father was left heartbroken after his recent heart attack and the fact that he could not attend the Royal wedding. Samantha claimed, "There was no actual contact from Meghan and she has not spoken with my father since the heart attack. He was upset. He wanted to go. But his doctor had the overruling opinion he needed surgery. So he's smart enough to know, 'This is life-threatening' it's all been so heartbreaking and now my father's in surgery." We are Trevor Engelson doesn't miss dealing with this crazy family.
1

Her Charity Work
When Meghan announced her engagement to Prince Harry she also revealed that she had quit acting in order to focus on philanthropy and various charitable organizations. In fact, Meghan is no stranger to charity work and has often used her platform as an actress to bring attention to the variety of different causes that she works with. When discussing her future intentions, Meghan recently said, "What's been really exciting, as we talk about this as the transition out of my career… is that the causes that have been very important to me, I can focus even more energy on."
Meghan's charity work first began at an early age and when she was just 11 years old she wrote to Hillary Clinton to complain about a demeaning soap advertisement that she had seen on television. Meghan received a reply and the soap company changed the wording in the commercial. Thankfully for her, Prince Harry is much the same, and often dedicates the majority of his time working with charities and organizations just like his late mother (Princess Diana) did before him.
Sources: People, CNN, VanityFair, Telegraph, TheSun, HelloMagazine
Source: Read Full Article