AceShowbiz -Drummer Joey Kramer has been forced to sit out a second Aerosmith show in Las Vegas after injuring his shoulder in a "minor accident."
The rocker missed Tuesday night's gig at the Park Theater and the group's management officials have broken the news that he'll also be unavailable for Friday's concert via the Las Vegas Review-Journal.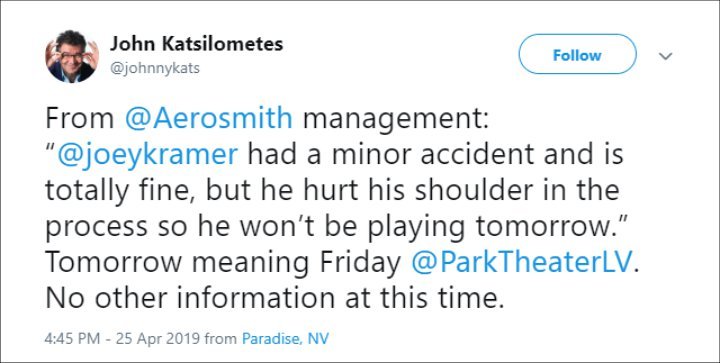 His drum tech, John Douglas, who replaced Joey on Tuesday, will sit in for him again.
Both shows are part of the band's Park MGM Deuces Are Wild residency.
Kramer last missed out on Aerosmith shows back in 2014 when he underwent an angioplasty for a hereditary heart issue. His son, Jesse, sat in for him at the time.
Aerosmith kicked off their "Deuces Are Wild" residency earlier this month and have another 27 shows in Sin City booked between now and the end of 2019. They also have "Deuces Are Wild" dates booked at MGM resorts in Maryland, New Jersey, and Massachusetts, as well as festival shows in July in Canada and Minnesota.
Source: Read Full Article