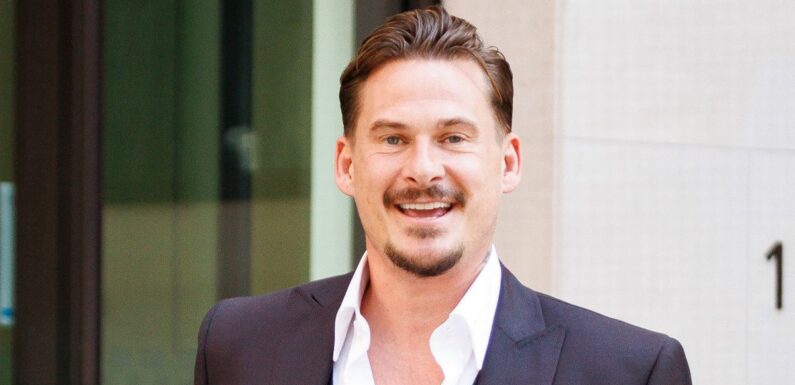 Lee Ryan has won his bid to withdraw his guilty plea after he was accused of "drunkenly assaulting a police officer" while being arrested for allegedly abusing a black flight attendant.
The former Blue singer, 39, pleaded guilty to biting a police officer back in January but on Tuesday (June 13) at Westminster Magistrates' Court, he claimed he only entered the guilty plea because of his solicitor Mike Rainford.
Ryan was allegedly "slurring his words and staggering around" after drinking a bottle of port before he boarded a flight from Glasgow to London in July last year, a hearing was told in January.
READ MORE: Lee Ryan guilty of drunken 'chocolate children' slur aimed at flight attendant
He was prohibited from having more booze on the flight and told to return to his seat before he allegedly made comments about attendant Leah Gordon's looks, calling her a "chocolate cookie" and grabbing her wrists.
When the singer arrived at the airport, police footage showed Ryan "snarling" and swearing after allegedly trying to bite PC Bryett as officers attempted to arrest him.
In January, Ryan was found guilty at Ealing Magistrates' Court of racially aggravated common assault by beating and behaving in an abusive way towards the cabin crew member.
On Tuesday (June 13), he said he was informed that it would be "unjust" for him not to be allowed to withdraw the guilty plea as his solicitor Mike Rainford "wasn't doing his job properly".
The singer told the court that his solicitor made he made him feel like he had "no choice" but to plead guilty after watching the video.
He said: "I asked him if there was more time because it felt so rushed, and he said there was no time.
"It had become very clear that he either didn't care or just wasn't prepared.
"I realised Mike wasn't great. He wasn't doing his job properly – there were warning signs," Lee told the court.
The Celebrity Big Brother star also stated that he was "being made to do it" and there was "no conviction".
Keima Payton, who is representing Ryan, said her client has autistic spectrum disorder and "slow processing skills" which has led to "impairments in understanding what is said to him", according to a psychological report.
She explained that text messages sent by Ryan on the day of the hearing showed he was made to feel like he "had to" plead guilty by Mr Rainford, "even though he (Pc Bryett) had me by the neck".
Giving evidence on Tuesday, Ryan said he initially chose not to plead guilty to assaulting a police officer at a hearing in November.
He also admitted to being drunk on an aircraft, saying: "I didn't do it. I didn't bite him. That's the reason why I pleaded not guilty."
A new hearing in July will decide whether or not Ryan will face a trial.
For more of the latest showbiz news from Daily Star, make sure you sign up to one of our newsletters here.
Source: Read Full Article