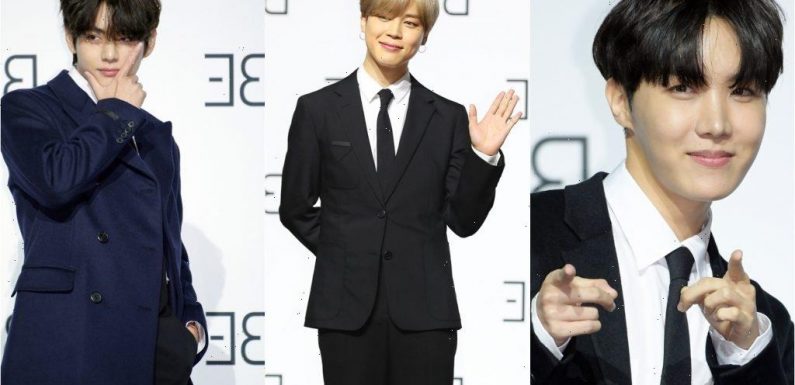 BTS will release their new single "Butter" on May 21. To build anticipation for the song, Big Hit Music is sharing multiple teasers in the weeks leading up to the single's release. On May 13, Big Hit Music published new concept photos for "Butter" featuring J-Hope, Jimin, and V of BTS.
BTS' teasers for 'Butter' are released in sub-units
Over the past few weeks, Big Hit Music has shared multiple teasers for BTS' new single "Butter." The first teaser was a concept poster and was shared on May 1.
Following the release of the teaser poster, concept clips of the individual BTS members were released on May 3, May 4, and May 5. Big Hit Music released RM and Jungkook's clips on May 3, Jin and Suga's clips were shared on May 4, and J-Hope, Jimin, and V's concept teasers were posted on May 5.
In the concept clips, the BTS members interacted with one item found on the teaser poster. Each concept clip featured similar blue and pink lighting and instrumental music. However, the music differed depending on the day it was released and which BTS members were featured in the clip.
Big Hit Music shared teaser photos of BTS members J-Hope, Jimin, and V
On May 9, Big Hit Music released the first teaser photo for BTS' song "Butter." The group teaser image features all seven members of BTS and is titled "Group Teaser Photo 1."
In the photo, Jin, Suga, J-Hope, RM, Jimin, V, and Jungkook wear sleek formal attire. Each of the members' looks is unique, and some of the members revealed new hair colors in the photo.
A press release described the teaser as a "charismatic teaser photo where each member is sporting suits and alluring charm of their own."
After the group photo was shared online, Big Hit Music released individual teaser photos following the same sub-unit pattern as the concept clips. Photos of RM and Jungkook were released on May 11, and Jin and Suga's teaser photos were shared on May 12.
Concept photos for J-Hope, Jimin, and V were released on social media on May 13. In the teaser images, the BTS members pose in the doorway of an elevator and wear the same outfits they wore in the group teaser.
V wears an orange suit and has dark hair in his teaser photo. Instead of looking at the camera, he shows off his profile by looking in front of him. For his "Butter" teaser image, J-Hope sports yellow hair and stares directly into the camera.
Jimin of BTS stands in the center of the elevator doorway with his hands in the pockets of his gray suit. By looking to the side, BTS fans get a better look at his hair that is dyed blonde with pink and blue highlights.
What we know about BTS' song 'Butter'
BTS announced the release of "Butter" with a livestream held on the BANGTANTV YouTube channel on April 26. After the song title was revealed, a press release about the single was sent to media.
According to the press release, "'Butter' is a dance pop track brimming with the smooth yet charismatic charm of BTS. This song is the second English single following 'Dynamite' released in August last year."
On May 16 at 11 a.m. EDT, BTS will release a teaser photo for "Butter" called "Teaser Photo 2." A music video teaser for "Butter" will be released on May 18 at 11 a.m. EDT.
"Butter" and its official music video will be released on May 21 at midnight EDT and 1 p.m. KST. On May 23, BTS will perform the song at the 2021 Billboard Music Awards.
Source: Read Full Article