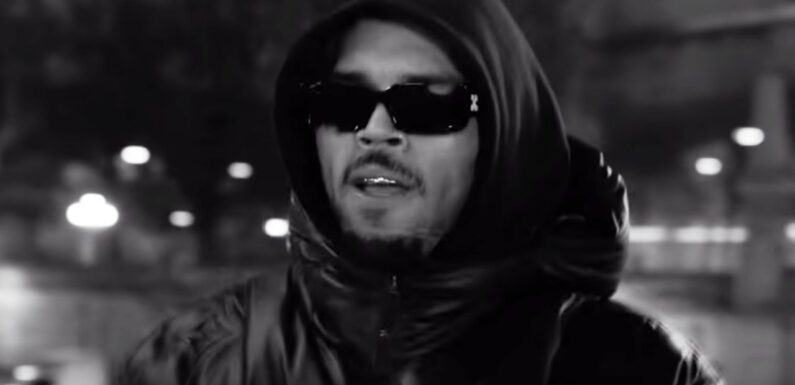 'Talm' Bout' appears on the deluxe edition of the RnB superstar's album 'Breezy', which was released on July 2022 and debuted at No. 4 on the Billboard 200 chart.
AceShowbiz –Chris Brown celebrated his birthday by giving a special offering to fans. As he turned 34 on Friday, May 5, the "Under the Influence" hitmaker unleashed the "Talm' Bout" music video.
In the black-and-white visuals, which was filmed during his European tour, the R&B crooner can be seen strolling around the streets of London and Paris at night. For the outfit, the singer keeps himself warm in a black puffer hoodie and pants. He finished off his style by wearing sunglasses.
On the track, CB raps about women who try to get close to him for fame and money. "Look at these b***hes on me/ F**k is you talkin' 'bout?/ B***hes on me and my homies/ Tryna get all the clout/ She just want the money like it's all free/ 'Cause I got a lot of racks on me," he spits.
"Talm' Bout" appears on the deluxe edition of his 2022's album "Breezy". The original version of the record, meanwhile, consists of 24 tracks in total and features guest appearances from Wizkid, Lil Wayne, Lil Durk, Bryson Tiller, Tory Lanez, H.E.R., Ella Mai, Blxst, and Jack Harlow.
"Breezy" was released in August and it debuted at No. 4 on the Billboard 200. However, in July, the ex-boyfriend of Rihanna fumed about the lack of support for the project. "JULY 8th breezy deluxe album. Not that is matters," he penned on Instagram Story. "SEEMS LIKE YALL ONLY INVEST IN THE NEGATIVE STORIES ABOUT ME."
"CHRIS GETS IN TROUBLE (THE WHOLE WORLD IS ON it)," CB went on arguing, before pointing out, "Chris drops album [a bunch of cricket emojis]." In a follow-up Story, he added, "I'm back on my gangsta s**t. It's BRACKIN at all Times."
You can share this post!
Source: Read Full Article