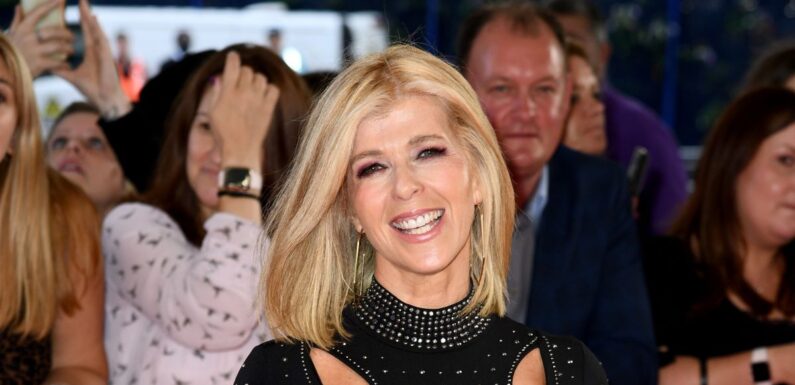 She is one of the most popular TV presenters on breakfast TV, known for her professional demeanour and impressive interview skills.
But away from the cameras, Kate Garraway lives quite a busy lifestyle bringing up her two children while caring for her seriously ill husband Derek Draper.
Luckily the happy couple have a strong relationship which has withstood some life-changing moments, which she has candidly opened up about on screen.
READ MORE: GMB presenter bursts into tears on air as Susanna Reid forced to comfort co-star
Over the years, the broadcaster has even given fans an insight into her sex life with her loving husband as she explained how the loved-up duo have remained so strong.
As the TV star celebrates her 56th birthday with a bang, Daily Star has taken a deep dive inside her raciest confessions.
Sex schedule
In 2018, the Good Morning Britain host revealed one of the ways she keeps the spark alive in her 18-years of marriage.
She previously told The Sun how the couple would regularly schedule sex into their weekly calendar which massively improved their relationship.
Kate explained: "When you've been in a relationship for a long time, the physical side of things can be very unspontaneous.
"So the idea is to schedule sex and force yourself to do it once a day and make it the focus of your diary."
The newsreader went on to reveal the pair even had a spreadsheet to note down their bedroom activities.
She went on: "We got very organised, and we created this space for intimacy," she confessed. "For women, sex only gets better as you get older, I think.
"When you're younger you want to be impressive, but when you get older, I think there's a different kind of intimacy."
Jealousy
Another way the dynamic duo keeps things exciting in their relationship is by playfully making each other jealous.
In a candid interview with New! Magazine, Kate admitted that she is open about finding other people attractive with her husband.
Speaking to New! Magazine, she confessed: "One thing that's maybe unusual in our relationship is that we are open about finding other people attractive.
"But maybe that's because, in my experience, the men who pretend to never look at other women tend to run off with them."
But she doesn't stop there, as the broadcaster explained that she likes to make her husband jealous from time to time.
She continued: "I also like making him a little jealous every now and again; reminding him that I am alive and someone might fancy me – especially as he knows I would never act on it.
"It's all part of the fun and humour that comes when you 'get' each other."
Naked husband
Sometimes her cheeky antics have got her into trouble while presenting Good Morning Britain after eagle-eyed viewers spotted her naked husband in the background of a live video report.
In 2019, the ITV host presenter rang into the show after she failed to wake up to present the morning breakfast programme.
In an attempt to apologise for the blunder, Kate frantically gave the presenters in the studio a call from her home in the early hours of the morning.
However, her plan soon fell into chaos when she was forced to frantically turn the camera away "to save everyone's blushes" when her naked husband Derek appeared.
She explained that Derek has "stormed down the stairs" thinking it was 2am to see what the commotion was.
Kate explained: "He woke up thinking, 'It's two in the morning, why has she woken the whole house up? She's selfish since being in that jungle.
"Stormed down the stairs without his glasses and naked saying, 'Be quiet, do you want to wake everyone up?'"
Joking that her husband "sleeps as nature intended" as her co-host Ben replied: "We thought you were being very discrete about it but on eagle-eyed viewers saw him reflected in the mirror."
Kate chuckled, adding: "I turned the camera away to save everyone's blushes."
Underwear blunder
That wasn't the only blunder the blonde bombshell suffered on the ITV show, after she accidentally confessed that she "leaves her knickers everywhere" around the studio in 2018.
Her cheeky quip came as former I'm a Celebrity… Get Me Out of Here star Iain Lee joined the pair on the show.
As he discussed his time in the jungle, the celebrity confessed he would often do everyone's laundry in the camp.
For more of the latest showbiz news from Daily Star, make sure you sign up to one of our newsletters here.
When speaking of how he helped out his campmate Jennie McAlpine, he explained: "I used to dry her knickers with a stick over the fire.
Iain then asked Ben Shephard if he would do the same for Kate's knickers to which she replied for him, saying: "He has no choice, I leave them everywhere."
Ben carried on the joke, adding: "Kate's big pants and I have an intimate relationship" before she reassured fans: "That's not what it sounds like."
READ NEXT:
GMB's Laura Tobin shares rare snap with daughter on red carpet at Take That premiere
Good Morning Britain presenter shake-up 'stunning' star returns to ITV screens
GMB fans swoon as Laura Tobin exposes legs in miniskirt for glam snap with co-stars
Source: Read Full Article