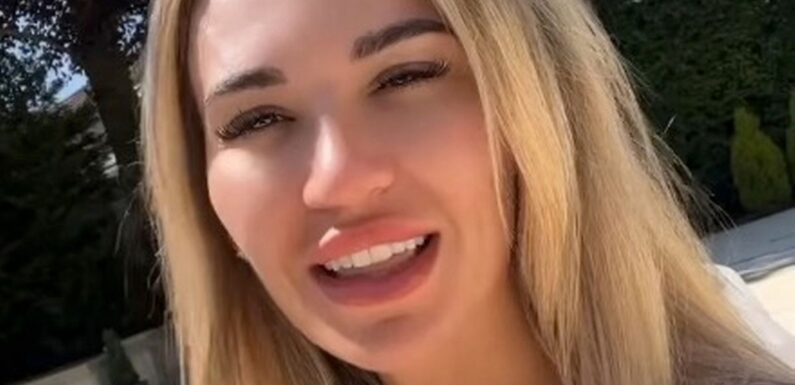 Christine McGuinness has issued an apology and offered an explanation for an unusual Instagram post.
The model caused a stir among her fans when she resurfaced from her "digital detox" and shared a selfie following some significant alterations to her appearance.
However, the former star of Real Housewives of Cheshire appeared on her Instagram story today (June 5), returning to her usual self as she sported a vibrant tie-dye pink bikini, basking in the sunlight.
READ MORE: Christine McGuinness speaks out on Duncan James dating rumours after 'naked' confession
She clarified that her digital detox was actually part of her involvement in the upcoming series of Celebrity Hunted, where, as a contestant, she had to surrender her phone.
To ease any concerns, the mother-of-three reassured her fans, stating: 'I've just participated in the latest series of Celebrity Hunted. I can't reveal too much at the moment, but I will share details as soon as I can."
Christine then addressed the controversial Instagram post, attributing it to the "cheeky hunters" from the show who had hacked into her account.
She explained: "They were the ones who posted THAT picture, you know the one, it's an AI image or something. But yeah, it wasn't me, so I apologize if that caused any confusion.
"It was a mischievous tactic to lure me online so they could determine my location, but I didn't fall for it."
The photo in question, which has since been deleted, depicted Christine with striking alterations to her appearance, including oversized, asymmetrical lips, enhanced cheeks, and exaggerated makeup.
The caption accompanying the image read: "Just been to Golden Modification Aesthetics, thanks for the great work!"
Concerned fans flooded the comments, pleading with the Blackpool native to reverse the procedures and even suggesting she "get a refund."
The star continued her bikini-clad clip, expressing her enjoyment of her time away from social media.
She shared, "I've truly appreciated the digital detox, but now I have a lot of catching up to do with my family and friends.
"I'm just going to take a bit of rest and relaxation. I hope you're all doing well, and I'll be back online soon!"
True to her word, Christine posted another clip mere minutes later, saying: "Just a quick update! While I was away, I had the incredible honor of winning a Guinness World Record, which I'm extremely proud of.
"Additionally, I received a nomination for an NTA. Unfortunately, the voting period had already closed, and since I didn't have my phone, I couldn't ask anyone to vote for me.
"Hopefully, I'll make it onto the shortlist, and then I'll be able to share the link here."
Source: Read Full Article