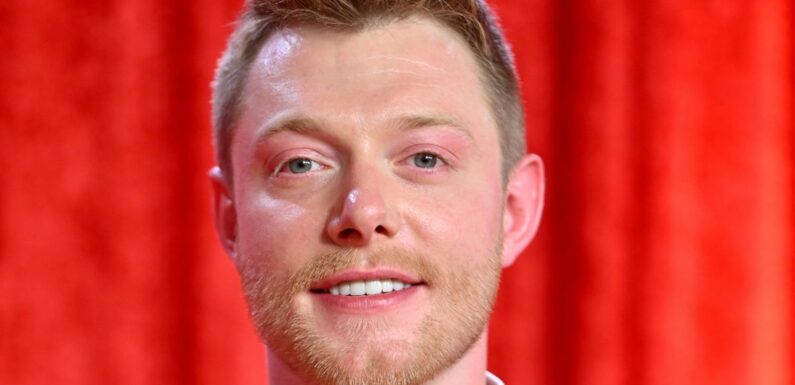 Coronation Street heartthrob Rob Mallard has begged his mystery admirer to reveal their name after years of sending him creepy love letters.
Over the past few weeks, ITV fans have been glued to their screens as have been glued to their screens as Daisy Midgeley and Ryan Connor continue to grow close following the fallout of Justin Rutherford's horrific acid attack last month.
Loyal viewers will remember the barmaid has been catfishing her former flame for several weeks while pretending to be his ex-girlfriend, Crystal.
READ MORE: Corrie's Tina O'Brien unveils jaw-dropping figure in skimpy gymwear for steamy workout
Things quickly came to a head when the pair locked lips just after Justin was sentenced to life behind bars, completely unbeknownst to her fiancé Daniel.
Now, it appears as though there may be a new love interest on the scene after the actor shared his mysterious love letters exclusively with Daily Star at the British Soap Awards.
When asked if he had ever been given any gifts from fans throughout his career, Rob revealed that he actually had a secret admirer who sends him a Valentine's card every year.
He told us: "I get a Valentine's card from the same person every year, they don't put their name in it but I know it's the same person.
"You know when you're a kid and you write something out and you write over it eight or nine times to the point where it looks like it's been written over eight or nine times?
"It comes to me every year in the same style handwriting in the office and I don't know who it is."
It was at this point that the actor pleaded with his mysterious admirer to include their name in their next letter to the studio.
Rob begged: "Whoever it is who's doing it, can you put your name it please because it's driving me mad."
It comes after the actor shared his hopes for his character's future with Daisy following her kiss with Ryan.
The soap star reassured fans that will still tie the knot later down the line but it wouldn't be a smooth journey ahead.
For more of the latest showbiz and TV news from the Daily Star, make sure you sign up to one of our newsletters here.
When asked if they would still tie the knot, Rob revealed: "I think so, yes eventually. I don't think it'll happen any time soon though because characters don't give drama.
"And I think Daniel and Daisy, their personalities are so different that when they clash, they really clash so I'm hoping that we'll get to play a bit more of the conflict before the wedding."
Source: Read Full Article