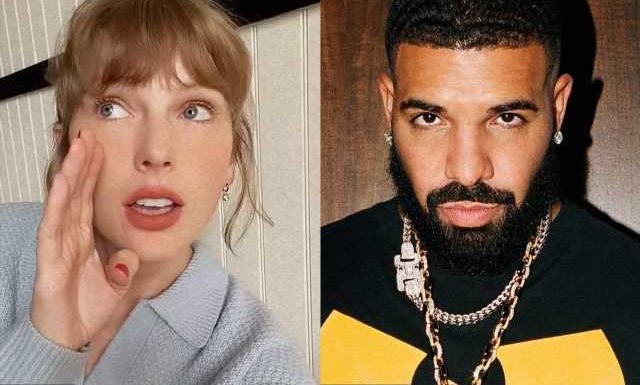 The 'Certified Lover Boy' artist reportedly shares the throwback photo that sees him cozying up to the 'All Too Well' songstress without any 'hidden message.'
AceShowbiz –Drake and Taylor Swift are reportedly not going to release any music together. If a report is to be believed, the musicians have no upcoming collaboration despite their controversial throwback photo.
Sources spilled to TMZ in an article published on Tuesday, April 19, hours after the "Certified Lover Boy" sent the Internet into frenzy by sharing the said picture, that "there is no collab" between them that's about to be released. It's also reported that the image "is just a throwback photo with no hidden message."
"Our sources say there's nothing behind the pic other than memories …" the outlet reported. It's later stated that "the photo with T-Swift is from a few years ago, sometime in 2017 or 2018."
Rumors of Drake and Taylor teasing fans about their alleged collaboration swirl after the 35-year-old Canadian rapper posted the photo in question on his Instagram page on Monday night, April 18. In the snap, he was seen wrapping his arms around the "All Too Well" hitmaker, who held on affectionately. Both the musicians flashed smiles to the camera. "They too soft to understand the meaning of hard work," he captioned his post.
Fans have since speculated that Drake and Taylor have something up their sleeves. "The world needs a drake and Taylor swift song at this point," one person commented, while another believed that "Drake wouldn't randomly post a photo with Taylor Swift just like that… Looks like the collaboration is really coming."
Others, in the meantime, insisted that Drake will be featured on Taylor's upcoming re-recording of her 2014 album, "1989". One user wrote, "Remember there were rumors about Drake x Taylor Swift during the 1989 era? What if the song is in the vault tracks?"
"He posted this as the 5th photo and 1989 is her 5th album and she has a 1989 era haircut!!" someone else opined. A separate person, on the other hand, declared, "1989 TV [Taylor's Version] IS COMING WITH A DRAKE COLLAB!!"
Back in 2016, Drake and Taylor were also rumored to have a collaboration after they were caught hanging out together in the studio. An insider told The Sun at the time that the "Love Story" hitmaker had enlisted Drizzy to assist her sixth studio album and claimed the OVO boss had even recorded vocals for at least one cut.
"Drake has been her friend for a while and it seemed a no-brainer that she would spend time in the studio with him," the source shared. "As well as writing with Taylor, he's producing a few tracks and even lent his vocals to one song. It's a real mix of edgier hip-hop and R&B sounds."
Source: Read Full Article