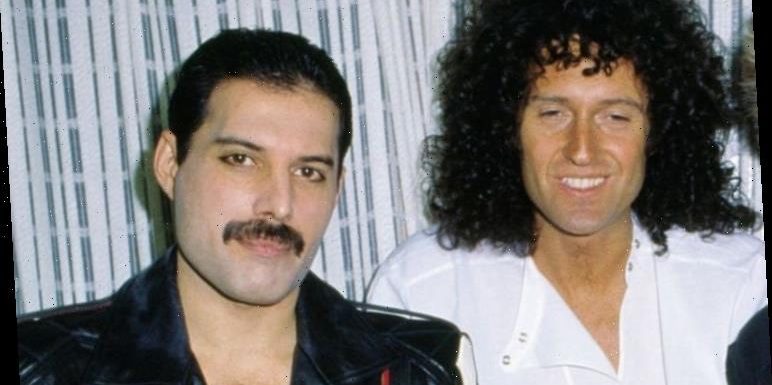 Queen perform Bohemian Rhapsody at Live Aid in 1985
This year will mark the fortieth anniversary of Freddie's death. It seems hard to believe the star has been gone for so many years when his legend and his presence still burn so brightly. Along with Roger Taylor, Brian May has gone on to revive Queen for a modern audience with the movie Bohemian Rhapsody and the band's new incarnation with new frontman Adam lambert. But he still frequently pays tribute to his much-missed friend and bandmate, including with a recent heartfelt post.
Brain posted an emotional image of himself and Freddie embracing.
He also spoke of the struggles of anyone who tries to create art, including his own.
He said: "If you're feeling you're no good today, or that you're not noticed, just remember that we ALL get these feelings. Me included, for sure. We just have to believe in the shadows that the light will come. And you can believe I personally appreciate ALL of you who create with love for me."
DON'T MISS: Freddie Mercury and John Deacon's beautiful friendship 'They needed each other'
We will use your email address only for sending you newsletters. Please see our Privacy Notice for details of your data protection rights.
Speaking of art, Brian was sharing images created by an artist "who has made me smile again and again this year."
The Queen star posted nine pieces of art by Marilyn Chaparro and one video, all showing himself. Two also include moving depictions of Brian reunited with Freddie.
The pictures all include references to Brian's twin passions for the stars and stereoscopic photography.
One whimsical image shows him and Freddie embracing against a spectacular star-filled sky while in another they are performing together sitting on two planets.
Brian added: "Marilyn Chaparro makes magic – and this little gallery is only the tip of the iceberg.
"This is a thank you from me for honouring me in making me the focus of some of your lovely work."
Another of the Queen icon's great passions is the conservation of wildlife and he kicked off the year by launching a new fragrance to raise funds for endangered creatures in the British countryside.
DON'T MISS
Brian May's favourite Freddie Mercury songs are unexpected
Freddie Mercury explained why he left everything to Mary
Freddie Mercury: Mother Jer remembers heartbreaking last time together
Over the past few days, Brian has been promoting SAVE ME, a bespoke fragrance created by Sergio Momo from Xerjoff.
Brian says it is perfect, "If you want to smell like the British countryside."
FREDDIE MERCURY ARTWORK BY MARILYN CHAPARRO: CLICK HERE
MORE INFO ABOUT THE NEW FRAGRANCE SAVE ME: CLICK HERE
Source: Read Full Article