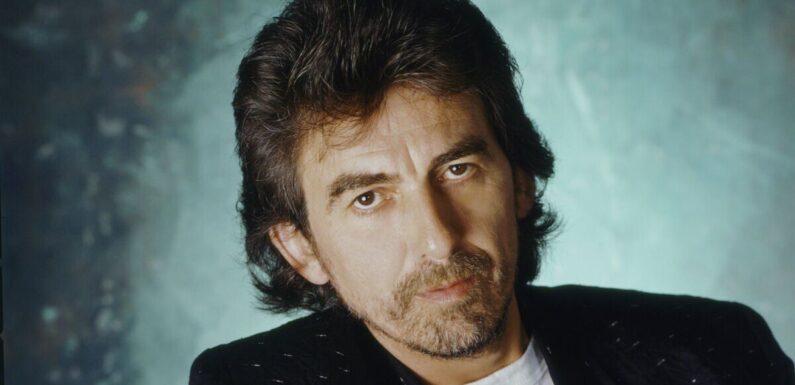 Michael Jackson and George Harrison discuss music in 1979
The Beatles released their penultimate album, Abbey Road, in 1969, and it has widely been recognised as one of their best works.
Included in the record – aside from such classics as Come Together and Here Comes The Sun – was Something, one of George Harrison's best-loved songs.
The tender track was written as a love letter to Harrison's first wife, Pattie Boyd. But its origins come directly from another song from American star James Taylor.
He remembered recording his own album while the Fab Four were very close: "I was making my first album at Trident Studios in London, just as the Beatles were recording the White Album nearby. I realised how lucky I was to be listening to the Beatles playbacks and watching their process in the studio, but at the same time that I was surrounded by this holy host of my absolute idols, I missed my home in North Carolina."
He added: "This captured that feeling of being called away to another place," and began working on one of the most recognisable songs from his career.
Taylor wrote the incredible song Something In The Way She Moves while The Beatles were within reach.
This track, in turn, was so powerful and resonated so much with Harrison that he took some of the song's lyrics and spun off of it and penned perhaps his best song ever written: Something.
Harrison later recalled: "I could never think of words for it. And also because there was a James Taylor song called Something In The Way She Moves, which is the first line of that. And so then I thought of trying to change the words, but they were the words that came when I first wrote it."
Don't miss…
Paul McCartney celebrates 50th anniversary of James Bond song Live and Let Die[LATEST]
Paul McCartney shares unseen 1964 Beatles photo of George Harrison[INFO]
The Beatles star refused to join George Harrison for charity event[INSIGHT]
https://www.youtube.com/embed/UelDrZ1aFeY
We use your sign-up to provide content in ways you've consented to and to improve our understanding of you. This may include adverts from us and 3rd parties based on our understanding. You can unsubscribe at any time. More info
Harrison went on: "So, in the end, I just left it as that, and just called it Something."
The track became a phenomenon for the band. It went multi-platinum and more than 2.5 million copies worldwide.
Paul Simon (of Simon and Garfunkel) called Something a "masterpiece". Elton John described the composition as "probably one of the best love songs ever, ever, ever written".
John went on: "It's better than Yesterday, much better … It's like the song I've been chasing for the last thirty-five years."
Taylor knew he inspired Something, as well. He later looked back: "I never thought for a second that George intended to do that. I don't think he intentionally ripped anything off, and all music is borrowed from other music. So completely I let it pass."
In another twist of fate, Taylor admitted to using a piece of guitar music from The Beatles' song I Feel Fine, before adding: "What goes around comes around."
Source: Read Full Article