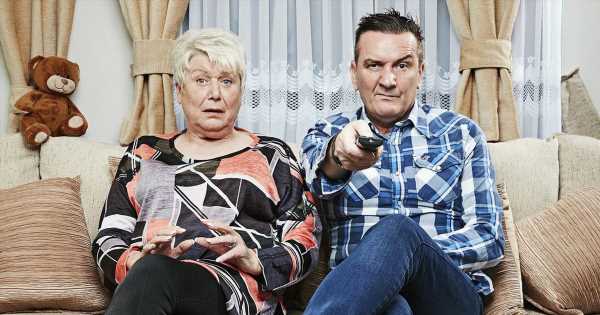 Gogglebox star Jenny Newby has shared a heart-breaking health update with fans as she opened up to co-star Lee Riley.
The pair regularly leave viewers in stitches as they share their honest opinions on the biggest TV shows of the week on the hit Channel 4 show.
But in a post on Twitter, Jenny, 66, admitted that she is suffering from a potentially debilitating condition.
READ MORE: Gogglebox's Stephen hints at new reality show as he breaks silence on Channel 4 exit
The star from Hull confided in her best mate in a video posted to their social media channels: "I've got arthritis".
Explaining how it affects her, she said to her co-star: "I get more stressed now," to which Lee agreed, saying he had noticed changes in her.
"Yeah I saw, because you can't fasten my coat. You can't open a tin of beans," the 53-year-old said.
Arthritis is a condition that triggers pain and inflammation in joints, making it harder to walk or use one's hands.
Jenny continued, saying her condition does often push her confidence back.
"And I've got to ask somebody. And that I think is the worst, when I have got to ask somebody because I feel like I am stupid," she admitted.
Best friend Lee asked her if she had been in a situation where she needed help but did not know anyone to reach out to.
Jenny nodded in agreement, to which he confessed: "That must be awful to ask that".
The pair often spend a lot of time together, with their hilarious reactions to the week's TV coming from Jenny's caravan in Hull.
But since Jenny's revelation on her health, the duo are pushing to raise awareness of the effect arthritis has.
Captioning the video, the pair wrote: "Arthritis means millions of people have days filled with pain. It's tough, but talking about it and knowing people around you understand really helps.
"We need to get arthritis taken seriously #VersusArthritis," they concluded before adding #ad to the tweet.
Fans of the Channel 4 titan flocked to Twitter to send their support to Jenny, with many opening up to their own struggles with the condition.
One user said they were "made up" to see the pair highlighting the ailment.
"My daughter is only 19 and has suffered from this illness since she was only 16 months old so has had it all of her life, absolutely made up that you are joining in and making people aware that this is not something that only old people suffer from", they wrote.
Another congratulated Jenny on sharing her update, writing: "Happy it's finally being discussed but can't believe it's taken this long for arthritis in young people to be recognised in a national campaign. Still, progress is progress".
For more of the latest showbiz and TV news from the Daily Star, make sure you sign up for one of our newsletters here.
Source: Read Full Article