One of the best things about classic rock is the stories that come from it. Many songs have hidden meanings and secrets that are revealed over time. However, one of the most fascinating stories is how Axl Rose recorded himself having sex for one of the songs performed by Guns N' Roses. It was their debut album and would engrave the band's name in history.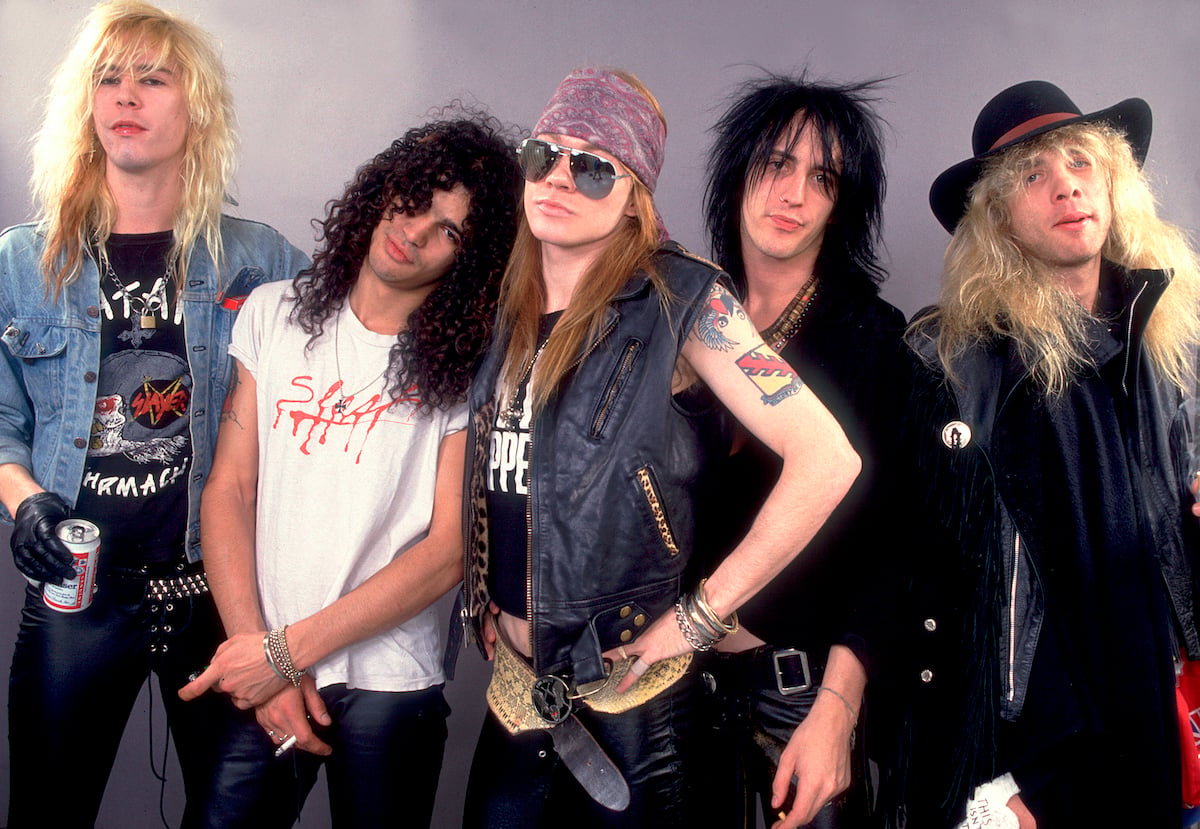 What makes it even more interesting is that his recording was made possible by the fact that he did the deed with his bandmate's girlfriend.
Guns N' Roses: the story behind the song 'Rocket Queen'
There is no denying that in the '80s sex, drugs, and rock 'n roll were huge. In the world of Guns N' Roses, those three things were pivotal. It set the stage for most of their songs, but perhaps none more so than "Rocket Queen."
If you listen to the song, you can hear a woman's moans in the background. According to Rolling Stone, the voice behind the moans belonged to none other than Adriana Smith, who was dating the band's drummer Steven Adler. Smith had been dating Adler for approximately a year.
However, it was Axl Rose that she had sex with to end up on the track.
In an interview available on YouTube, Smith talks about what led to her ultimately cheating on Adler. It stemmed from him taking another woman out and then stating that he said he didn't see her as his girlfriend. She was upset and went to hang out with the rest of the band at the studio.
One thing led to another, and Rose mentioned she could be the voice in the song. She agreed, "For the band and a bottle of Jack Daniels." Smith later admits that she felt guilty and embarrassed by all that had happened.
She was a stripper that wanted to be an actor, not an adult film star. Therefore, she did not ask to be recognized as the voice behind the "Rocket Queen." She also became worried that her parents would know about what she had done.
How did Steven Adler respond?
For Smith, there was tremendous guilt that led to her drinking and using drugs. The band and Smith parted ways and she has not received money for her contribution to the album Appetite For Destruction. When it was revealed that Smith and Rose had been intimate so that she could be recorded, Adler apparently freaked out, according to Buzzfeed. It caused conflict within the band.
In 1990, Adler was temporarily fired from the band for his heroin addiction. After promising to get cleaned up, he was invited back, but the reunion didn't last long. His addiction progressively got to the point where he was unable to perform, so he was again fired from the band. This time it would be permanent.
Gun's N' Roses is a success story
Despite the conflicts going on behind the scenes, Appetite For Destruction earned its spot in Rock 'n Roll history. It topped the Billboard 200 list and ultimately sold over 30-million copies worldwide. The top songs from the album include titles like, "Welcome to the Jungle", "Sweet Child o' Mine", and "Paradise City".
The band's first successes were indicative of their future success. Overall, Guns N' Roses released six studio albums, a live album, nine video albums, and two compilation items. With all that they did, they have been nominated for 37 awards, and have attained 14.
The band parted ways around 1996/1997, however, they never officially broke up. The lead guitarist Slash left in 1996 and Matt Sorum was fired from the band in 1997. His departure was followed by Duff McKagan quitting.
Guns N' Roses took a reunion tour in 2016 and it was greeted with much success. It was the Not In This Lifetime Tour, which gave them their most recent award, the Ticketmaster Touring Milestone Award in 2017.
Source: Read Full Article