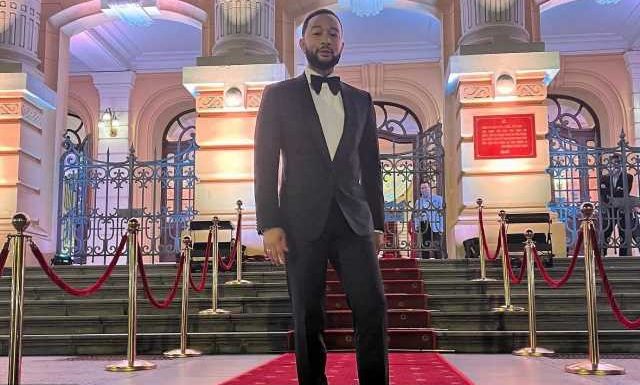 When taking the stage of the Zappos Theater at Planet Hollywood and Casino, the 'All of Me' hitmaker gives shout-outs to his grandmother and his wife, Chrissy Teigen.
AceShowbiz –John Legend finally kicked off his Las Vegas residency on Friday, April 22. During his performance at the opening of his "Love in Las Vegas" show, the Grammy-winning crooner described it as a "dream come true."
When taking the stage of the Zappos Theater at Planet Hollywood and Casino, the 43-year-old singer/songwriter entertained the crowd with some of his smash hits, including "Used to Love U", "Ordinary People" and his yet-to-be released single, "Dope".
John delivered such fantastic performances that night as he was backed by an 18-member choir and band dressed in bright white and purple outfits. During a break, he reflected on his difficult times before coming to where he is right now. The father of two gushed, "You're my dream come true, Las Vegas."
John also took a moment to pay tribute to his grandmother. Dedicating "Water" to her, the musician told the audience, "When you hear me play and sing today, you're hearing my grandmother through me…. I always wished she was here to see all that she inspired."
"The Voice" judge additionally proved that he's such a great husband who never ignored his family. Before belting out his megahit "All of Me", he gave a shout-out to his wife Chrissy Teigen as saying, "She's inspired a lot of good songs. This might be the best one."
John clearly had such a blast on Friday night. Following his two-hour show, he took to Instagram to share some pictures from the event, writing in the caption, "Thank you Las Vegas! #LoveInLasVegas opening night was a success – now on to night 2!"
John will continue his "Love in Las Vegas" show on Saturday, followed by additional dates before this month ends (27, 29 and 30). The show is set to return on May 4, 6 and 7, in August and concludes later in October.
Source: Read Full Article