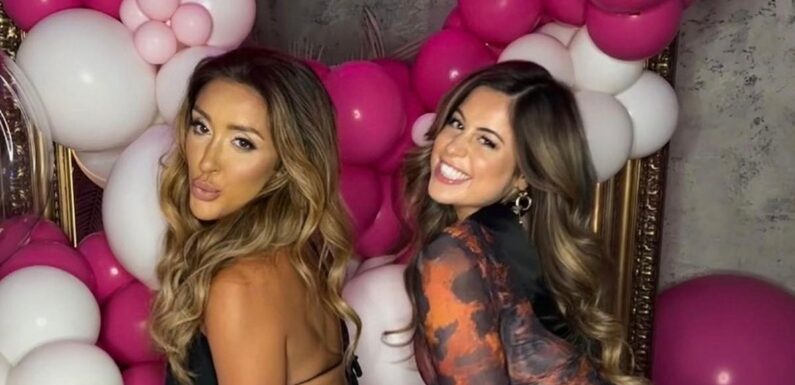 Married At First Sight star Sophie Brown has taken one of this year's axed contestants under her wing after her on-screen husband was accused of controlling behaviour.
Business consultant Sophie became a fan favourite last year after telly husband Johnathan Wileman was slammed for making derogatory comments about her figure. Last week viewers saw Shona Manderson and Brad Skelly leave the show after concerns over his coercive behaviour forced professional coaches, including Paul C Brunson, to take action.
Brad released a public apology but insisted he had never felt the need to control anyone. Since then, Sophie and Shona have hit the town together for a night out.
READ MORE: MAFS UK star Ella storms off set and smashes glass after tense bust-up with co-star
READ MORE: Want more TV? Daily Star has just the thing for you!
Sophie says: "Shona is a lovely girl and it's important to be there for each other. There were some similarities with our journey, so it's nice to build a relationship with someone who has been through the same thing.
"Not many people have been on MAFS –and only the people who have done it truly understand what it feels like. There is an emotional attachment – watching the weddings back is always difficult especially when it's in the same venue as when I got married.
"It's good to watch it and communicate with the new cast to share those experiences." While her marriage didn't work out, Sophie left MAFS with a solid friendship in Adrian Sanderson, who she now hosts a podcast with.
The current E4 series is the most explosive yet with grooms fighting each other and fiery dinner parties causing couples to crumble. Sophie says: "It's absolutely not scripted or produced but it's done in a way it makes sense for the audience.
"You spend a lot of time together as a couple but because you don't have your phone it's very positive to have group interactions, however not everyone is going to get on. Throughout my casting process I went through so many questionnaires and had conversations with relationship experts – but you can't count on everybody being their true, honest self.
"A lot of people are put into that process and will react differently." Single Sophie has teamed up with dating app PlentyofFish, who have revealed their top trends for 2024 include pet-rothing – staying in a relationship even if it's not working because you like that person's pet.
Sophie says: "I went through a huge experience getting married to a stranger, which is the ultimate end goal of dating. I have a lot going on in my life so dating needs to be fun.
"I want to find someone who is going to add value to my life." Sophie is keen on investi-dating – researching a match across social media platforms, partly as a safety measure.
She says: "I let my friends know if I'm going on a date and they'll find someone in 0.2 seconds. I also go to places where I know the people who work there so it feels more comfortable. Being on a reality show about dating, if I find someone who doesn't know who I am I love that.
"But if they ask for my social media, I get this overwhelming dread they're going to think certain things about me. I would rather they didn't know who I was but equally it's a huge part of my life and I don't look back and think I should never have done it."
While artificial intelligence appears to be weaving its way into every industry, Sophie is less convinced of its attraction within the dating world. She says: "The whole AI thing is equally incredible and scary.
"I was using ChatGPT recently to help with some work stuff and the technology is baffling. It has to be applied in the right way. I would never see myself using AI in dating – that's probably a step too far."
● From Smashing the Date-triarchy to Contra-dating, PlentyofFish has_
revealed its must-know dating trends set to shape the UK dating landscape in 2024. See http://blog.pof.com
For more of the latest showbiz news from Daily Star, make sure you sign up to one of our newsletters here .
Source: Read Full Article