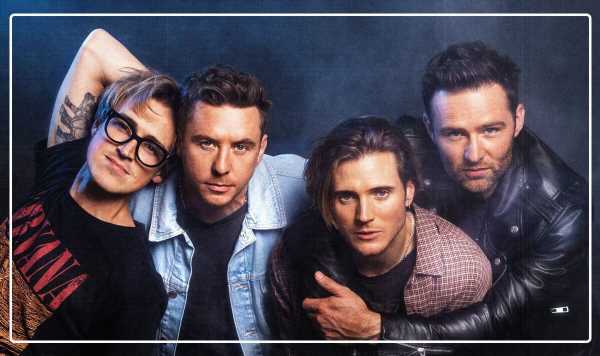 Tom Fletcher pulls out of remaining McFly tour due to covid
JUMP TO…
When do McFly presale tickets come out?
When do McFly tickets come out?
Where are McFly playing in the UK?
The legendary British band McFly have just announced a new tour after years away from fans – and it's going to be massive. Tom Fletcher, Danny Jones, Harry Judd and Dougie Poynter are going hitting the road this October, beginning in Bristol, Norwich and London, before the group moves on to play shows throughout November in Newcastle, Manchester and Nottingham.
The band will also be playing Alexandra Palace for the very first time in their career, a massive 10,400-capacity venue in London.
McFly recently announced their upcoming seventh album, Power To Play, will hit store shelves and streaming services on June 9, 2023. The record is a "riff-heavy" album that comes to life in live music venues are harder rock events.
McFly said of their new album: "Once we had landed on the fact that we were going to do 80s rock, there was just something in it that had such a McFlyness within it. High concept, guitars front and centre, colourful. It's all the things we have always loved about music and what we do with this band."
Speaking about their newly-released single, God of Rock & Roll, they added: "It's a party rock song at its core, but its seed was that if there was a god of rock and roll, we would undoubtedly be worshipping him. A lot of that came from going to shows ourselves. We all went to see Green Day, Fall Out Boy and Weezer last year and seeing so many people had come to the same place to enjoy rock music was incredible.
"Rock music celebrates life and having fun, and it feels like we all got deprived of that for such a long time."
Tickets for McFly's massive tour go on sale at the end of the week, but you can grab presale tickets early by following our advice…
When do McFly presale tickets come out?
Presale tickets for McFly's UK tour come out tomorrow, Wednesday, May 3, 2023, at 9am. There are multiple kinds of presale events going on, as well, so fans will need to act fast if they want to get involved.
Fans can first get their McFly presale tickets with O2 Priority. These tickets can only be secured by people who are subscribed to the O2 phone network. Subscribers will be able to get their presale code or unique presale link by signing into the O2 Priority website, or by clicking this link here.
McFly are also holding their own presale event tomorrow, Wednesday, May 3, 2023, at 9am. But the only way to get involved in this presale event is by preordering McFly's new album, Power To Play, from their website. From there, fans will likely get a presale link or a unique presale code. Once this information has arrived in fans' inboxes, they can go to this link to grab their tickets.
If you miss out on McFly tickets, however, you can still grab general onsale tickets later this week…
When do McFly tickets come out?
General onsale tickets for McFly's UK tour come out on Friday, May 5, 2023, at 9am.
These tickets will be available at Ticketmaster, where fans can sign up for notifications about all future McFly gigs and tours.
To grab your tickets to McFly's tour, click this link and get involved.
The band will be hitting 17 different dates around the country from October to November, and will even be playing some venues more than once. Crucially, however, McFly will be playing Alexandra Palace in London for the first time ever.
McFly fans should prepare to get in the virtual queue early, however, as demand is expected to be extremely high. With that in mind, it would be extremely helpful for fans if they signed into the ticket retailer's website well before tickets come out and get in the virtual queue ahead of their release. Once in, it is imperative to stay within the digital queue otherwise they'll risk losing their spot. Fans should also consider inputting their debit or credit card details early to ensure a quicker and safer checkout experience.
Scroll down for a full list of McFly dates and tickets.
Where are McFly playing in the UK?
McFly are kicking off their massive tour on October 23, 2023, in Bristol. After hitting this legendary venue for two consecutive nights, they'll venture to Norwich, London and Bournemouth before arriving in Southampton. Eventually, the British rockers will play Manchester's Victoria Warehouse twice before ending their tour in Nottingham's Rock City.
Here's a full list of McFly 2023 UK tour dates and venues (Links will be updated as soon as they go live):
October 2023
23 – Bristol, Academy – BUY TICKETS HERE
24 – Bristol, Academy – BUY TICKETS HERE
25 – Norwich, Norwich UEA – BUY TICKETS HERE
27 – London, Alexandra Palace – BUY TICKETS HERE
28 – Bournemouth, BIC – BUY TICKETS HERE
29 – Southampton, Guildhall – BUY TICKETS HERE
31 – Birmingham, Academy – BUY TICKETS HERE
November 2023
01 – Birmingham, Academy – BUY TICKETS HERE
04 – Edinburgh, Usher Hall – BUY TICKETS HERE
05 – Newcastle, City Hall – BUY TICKETS HERE
06 – Newcastle, City Hall – BUY TICKETS HERE
08 – Glasgow, Barrowlands – BUY TICKETS HERE
13 – Leeds, Academy – BUY TICKETS HERE
16 – Manchester, Victoria Warehouse – BUY TICKETS HERE
19 – Manchester Victoria Warehouse – BUY TICKETS HERE
21 – Nottingham, Rock City – BUY TICKETS HERE
22 – Nottingham Rock City – BUY TICKETS HERE
https://www.youtube.com/embed/18vaO7wbUQU
Source: Read Full Article