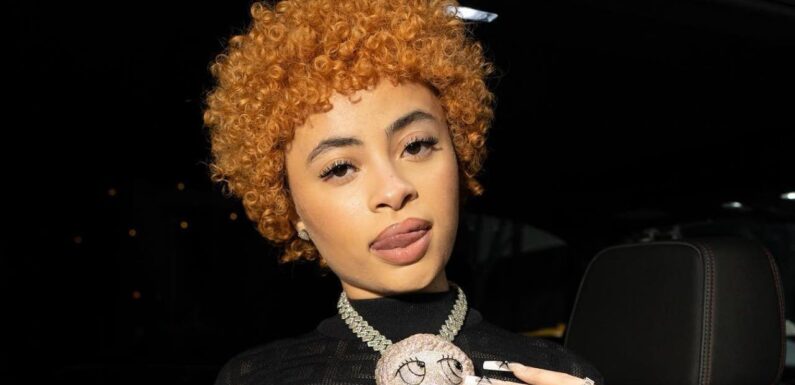 Following the unofficial release of the never-before-heard track where she name drops GloRilla, the 'Princess Diana' raptress teases a new partnership with Vogue and eBay in honor of the Met Gala.
AceShowbiz –Ice Spice doesn't seem to be upset at the leak of her unreleased song "Like". Following the unauthorized release of the never-before-heard track, the Bronx femcee reacted by calling it a "throw away."
Taking to her Twitter account on Sunday, April 30 to respond to the unofficial song, she seemingly let her fans know that she wasn't bothered by the leak because the song wasn't even up to her standard. "w throw away," she wrote in respose to Rap Alert's tweet about the leaked song.

Ice Spice reacted to 'Like' leak.
Spice, whose real name is Isis Naija Gaston, name drops GloRilla on "Like" as she raps in a very seductive voice, "I got my n***as in check (Grrah)/ Feel like GloRilla, I'm blessed/ They wanna know what's next (Huh?)/ B***hes got me vexed/ Left my ex depressed (Pressed)."
"I done kick the door down in this b***h, they gotta make room/How she hit the charts off a word, ain't she fake news?" she continues spitting her bars over the RIOTUSA-produced beat. She continues in the chorus, "Like, why you tryna come for me?/ Like, didn't know that you f**k with me/ I be poppin' s**t but do it humbly/ Like, please, not too much on me."
While Spice called the leaked song a "throw away," fans apparently treasured the track more than the artist herself. "ISIS GASTON I NEED THIS SONG," one fan replied to her tweet. "PLEASE RELEASE LIKE I LITRALLY HAVE IT AS MY RINGTONE LIKE ACC." Another commented, "It doesn't have to be a throw away bestie."
Meanwhile, Spice is gearing up for an upcoming collaboration with Vogue and eBay for the Met Gala. In a video posted on Sunday, she teased the announcement as saying, "Hi! It's Ice Spice and I'm partnering with Vogue and eBay for a very special announcement coming to you on the first Monday in May."
"Join me for fashion's biggest night out," the "Munch (Feeling' U)" hitmaker added as she sported a nude color lipstick and a bathrobe in the clip. "You do not want to miss this. Stay tuned."
You can share this post!
Source: Read Full Article