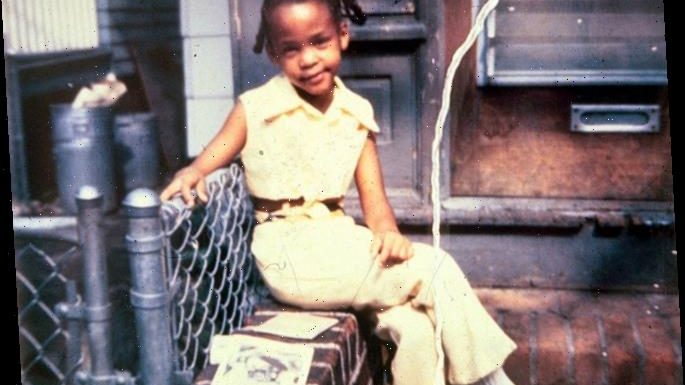 STELLAR DEBUT
Born on Aug. 9, 1963, in Newark, New Jersey, to John and Cissy Houston, Whitney Elizabeth Houston was destined for a career as a singer: Her mother sang backup for Elvis Presley; her cousin was superstar Dionne Warwick; and her godmother was the legendary Aretha Franklin. Unsurprisingly, young Whitney also proved to have a vocal gift, performing her first solo at age 11 at the New Hope Baptist Church.
1

of

24
ON THE RISE
In her teens, Houston worked as a model, appearing in Seventeen, Glamour and Cosmopolitan, and performed in New York City clubs. It was during one particular singing gig in 1983 that she caught the ear of Arista music exec Clive Davis, who signed her to a record deal on the spot.
2

of

24
OFF THE CHARTS
Released in March 1985, Whitney Houston established the star as a major recording artist, prompting Rolling Stone to rave, "With her sleek beauty and her great voice, Whitney Houston is obviously headed for stardom." Indeed, her freshman effort sold over 12 million copies in the U.S., produced three consecutive No. 1 singles — "Saving All My Love For You," "How Will I Know" and "The Greatest Love of All" — and made history as the biggest selling album by a solo artist.
3

of

24
FAMILY ALBUM
"Being around people like Aretha Franklin, Gladys Knight, Dionne Warwick and Roberta Flack, all these greats, I was taught to listen and observe," Houston, pictured with Warwick and mom Cissy, said of her natural talent. "It had a great impact on me as a singer, as a performer, as a musician. Growing around it, you just can't help it … It was something that was so natural to me that when I started singing, it was almost like speaking."
4

of

24
GOLDEN GIRL
Houston was up for three awards at the 1986 Grammys, including album of the year, and ultimately took home the honor for best female pop vocal performance. She garnered even more trophies that year, including seven American Music Awards and an MTV Video Music Award.
5

of

24
A BROKEN RECORD
With the June 1987 release of her second album, Whitney, Houston made history again, becoming the first female artist to enter the Billboard album charts at No. 1, and surpassing the Beatles with her seven consecutive No. 1 hits, including "I Wanna Dance With Somebody (Who Loves Me)," "So Emotional" and "Didn't We Almost Have It All."
6

of

24
FUNNY BUSINESS
Despite being busy with performing and touring, Houston managed to find time for romance, mainly with Eddie Murphy. "Because of my career and his career – I'm here and he's there; I'm there and he's here – it's hard to establish a relationship," admitted Houston, who would go on to fall for singer Bobby Brown after meeting him at the 1989 Soul Train Music Awards.
7

of

24
AMERICA'S SWEETHEART
As the Persian Gulf War raged on in 1991, Houston united the entire nation with her stirring rendition of "The Star-Spangled Banner" at Super Bowl XXV. The powerhouse performance was released as both a single and a video, and landed in the Top 20 of Billboard's Hot 100.
8

of

24
TAKE A VOW
"You know, I was raised as a Christian, and my mother was very strict with me as far as boys were concerned," said Houston, who shocked fans when she tied the knot with bad boy Bobby Brown on July 18, 1992. Despite the former New Edition star's rough reputation, Houston insisted, "Bobby's got a good heart and a good soul."
9

of

24
SCREEN QUEEN
Following two minor acting stints — on the '80s sitcoms Gimme a Break! and Silver Spoons — Houston became a full-fledged movie star, headlining 1992's The Bodyguard with Kevin Costner. The film, released in November, grossed $410 million worldwide, and its soundtrack, featuring "I'm Every Woman," "I Have Nothing," "Run to You" and "I Will Always Love You," became the best-selling soundtrack of all time.
10

of

24
STAGE MOTHER
On March 4, 1993, Houston gave birth to daughter Bobbi Kristina Brown, whom she called her greatest inspiration. "She supports me, she loves me, she gives me good mommy hugs," Houston told Access Hollywood of their bond.
11

of

24
GIRL POWER
Houston followed up her Bodyguard success by appearing opposite Loretta Devine, Angela Bassett and Lela Rochon in the 1995 big-screen adaptation of author Terry McMillan's best-seller Waiting to Exhale. Though the film was a success, Houston was unhappy on set. "You know, I was a movie star. I really didn't want to be one," she told Vibe. "I was raising my daughter. I wasn't with my husband. I had to be in Phoenix. And it was like, Yo, f— this. I don't wanna do this."
12

of

24
A HOLY UNION
Despite her reservations, Houston took another film role, this time starring alongside Denzel Washington in 1996's The Preacher's Wife. The family drama, about the troubled marriage between a reverend and his gospel choir mistress, earned her a reported $10 million paycheck. The weeks leading up to the film's December release were turbulent, with Houston denying her own union is in trouble and, more tragically, suffering a miscarriage.
13

of

24
SOUL SISTERS
Putting rivalry rumors to rest, Houston shared the stage with Mariah Carey — in matching dresses — at the 1998 MTV Video Music Awards. The duo also collaborated on the ballad "When You Believe" from the Prince of Egypt soundtrack that same year. "Mariah and I got along very great," Houston told Ebony. "It's good to know that two ladies of soul can still be friends."
14

of

24
TROUBLE AHEAD
Houston and Brown were all smiles at a February 2000 pre-Grammys party, despite being dogged by rumors of drug abuse. One month earlier, the pair made headlines when marijuana was found in their luggage at a Hawaii airport (charges were later dropped), and Houston also raised eyebrows the previous year after canceling appearances at the American Music Awards and the Rock and Roll Hall of Fame induction ceremony.
15

of

24
BODY WATCH
Just weeks after signing a $100 million Arista record contract, Houston kicked off the Michael Jackson: 30th Anniversary Special in September 2001 alongside Usher and Mya, singing "Wanna Be Startin' Somethin'." But it was her gaunt figure that really started some talk; after blaming a "bad shot," she would admit years later her thinness was due to drug use.
16

of

24
'CRACK IS WACK'
In an alarming yet candid 2002 interview with Diane Sawyer, Houston insisted she makes too much money to be a crack user, as rumored. "Crack is whack!" she said, blaming emotional stress for her erratic behavior. "This is not fun any more," she said of working in the music industry.
17

of

24
WATERED DOWN
On a whirlwind tour of Israel in May 2003, Houston and Brown dipped themselves, baptism-style, in the River Jordan — even though they were guests of the Black Hebrews, a religious sect of about 2,000 black Americans who observe certain Jewish rituals.
18

of

24
BACK ON TRACK
It was a surprise comeback: Following a March 2004 stay in rehab, Houston commanded the stage at the September World Music Awards with a medley of "I Believe in You and Me" and "I Will Always Love You," in tribute to longtime producer Clive Davis. Though they immediately planned on working on a new album together, I Look to You wouldn't be released till 2009.
19

of

24
REALITY CHECK
Instead of a new album, in 2005 Houston would do another stint in rehab — and appear on reality television. Bravo's Being Bobby Brown was a ratings hit for the network, thanks to the couple's outlandish behavior. PEOPLE's TV critic pointed to Houston's "unflatteringly diva-ish behavior, shooing away a fan who dares to interrupt her meal." The show would last one season; their marriage just one more year.
20

of

24
ON THE ROAD AGAIN
Released in August 2009, Houston's seventh effort, I Look to You, marked her first No. 1 album since The Bodyguard. Though it seemed she was ready for a career revival, even launching a world tour the following February, she canceled several live performances and received poor reviews for her shows.
21

of

24
TIGHT BOND
"I want her to count on me to try to understand what she's going through," Houston told InStyle of daughter and aspiring singer Krissy (together on Good Morning America in 2009). "No damnation, no condemnation, nothing that's going to make her feel like she can't come to me."
22

of

24
LAST SCENES
Fifteen years after The Preacher's Wife, Houston returned to the big screen for Sparkle with Jordin Sparks. "Part of the fun of making this movie is definitely the costumes and the hairstyles," an excited Houston told PEOPLE. "The movie is set in 1963, and we had a great wardrobe, hair and makeup person and I loved wearing the outfits." Her costar was equally thrilled: "I sang her songs into a hairbrush when I was little. … It was a dream come true."
23

of

24
A 'DIMMED' LIGHT
"Whitney would have asked that the music go on. And her family said the show should go on," Clive Davis told partygoers at his annual pre-Grammys gala on Feb. 11, 2012 – the same day as Houston's death. As news spread of the troubled singer's demise at 48, the music industry responded with sadness, and respect. "Her powerful voice graced many memorable and award-winning songs," said Neil Portnow, the president and CEO of the Recording Academy. "A light has been dimmed in our music community today."
24

of

24

Source: Read Full Article