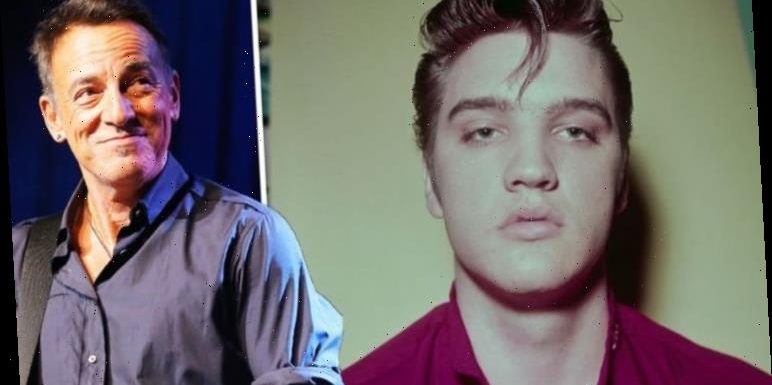 Bruce Springsteen stars in Jeep Superbowl advert
When you subscribe we will use the information you provide to send you these newsletters.Sometimes they'll include recommendations for other related newsletters or services we offer.Our Privacy Notice explains more about how we use your data, and your rights.You can unsubscribe at any time.
Elvis Presley was one of Springsteen's most prominent inspirations. The star once recalled the moment he first saw the King performing on the Ed Sullivan Show when he was seven-years-old. Springsteen said of his hero: "I couldn't imagine anyone not wanting to be Elvis Presley."
Springsteen was so inspired by Elvis that he embarked on his own rock star journey, racking up more than 30 million album sales during his career and reaching 15x platinum for his seventh album, Born in the USA.
But when he found out about the star's tragic death which occurred on August 16, 1977 Springsteen was devastated.
The singer gave a rousing speech at one of his gigs in 1985 about Elvis and the impact the singer made on his life.
He told his audience: "I remember later, when a friend of mine called to tell me that he'd died, it was so hard to understand how somebody whose music came in and took away so many people's loneliness and gave so many people a reason and a sense of the possibilities of living could have, in the end, died so tragically."
Springsteen added: "And I guess when you're alone, you ain't nothin' but alone."
The star previously pointed at Elvis' 1956 song Hound Dog as a major influence to him.
The track, which sold 10 million copies globally, was one of Elvis' best-selling songs of all time.
On listening to the track for the first time Springsteen said: "When I heard it, it just shot straight through to my brain."
Bruce Springsteen reveals music helped his mental health
The Dancing in the Dark singer added: "I realised, suddenly, that there was more to life than what I'd been living.
"I was then in pursuit of something and there'd been a vision laid out before me.
"You were dealing with the pure thrust, the pure energy of the music itself. I was so very young but it still hit me like a thunderbolt."
He even confessed to "breaking in" to Elvis' home, Graceland, in 1985.
DON'T MISS…
Elvis Presley 'alive': King 'spotted' in Michigan a decade after death [NEWS]
Elvis Presley's ex-girlfriend believes he is in 'another dimension' [INTERVIEW]
Elvis Presley 'alive': King 'SPOTTED' at his 82nd birthday celebration [EYE-WITNESS SIGHTING]
Springsteen revealed how a tour brought him to Memphis, Tennessee, so he took a detour and visited the King's residence.
Upon seeing a light on in Elvis' house, Springsteen plucked up the courage to hop the fence.
Speaking to the crowd at another gig, the star recalled: "I jumped up over the wall and I started runnin' up the driveway, which when I look back on it now was kind of a stupid thing to do because I hate it when people do it at my house.
"Anyway, at the time, I was filled with the enthusiasm of youth and ran up the driveway and I got to the front door and I was just about to knock, and guards came out of the woods and they asked me what I wanted."
After explaining who he was the guards told him Elvis wasn't home, before ushering the star off the premises.
Earlier this week it was revealed Springsteen was arrested for "driving recklessly, driving while intoxicated and drinking in a closed area" in New Jersey.
A Federal agency National Park Service spokesperson told Express.co.uk: "On November 14, 2020, Bruce Springsteen was arrested in Gateway National Recreation Area."
They added: "Springsteen was cooperative throughout the process."
READ THE ORIGINAL REPORT
Source: Read Full Article