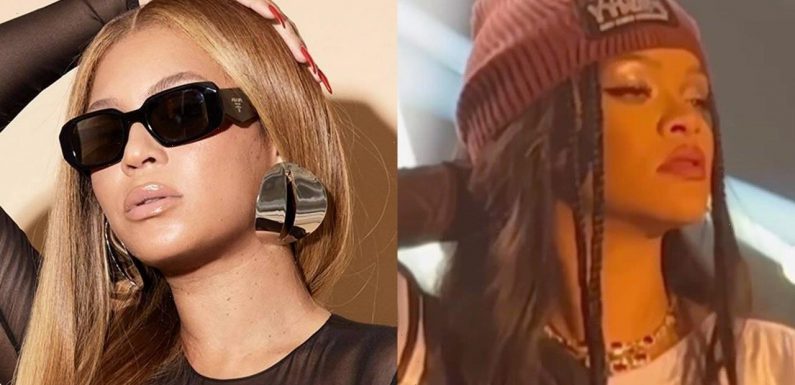 RiRi looked up to Beyonce Knowles and studied Queen Bey's performances from both 2013 and 2016 Super Bowl while she was preparing for her own show at the NFL championship.
AceShowbiz –Rihanna watched Beyonce Knowles's half-time shows while preparing for her Super Bowl performance. The "Umbrella" singer provided entertainment during the Kansas City Chiefs' clash with the Philadelphia Eagles in Glendale, Arizona on Sunday night, February 12, ten years after Beyonce performed at the 2013 event in New Orleans, Louisiana and seven years after her performance with Coldplay at Super Bowl 50 in California – and Rihanna has admitted she studied both sets while preparing her show.
"I watched Beyonce's halftime performances a couple of times," Rihanna said on "The Process With Nate Burleson" podcast which aired on Sunday, February 12. She went on to say of the singer, "(She) is a beast and a whole other level," before adding she watched Beyonce's shows "just to be inspired, really."
During Beyonce's first Super Bowl show, she was famously joined on stage by her former Destiny's Child bandmates Kelly Rowland and Michelle Williams (II). She was back on stage at the event three years later for Super Bowl 50 in Santa Clara, California which was headline by Coldplay and featured performances from both Beyonce and Bruno Mars.
During Rihanna's show on Sunday, she stunned the world by showing off her baby bump and confirming she's expecting her second child with rapper A$AP Rocky. The show marked her first performance since becoming mum to a son in May 2022 and, speaking before the event, Rihanna admitted she struggled to decide on a set list.
During a pre-Super Bowl press conference, she explained, "That was the hardest, hardest part. Deciding how to maximise 13 minutes, but also celebrate… you're going to see on Sunday, just from the time it starts, it just never ends, until it's like the very last second. There are a lot of people who are a part of this show, and a huge part of the reason why this show is going to be as incredible as it is. I couldn't have done it without them."
You can share this post!
Source: Read Full Article