Now that Meghan Markle is an official member of the British Royal Family, she is guaranteed to have a biography. The royal website dedicates a lengthy page with general information to introduce the public to each prestigious member of the most powerful family in the United Kingdom. However, the page for Her Royal Highness The Duchess of Sussex completely forgot to mention the biggest milestone in Meghan's life before her marriage to Prince Harry— her role in Suits.
Many fans pointed this out. Dedicated viewers argued that Rachel was the role that made Meghan's name, so it's unfair to cross out her greatest achievement. The team at Buckingham Palace eventually solved this problem and rewrote Markle's career path in her biography.
"After university Her Royal Highness worked as an actress, appearing in film and television. She most notably played the role of Rachel Zane on the series Suits for seven seasons, completing over 100 episodes. Whilst working on Suits, The Duchess moved to Toronto, Canada where the show was filmed; she feels very connected to Canada, as it became a second home to her." (Credit: The Home of The Royal Family official website)
Aside from her career, Markle's bio also contains her education background and a brief introduction of her current title as a royal member. The large part of this biography contains her charitable activities which emphasize her passion for social issues. After the royal engagement, Markle has publicly and privately visited many local communities and organizations with her then-fiancé (now husband), Prince Harry and other members of the Royal Family.
The royal website highlights that Her Royal Highness cares a lot about social justice and women's empowerment. It also includes a quote from Markle's speech to the UN on International Women's Day in 2015: "I am proud to be a woman and a feminist." Markle also cares a lot for the education of children—the royal website kindly mentioned that she became a Global Ambassador for World Vision in 2016.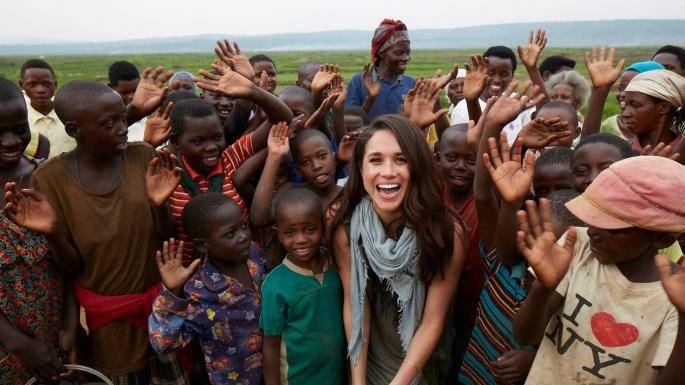 The royal website generally sums up all the reasons why Meghan Markle is a lovable public figure. They just accidentally forgot to mention the biggest role in her career. However, the issue is fixed and everyone who loves Rachel in Suits can happily read the proper biography of the Duchess at last.
The couple's first appearance after their wedding was at Prince Charles's 70th birthday celebration. They then took two full weeks off from their royal duties to spend their honeymoon together. The Duke and Duchess of Sussex were back in time for Prince Harry to attend the OnSide Youth Zone gala dinner at Kensington Palace where he was honored. Markle and Harry made their post-honeymoon appearance together at Sunday's Trooping the Colour, which marked the official celebration of the Queen's birthday.
Markle, once again, broke the royal protocol by wearing a nontraditional shoulder-bearing dress designed by Carolina Herrera. On Thursday, June 14, 2018, Her Royal Highness The Duchess of Sussex will accompany Queen Elizabeth on an overnight trip on the royal train to Cheshire. This outing will be the first solo trip Meghan ever has with her husband's grandmother.
Source: Read Full Article