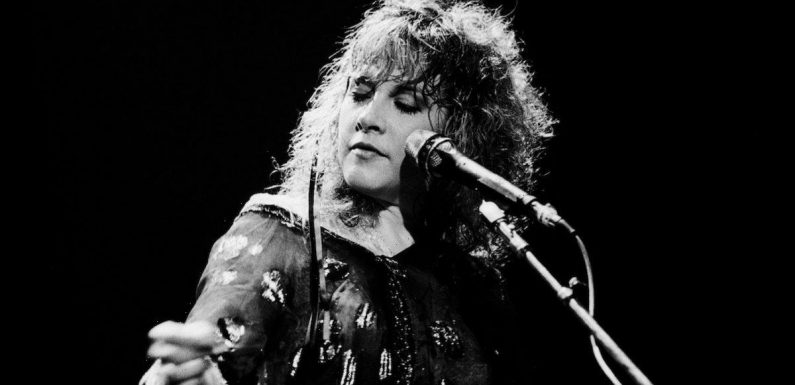 Everything under the sun and moon inspires Stevie Nicks to write hit songs. A simple smile, a break-up, or maybe the desire to return to old ways. However, Nicks also seems to be inspired by the future. She revealed that a couple of her songs predicted her future. But if she wrote about certain things happening, couldn't she have stopped them from coming to fruition? Either way, it's a bit meta.
Stevie Nicks says some of her songs predicted her own future
In an interview with MacLean's, Nicks said a couple of her hits are "real premonition" songs that have been able to foresee her future. They are songs that Nicks wrote in her early career before she even joined Fleetwood Mac.
"The real premonition songs were I Never Promised You a Rose Garden and After the Glitter Fades, which starts with the line 'I never thought I'd make it here in Hollywood.' They were poems I wrote before I joined Fleetwood Mac.
"The lyrics are so telling: 'Now I have a big house with pillars standing tall all around / I've got a garden with roses dangling down to the ground / and I've got money, men to love me / and acres of land / I've got all these things / I've got all these things but a small gold band on my finger on my left hand.' I think that's probably the most astute premonition I ever had."
In "After the Glitter Fades," Nicks sings, "And maybe this is a dream. The timeless face of a rock and roll," which also speaks to the fact that Nicks and her music are timeless. But Nicks must have known, in her heart of hearts, that she was never going to get that small gold band on her finger.
Some of Nicks' most famous songs also told her future
Upon closer look at Nicks' catalog, it's undeniable that a pre-fame Nicks somehow knew how her life was going to pan out. The songs she listed as some of her biggest "premonition" songs aren't the only songs that predicted her future.
Songs like "Landslide," "Gold Dust Woman," and "Silver Springs" have all done the same. While writing a hit like "Landslide," Nicks questioned whether she wanted to continue her relationship, both musically and romantically, with Lindsey Buckingham. You can hear her questioning herself in lines like, "'Cause I've built my life around you." But she probably didn't know that she would, in fact, build her life around songs about her relationship with Buckingham.
Nicks talks about that broken love affair in "Gold Dust Woman," too. In "Silver Springs," Nicks sings about a situation where Nicks is going to say she moved on from Buckingham long ago with lyrics like, "So I'll begin not to love you. Turn around, you'll see me runnin'. I'll say I loved you years ago. And tell myself you never loved me no." Nicks has continuously reflected on her and Buckingham's relationship. She has said she loved him years ago, but that's long over.
Nicks' 'Gypsy' talks about trying to go back in time
While it might seem like Nicks had some heavy-duty clairvoyance during her early career, there were other times when Nicks wrote about wanting to go back in time too. In "Gypsy," Nicks wrote about returning to her roots. She was sick of living in her fancy mansion and wanted to live like she did before she became famous. So, she returned to the gypsy that she was before the fame.
In the song, Nicks sings, "So I'm back to the velvet underground. Back to the floor that I love. To a room with some lace and paper flowers. Back to the gypsy that I was."
Whichever direction Nicks wants to look, whether it be in the past or the future, we know we're going to get a great song either way. But it is a little strange how Nicks knew to write about problems she'd face later in life. She's not a witch, after all.
Source: Read Full Article