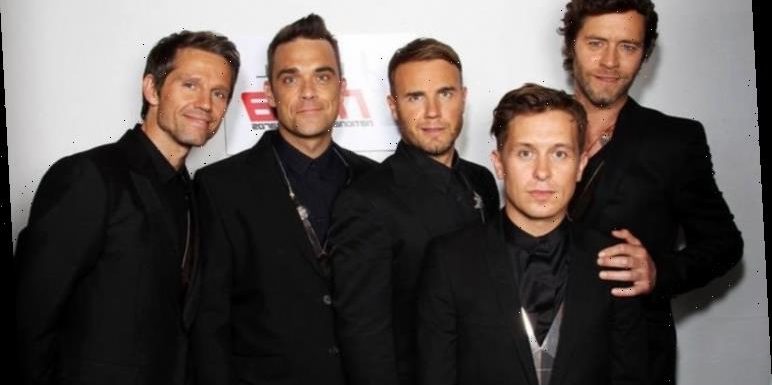 Robbie Williams reveals Take That 'will ride again'
Take That started out as a boyband in 1990, with Gary Barlow firmly in the frontman seat. Over time, this caused fractures and eventually Robbie Williams went out as a solo artist, having major success. The band has since split up and come back together at various points – but what is the story behind Robbie and then Jason Orange's departures?
Both Robbie Williams and Gary Barlow have spoken out quite a lot about Robbie's departure from Take That the first time, which came after the band and Robbie had some fallings out.
The pair even released a song, Shame, to discuss how their friendship soured after Robbie left the band.
Speaking in his autobiography about "The Chat" Gary and Robbie had around their reconciliation, Gary said: "Rob felt that for the last year of Take That, he was crying out to every one of us.
"In the end he left, and we handled that badly. We let him leave the fold and no one looked after him.
We will use your email address only for sending you newsletters. Please see our Privacy Notice for details of your data protection rights.
"Robbie was barely 21. What happened between me and Rob always bothered me."
Robbie left Take That after his bandmates asked him to leave due to issues with his 'attitude,' but he also went on to pursue solo projects.
On his 22nd birthday, after his departure was announced, he was reported as saying: "Frankly, I am more concerned about how Port Vale do in the cup tonight [but] Take That were six years of my life and I know how the guys are feeling."
Despite those difficult times, the band did get back together after Gary reassembled Mark Owen, Jason Orange and Howard Donald.
The foursome had some major success and, eventually, Robbie did rejoin them for a short spell, taking part in their Progress album of 2010, after which he left again.
After this, Jason Orange also left the band, and was rarely seen in public after he left in 2014.
Jason was thrust back into the news last year when Robbie posted a comment suggesting the band could not locate their former bandmate, and were considering getting a private detective to track him down.
Jason was subsequently tracked down by journalists after Robbie wrote: "You know you can have that Find My Phone thing?
"The whole of Take That should have a 'locate Jason Orange thing' because none of us know where he's gone.
"I should hire a private detective — he finds out where Jason Orange is, we inject him with a beeping thing, a chip, then we know where Jason is at all times."
However, Jason has officially been found, and Gary has said he has high hopes the group will come back together with a full line-up soon.
Celebrating his 50th birthday, Gary said: "I think there will, I think there will. That's one of the thrills of being in the band.
"You don't know what's going to happen from record to record and it's lovely. It's a very safe place Take That.
"It's a lovely environment. It feels like a safe haven. It's a place to go back to when you've done a bit of playing around and it's time to go home."
Since 2014, the band has worked as a three-piece, with Gary, Mark and Howard in the group.
Robbie has released solo albums, most recently The Christmas Present in 2019, while Jason's last public appearance was in a cameo role in an episode of Shameless in 2013.
Source: Read Full Article