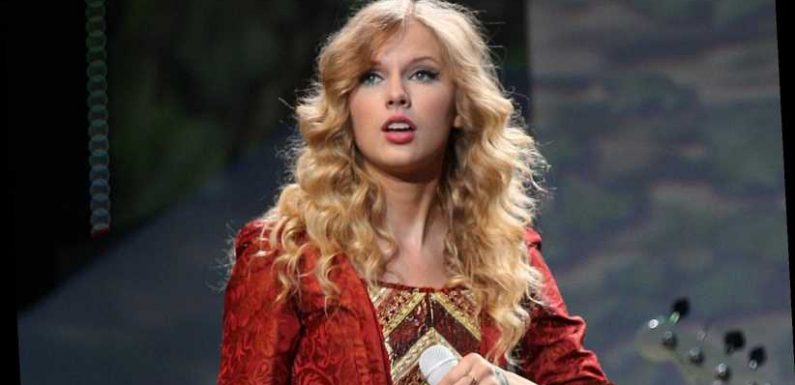 How many people can write a song in 20 minutes, let alone one that would go on to become a top five entry on the Billboard Hot 100 charts? Singer-songwriter (and possible superhuman) Taylor Swift did just that with her iconic 2008 single "Love Story." Not only did the country-pop crossover tune become Swift's best-charting single to date at the time of its release, but it remains the superstar's fourth best-selling single of all time as of July 2020, Billboard reported.
As the lead single off Swift's second studio album Fearless with her former label, Big Machine Records, "Love Story" presents lyrics that paint the age-old tale of a young, star-crossed couple's trying romance in the face of both their families' disapproval. If that sounds Shakespearean, well, a crucial line in Swift's chorus does allude to the bard's most famous work: "That you were Romeo, you were throwin' pebbles / And my daddy said, 'Stay away from Juliet.'" Swift performed the chart-topper among a medley of her greatest hits at the 2019 American Music Awards.
So what was the inspiration behind "Love Story" and how did Swift manage to write the song, which tops out at 3:57 minutes, in just 20? Read on to find out.
'Love Story' is about a real guy Taylor Swift's parents forbade her to date
"Love Story" is clearly Taylor Swift's ode to a forbidden romance. Just prior to her headlining 2009 Fearless tour, Swift took some time to answer a few fan questions via TIME, many of which understandably circled around her massive hit of that time. One fan from Illinois wanted to know the story behind "Love Story." Apparently, per Swift's answer, it was based on a guy she desired but never actually dated because of the familial disapproval factor. "When I introduced him to my family and my friends, they all said they didn't like him. All of them," Swift revealed. "For the first time, I could relate to that Romeo-and-Juliet situation where the only people who wanted them to be together were them," noting that "Love Story" was "the most romantic song I've written, and it's not even about a person I really dated."
Another fan asked Swift about the usual length of time it takes her to write one song, and the answer was not unexpected for the prolific writer. She replied that for most songs, they "end up being finished in 30 minutes or less," adding that "'Love Story" took even less. Swift shared that the mid-tempo bop was knocked out in "about 20 minutes" and that "when I get on a roll with something, it's really hard for me to put it down unfinished." We are sure all writers can understand, if not relate to, this sentiment!
Here's what Taylor Swift's mom truly thinks about 'Love Story'
What is hilariously ironic about the meaning behind Taylor Swift's "Love Story" is that Swift's own parents, two of the individuals who disapproved of her paramour wannabe, can corroborate her claim about the inspiration behind and writing duration for the song. Swift's mom Andrea Swift, presented her daughter with the Milestone Award at the 2015 ACM Awards, Entertainment Tonight reported, and offered the audience her fond version of Swift penning the angst-ridden anthem. "She was 17 years old and her dad and I strongly disapproved of a young man," Mama Swift said, sardonically adding, "and rightfully so."
"But she was mad," Andrea continued, explaining further that Taylor "went to her room and she closed the door. She came out about an hour later with a song called 'Love Story.'" The rest was history, as they say, and let's face it — what's the difference between 20 minutes and an hour when it comes to a hit for the ages like "Love Story?"
Source: Read Full Article