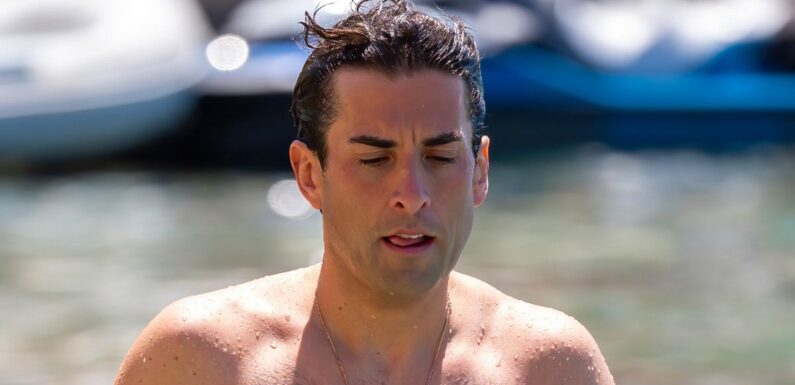 Bookmark
Get the best celeb gossip with the Daily Star Showbiz newsletter
We have more newsletters
James Argent channels his inner James Bond as he took a dip in the sea while on holiday in Palmanova in the heart of Majorca.
The former TOWIE star looked nothing short of sensational as he soaked up the sun during his lavish trip abroad.
In exclusive snaps by Reach, the TV hunk can be seen showing off his trim physique while swimming in the crystal clear blue ocean.
READ MORE: Mark Wright fears he cheated on wife Michelle Keegan 'with a ghost'
Fans of the wedding singer will remember the reality star lost 13 stone after going under the knife for gastric sleeve surgery back in 2021 which saw him drop from 27 to 14 stone.
Since then, the TV star has been putting in the hours in the gym to tone up before getting a tummy tuck operation to remove his excess skin.
And it's clear to see that all his hard work has paid off as he showed off his slender figure while taking a dip in the sea.
James can be seen sporting a pair of blue and white striped shorts which feature a zigzag patter which he accessorised with a gold pendant necklace and a beaded bracelet.
Previously the singer would pull his trunks up to his belly button to hide his loose skin in shorts and swimming trunks.
But now the reality star is proudly showing off his faint scars around his waist and new belly button which had to be removed and reattached during the surgery.
While swimming in the sea, the actor can be seen pushing his tresses back out of his hair as he walks out of the sea which almost mimics Daniel Craig's iconic scene in the 2006 film Casino Royale.
It comes after James joined Dermot O'Leary and Holly Willoughby on This Morning where he candidly opened up about his incredible weight loss.
Previously, he has been open about his addictions to food, alcohol and drugs, but when Dermot asked where it all started, he confessed: "[Going into rehab] wasn't specific to anything. It was just a battle all round really.
"I've now got myself in a position where I'm just under two years clean and sober and now I have a very healthy relationship with food and exercise and I kind of really feel happy and content.
"There's been no scandals for a good while, no drama. Everything's going smoothly, which Id great for my friends and my family."
Fans soon flooded to Twitter to congratulate the star on his lifestyle change after kicking the unhealthy habits.
One user penned: "You've done amazing, I've been there after kicking one addiction I've gained 4st so now have to tackle my weight.
For more of the latest showbiz and TV news from the Daily Star, make sure you sign up to one of our newsletters here .
"You've inspired me to actually do something about it NOW TODAY TY," the gushed.
Another agreed: "ARG looking amazing. He's done so well" as a third echoed: "Hi #jamesargent I get what you are saying bariatric surgery is not a quick fix and so true brain stomach."
Towie
James Argent
Exclusives
Source: Read Full Article