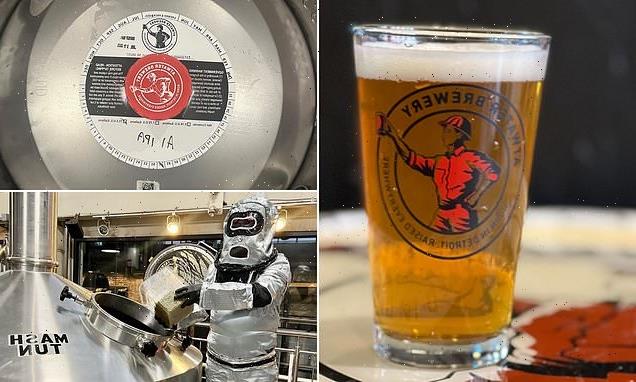 Anyone for an AIPA? Detroit brewery lets ChatGPT create its latest BEER – and early tasters say it's absolutely delicious
Atwater Brewery asked ChatGPT to come up with a recipe for an American IPA

The chatbot was created by San Francisco firm OpenAI and launched November

Experts think it could replace Google as it returns more sophisticated answers
AI tool ChatGPT has already been used to write essays, prescribe antibiotics and even fool job recruiters.  
Now, Detroit-based Atwater Brewery has created the first ever beer using a recipe fully generated by the chatbot sensation. 
The new brew, called Artificial Intelligence IPA, or AI IPA for short, contains three types of malt and a whopping eight varieties of hops. 
Although human brewers had to make the beer themselves, the entire process was based on ChatGPT's detailed recipe and instructions.
ChatGPT, created by San Francisco-based company OpenAI, has been trained on a massive amount of text so it can generate human-like answers to questions. 
'India pale ale brewed by robots': The origin of the beer was a unique recipe generated by AI chatbot sensation ChatGPT. The new brew is a clear, straw-coloured India pale ale with 'tropical and citrus flavors and aromas'
Joe Platt, quality manager at Atwater Brewery, is pictured with the new brew, which is set to be canned and shipped soon 
Seen as the next stage of the search engine, some experts think ChatGPT could even replace Google because it returns more sophisticated and nuanced responses. 
AI IPA: Ingredients and procedure
BREWER REQUEST: 'Can you brew me an American IPA using centennial, citra, amarillo, and melon hops?' 
CHATGPT RESPONSE: 'Here is a recipe for a 20 barrel batch of American IPA using centennial, citra, amarillo, and melon hops'
Ingredients:
2800 lbs pale malt  
400 lbs Munich malt 
400 lbs wheat malt 
60 lbs dextrose (corn sugar) 
3 lbs centennial hops (first wort hop) 
2 lbs citra hops (60 min boil) 
2 lbs amarillo hops (15 min boil) 
1 lb melon hops (5 min boil) 
1 lb centennial hops (whirlpool) 
1 lb citra hops (whirlpool)
1 lb amarillo hops (dry hop) 
1 lb melon hops (dry hop) 
American ale yeast (such as WLP001 or 1056)
Procedure:
Joe Platt, quality manager at Atwater Brewery, came up with the idea to turn to ChatGPT for a new brew for customers. 
Apart from water, the chatbot gave Platt 13 ingredients, including eight varieties of hops – an extra four than what was requested. 
The recipe also contains three malts –pale malt, wheat malt and Munich malt – an American ale yeast and corn sugar. 
'I asked it "Can you brew me an American IPA using centennial, citra, amarillo, and melon hops?"' Platt told MailOnline. 
'I asked it to use those specific hops because that is what we had on hand.
'It will generate recipes with all sorts of hops but in an effort to save time and money I wanted to use what we had. 
'It generated a homebrew scale recipe. I then asked it, "Can you convert this to a 20 barrel batch?" 
'It was able to do so but we had to alter the grain and hop qualities a bit because the AI does not understand brewhouse efficiency well.' 
The result was a 6.55 per cent alcohol-by-volume beer that's been poured through the brewery's taps since January, although Atwater is also planning to can it to ship overseas soon. 
The brewery celebrated its release by paying homage to one of sci-fi's best-known AI – HAL 9000 of '2001: A Space Odyssey' – by charging customers $2.001 per pint, while a member of staff donned a silver spacesuit. 
Platt said feedback about AI IPA so far has been 'positive' even though it ranks higher on the International Bitterness Units (IBU) scale than its other beers – 65 out of 120. 
Brewers use the IBU to convey how bitter their beer is due to the addition of hops – if a beer is too bitter the IBU can act as a warning. 
'It tasted more bitter and had higher IBUs than IPAs we usually tend to make,' Platt told MailOnline. 
'More of a West Coast style IPA.' 
AI IPA takes the title as the first beer created by ChatGPT, although another brewery in Canada has had the same idea. 
Whistle Buoy Brewing Company, in Victoria, British Columbia, used the chatbot to come up with a recipe for a 'hazy pale ale, fluffy and tropical'. 
Isaiah Archer, head of marketing at Whistle Buoy, said it had already been using ChatGPT to write product descriptions and social media captions.
The 6.55 per cent AI IPA ranks fairly high on the International Bitterness Units (IBU) scale – 65
Atwater Brewery celebrated the beer's release by paying homage to one of sci-fi's best-known AI, HAL 9000 of '2001: A Space Odyssey', by charging customers $2.001 per pint.
'We decided to take it a step further and asked it to write us a beer recipe for a hazy pale ale, and 10 seconds later, there it was, a full recipe that actually made sense,' Archer said.
Robo Beer: Ingredients and procedure 
BREWER REQUEST: 'We're thinking to make a hazy pale ale, fluffy and tropical, please write us a recipe and include specific hops and malts to use.'
CHATGPT RESPONSE: 'Sure! Here's a recipe for a hazy pale ale that should be fluffy and tropical:
Ingredients:
6 lbs (2.7 kg) pale ale malt
8 oz (227 g) oats
4 oz (113 g) wheat malt
1 lb (454 g) flaked wheat
1 lb (454 g) flaked oats
1 lb (454 g) lactose
2 oz (57 g) Mosaic hops
1 oz (28 g) Citra hops
1 oz (28 g) El Dorado hops
1 tsp (5 g) Irish moss
1 package of your favorite ale yeast
Instructions:
'Minds blown, we decided to give the recipe a shot and the beer is tasting great.' 
Unlike Atwater Brewery, Whistle Buoy's request didn't identify any particular ingredients to use, although it did ask it to 'include specific hops and malts'.
The recipe included just three hops but a wide variety of other ingredients including flaked oats, lactose and Irish moss, which is widely used by brewers to clarify beer during the boil. 
Staff also had to scale-up the recipe so it was appropriate for the size of Whistle Buoy's brewing capacity. 
'It put out a homebrew batch, which was fair, we didn't ask it to make it for an 800-litre brewhouse,' Archer said. 
The result – christened Robo Beer and first tapped in February – has an alcohol by volume of 5.2 per cent and an IBU of just 20, so less bitter than the one born in Detroit. 
'As far as customer feedback goes, it's been quite positive specifically about the taste and quality of the beer itself,' Archer told MailOnline. 
Rohit Joseph, who tried the beer for local radio, described it as having 'that nice balance where it wasn't too hoppy but it was just hoppy enough'. 
'It was citrusy, it had to me a bit of pineapple, tangerine going on, like most hazy pale ales,' he said. 
'Honestly, it's pretty good. When I think of hazy pale ale this is the standard, it feels like it's met that standard.' 
As for whether the use of such technology takes the 'craft' out of craft brewing, Archer said the company has no plans to use ChatGPT to make its beer recipes from now on, or 'hire robots for its brewing team'. 
'There have been a few people saying how they aren't comfortable with the idea of using AI in craft beer, but that's more from a philosophical point of view,' he said.
'From our stand-point it was more just to say isn't this an interesting piece of technology, here's how it can apply to a craft beer setting.' 
Robo Beer is now available on draught and in cans at Whistle Buoy and whistlebuoybrewing.com, although the firm said it doesn't ship to the UK. 
ChatGPT has taken the world by storm and reached more than 100 million users just three months after launching in November.
Its success has created a panic at Google, which fears that its days as the world's number one search engine could soon come to an end. 
Google scrambled to come up its own equivalent chat bot, called Bard, to be released in the 'coming weeks'. 
Unfortunately for Google, Bard presented incorrect information as fact in a Twitter video, instantly wiping £100 billion from the tech giant's value. 
Will ChatGPT replace Google? 
Gmail developer Paul Buchheit has predicted that 'AI will eliminate the search engine result page' and cause 'total disruption' for Google.
A New York Times report also said that Google executives sounded a code red within the company amid mounting pressure from ChatGPT.
A core way that Google makes money is from advertisers paying to have their links displayed alongside the results of a search query result in the hope that a user clicks on them.
The fluency and coherence of the results being generated now has those in Silicon Valley wondering about the future of Google's monopoly
'The way I imagine this happening is that the URL/Search bar of the [Google] browser gets replaced with AI that autocompletes my thought/question as I type it while also providing the best answer (which may be a link to a website or product),' Buchheit said. 
'The old search engine backend will be used by the AI to gather relevant information and links, which will then be summarized for the user,' Bucheit explained.  
'It's like asking a professional human researcher to do the work, except the AI will instantly do what would take many minutes for a human.'
While some believe ChatGPT will replace Google, the AI has a different opinion.
'As an AI language model, I do not have the ability to take over any company or organization, including Google,' it said on the matter.
'My purpose is to assist and provide helpful responses to users who interact with me.
'Google is a multinational technology company with a strong market position and a vast array of products and services, so it is highly unlikely that any single entity, including an AI language model like myself, could take over Google. 
'Furthermore, I believe that companies like Google and AI language models like myself can work together to provide even better solutions and services to users around the world.' 
Read more 
Source: Read Full Article