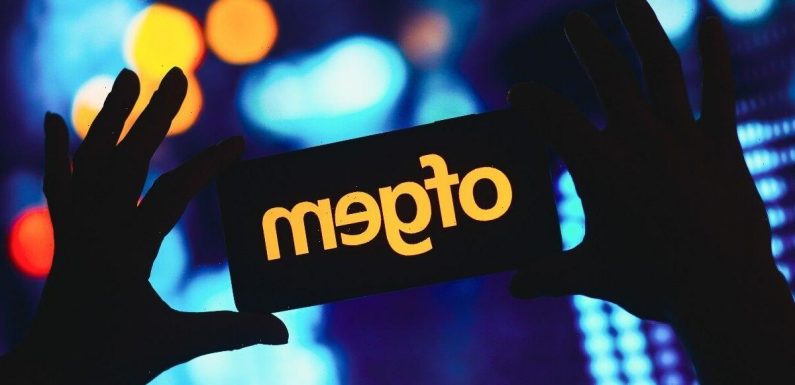 A commentator has launched a scathing attack on the Government's energy regulator for mulling over a new measure which he derided as a "sudden embrace of socialism" to "deflect from a catalogue of mistakes". Ofgem's boss announced this week that he is considering introducing social energy tariffs for households "in the most vulnerable situations" ahead of a looming rise to the already record-high energy bills. 
The regulator's boss Jonathan Brearley said the measure will be looked into "with urgency" amid serious concerns about how low-income households will cope with the scaling back of the energy price guarantee in April, which also coincides with the conclusion of the £400 winter discount on energy bills.
Mr Brearley said during a speech at the Institute for Government: "Often the root cause of people falling into debt is that even with the extensive government support available, millions of households are struggling to pay their bills.
"While the price cap has been effective in preventing customers from being charged more than they should, it does not provide a means to ensure vulnerable customers and those on low incomes can afford the energy they need when prices are so high.
"That is why we think there is a case for examining, with urgency, the feasibility of a social tariff, or other similarly targeted support, to customers in the most vulnerable situations."
This comes after over 90 charities and non-profit organisations across the UK wrote to Chancellor Jeremey Hunt urging him to offer more targeted support low-income households who face a double burden from the "rising cost of bills and paying more for their energy due to the poverty premium".
They urged Mr Hunt to consider introducing more support for "those on means-tested benefits, disability benefits and Carer's Allowance as well as those missing out on welfare support but still struggling with their bills".
Martin Coppack, Director of Fair By Design said: "We need to make sure vulnerable households are protected from future hikes in energy prices. This is why Fair By Design has been calling on the Treasury and the Department for Business, Energy and Industrial Strategy to introduce an energy social tariff.
"This would benefit those in greatest need, who would no longer be faced with the impossible decision of going without essentials such as food just to be able to heat their homes."
Meanwhile, this comes as Ofgem announced that its price cap would fall by almost £1,000 in April to £3,280. This price cap sets a maximum price that energy suppliers can charge consumers for each kilowatt hour (kWh) of energy they use. The amount individual households pay depends on how much power they use.
Ofgem's slashing of the cap comes after wholesale gas prices hit their lowest levels since the Ukraine war began earlier this month. But while
But despite the regulator's cap dropping, customers are still set to pay about 20 percent more on their bills because the Government's energy price guarantee, which covers excess energy costs for consumers, is going up in April. Mr Hunt has said this will go from £2,500 to £3,000 in a £500 rise.
Fuel poverty charities have warned that the change could see the number of fuel-poor households jump to a staggering 8.4 million across the country.
As Ofgem mulls over a social tariff, Ben Marlow, Chief City Commentator for The Daily Telegraph, has accused the regulator of "borrowing" the idea after running out of its own, claiming it "dropped the ball" when it came protecting customers from skyrocketing bills.
He wrote in a comment piece for the Telegraph: "It remained too passive in the face of spiralling energy prices, stood by as Britain's gas storage facilities became dangerously depleted, and in a botched bid to encourage greater competition allowed the supply market to turn into the Wild West."
DON'T MISS
Elon Musk issues 'WW3' warning after dealing Ukraine blow with ban [REPORT]
Sunak urged to rejoin £84bn EU scheme as 70% firms plot UK exodus [INSIGHT]
Rolls-Royce warns UK risks slowing pace of new nuclear plant rollout [REVEAL]
Now, he said the regulator risks stepping "down the road to a form of energy socialism" after its "attempts at intervention" were "nothing short of disastrous for customers".
But Mr Marlow is not the only one who has accused Ofgem of "failing to act".
Back in November, MPs questioned whether Ofgem was truly fit to police the industry after being blamed for costing households billions of pounds as a result of more than 30 suppliers going bust.
Dame Meg Hillier MP chaired the committee which accused Ofgem of being "too slow to act" to ensure suppliers were financially resilient even before wholesale energy costs started to soar.
She said: "It is true that global factors caused the unprecedented gas and electricity prices that have caused so many energy supplier failures over the last year, at such terrible cost to households. But the fact remains that we have regulators to set the framework to shore us up for the bad times."
However, it is not just in this instance that Mr Malow believes the regulator to have failed, as detailed in his scathing attack on the regulator in his piece 'Desperate Ofgem is turning to socialism to hide its own mistakes'.
He wrote: "At every step the regulator has been far too reactive, and in some cases it has failed to act at all. A more competent market policeman would have anticipated some of the forces that have fuelled the big spike in bills."Ofgem's sudden embrace of socialism looks like a vain attempt to deflect from a catalogue of mistakes."
Express.co.uk is reaching out to Ofgem to comment.
Source: Read Full Article