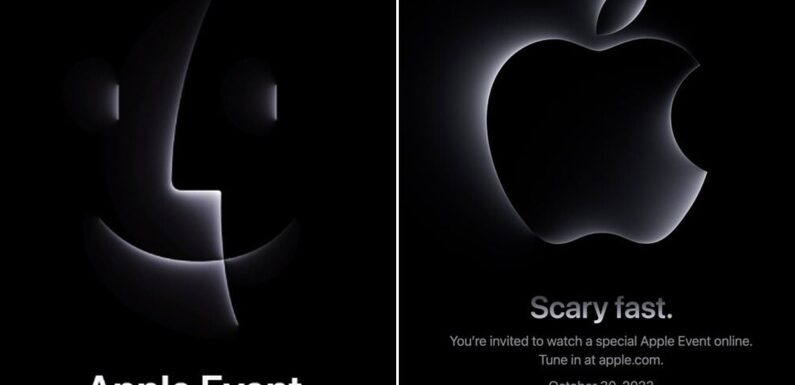 Apple announces a surprise event next week – and the 'Scary Fast' tagline suggests it could be launching a HUGE new product
Starting at 16:59 PT on Halloween Eve, the event has sparked wide speculation
Some suggest that a line of Macs with a new M3 chip could be on the way
Apple has announced a surprise event on Halloween Eve – and the tagline 'Scary Fast' suggests that there might be more of a treat than a trick for tech fans.
Starting at 16:59 PT (23:59 UK time) on October 30, the event is scheduled far later than most Apple events and unusually is also entirely virtual. 
There are very few details given about the event beyond the tagline, but the tech giant is expected to reveal a product related to its signature Mac computer line. 
The only clue is the Apple logo on the company's events page, which transforms into the icon for the 'Finder' icon from the Mac operating system. 
This has sparked widespread speculation on what Apple might have lined up for the spooky event, with suggestions ranging from new processing chips to a new range of iPads.  
Apple has been staying quiet about what might be in store for this surprise Halloween event but the tagline, 'Scary Fast', may suggest something big 
The only clue as to what might be coming is that the Apple logo on the company's page transforms into a version of the Mac operating system 'Finder' icon
READ MORE: Do YOU have an old Apple gadget that's worth a fortune?
Based on the tagline and the finder icon, some have suggested that Apple may be preparing to unveil its long-awaited M3 chip. 
Most current MacBooks use Apple's M2 chip, with the latest M2 models arriving last summer with the update of the MacBook Air and MacBook Pro.
Some have also suggested that the high-end and expensive 14″ and 16″ MacBook Pro could be in line for an upgrade. 
If these more advanced models do get new chips, it will have been only 11 months since their previous upgrades. 
The iMac, Apple's desktop computer, meanwhile still uses the older M1 chip and has not been updated in two years.
Many have speculated that this release could see the iMac at least being upgraded to an M2 model.  
Veteran Apple analyst Ming-Chi Kuo predicts that the event will launch a new range of MacBook Pro with an updated M3 chip
The inclusion of the Mac Finder icon has left many commentators with little doubt that there will be a new line of Mac computers released on Halloween
Current Apple Mac prices 
iMac 24″
£1,399 ($1,696) – £1,799 ($2,180.92)
MacBook Pro 13″
 £1,349 (1635.39) – £1,549 ($1,877.84)
MacBook Pro 14″
£2,149 ($2605.22) – £3,349 ($4,059.98)
MacBook Pro 16"
£2,699 ($3271.98) – £3,749 ($4544.89)
MacBook Air 13″ (M2 Chip)
£1,149 ($1,392.93) – £1,449 ($1,756.62)
MacBook Air 15″ (M2 Chip) 
 £1,399 ($1,696) – £1,599 ($1,938.46)
The latest MacBook Air models do include the newer M2 Chip
Veteran Apple analyst Ming-Chi Kuo predicts that the event will see the release of the M3 series of MacBook Pro, despite having previously suggested that the release was unlikely until 2024.
Additionally, tech writer Mark Gurnman suggested out that the iMac and all three sizes of MacBook Pro showed longer shipping times than normal on Apple's website – a common sign that a product refresh is approaching.
However, as of today, MailOnline has confirmed that delivery times in the UK are now at normal speeds of two working days. 
While a Mac-related launch is the most common theory, there have been suggestions that a new iPad might also be on the release schedule.
Earlier this month, rumour circulateds that an upcoming release date would see the launch of a new range of tablets.
However, the day only saw the announcement of a new Apple Pencil leading some to speculate that the iPad release may have been delayed to coincide with the Halloween event.  
This event comes after the less-than-smooth launch of the new iPhone 15 range which saw the 15 Pro and 15 Pro Max models plagued by problems.
Most significantly, some users reported that their phones hit temperatures of up to 48 degrees during normal use. 
The issue was so bad that Apple was forced to issue a software update to fix a bug which was supposedly causing the overheating. 
The new iPhones also experienced discolouration of the new titanium frame and in some cases appeared to crack easily in users' hands.
One review posted to YouTube appeared to show the iPhone 15 Pro Max bending and snapping with only a small amount of pressure. 
More recently several users on social media reported that their new phones were showing signs of severe 'screen burn', leaving ghostly images over the display. 
Source: Read Full Article