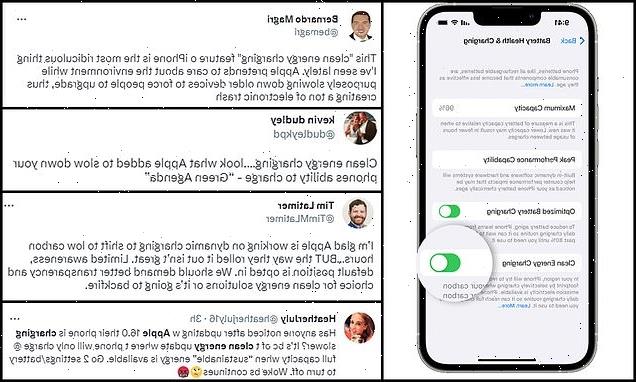 Green Apple: Users fume at new feature that slows charging when 'clean energy' isn't used
Apple 'snuck' in a feature that determines if and when an iPhone charges
It slows down the process when 'sustainable' electricity is unavailable
READ MORE:  The 27 iPhone hacks to make your life easier
The new feature is called Clean Energy Charging and it is activated by default
Apple quietly rolled out a 'woke' feature in iOS 16, which reduces a user's carbon footprint by slowing down the charging of iPhones – and people are in an uproar.
The option, called Clean Energy Charging, scours emissions reports from local power plants to determine if and when the smartphone recharges, depending on if sustainable energy is available.
Users believe the tech giant purposely added it 'to trick' them into upgrading their devices, while others suggest the tech giant is 'dictating how they use their $1,000 phones.'
However, you can turn Clean Energy Charging off with a simple button toggle.
Apple 'snuck' the feature with the October iOS 16 release in the US.
But since downloading the latest operating system, users have noticed it takes longer for their iPhones to power up.
Fervo Energy CEO Tim Latimer tweeted: 'I'm glad Apple is working on dynamic charging to shift to low carbon hour.
'BUT the way they rolled it out isn't great. Limited awareness, default position is opted in. We should demand better transparency and choice for clean energy solutions or it's going to backfire.'
Clean Energy Charging works with Optimized Battery Charging to learn your charging habits. 
Bernardo Magri, another frustrated iPhone user, tweeted: 'This 'clean energy charging' feature o iPhone is the most ridiculous thing I've seen lately. 
Users are calling it 'woke' because the feature is slowing down the charging of iPhones
Twitter users are more frustrated that Apple did not publicly announce the feature
And others believe the feature is Apple's way of getting people to upgrade their iPhones
'Apple pretends to care about the environment while purposely slowing down older devices to force people to upgrade, thus creating a ton of electronic trash.'
And another user who also noticed the activated feature tweeted: 'Woke bs continues.' 
To deactivate Clean Energy Charging, go to settings, clicking 'Battery,' then 'Battery Health and Charging,' and then turn off the switch titled 'Clean Energy Charging.' 
It seems Apple's iOS 16 has come with many issues, earlier this month, the tech giant rolled out a dire update to patch vulnerabilities. 
One of the issues is in Webkit, a Safari browser engine that allowed bad actors to execute an arbitrary code on an iPhone and Homeland Security believes it may have been exploited.
The second security flaw in Kernel could allow an attacker to take over privileges, but the tech giant is unaware this has been used.
It is unclear how long the vulnerabilities have been plaguing devices.
However, you can turn Clean Energy Charging off with a simple button toggle
And two more were identified by privacy experts last week.
The latest discovery lets cybercriminals bypass security protections and run malicious code to access users' images and messages, along with the address book and calendar.
There are several ways to protect your personal information from hackers lurking in the shadows, such as only using trusted apps in the App Store and not opening messages from unknown users.
Apple recently added the new vulnerabilities to its product security update page, urging users to download iOS 16.3.1 to patch the issues. 
Privacy experts at VPNOverview shared news of the vulnerabilities, CVE-2023-23520 and CVE-2023-23531, allowing attackers to bypass this cryptographic signing process and run malicious code out of its ring-fenced security sandbox. 
Source: Read Full Article