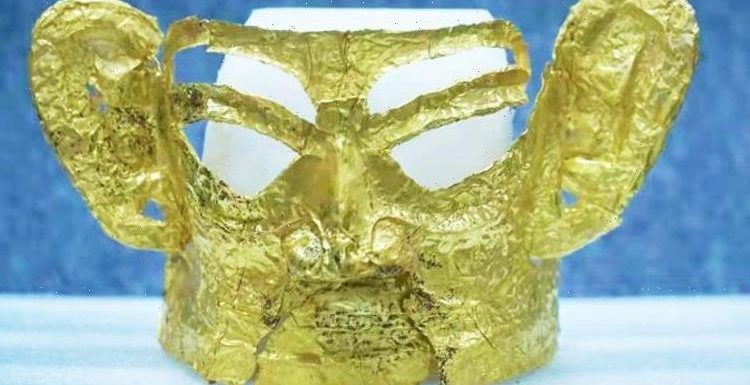 Expert explains how to tell someones age from a skeleton
We use your sign-up to provide content in ways you've consented to and to improve our understanding of you. This may include adverts from us and 3rd parties based on our understanding. You can unsubscribe at any time. More info
Among the most intriguing items recovered from the archaeological site in China's Sichuan province, is an intricate mask formed from sheets of gold. According to the Sichuan Provincial Cultural Heritage Administration, more than 500 items have been recovered from the site. Sanxingdui covers a 4.6-square-miles site in Guanghan, Sichuan, and has been dated to between the 12th and 11th century BC.
The latest discovery is believed to hail from the late Shang dynasty (Yin dynasty), which ruled from 1556 to 1046 BC.
Ran Hongling, head of the Sanxingdui Institute of Archaeology, told the Chinese press the gold mask was not a standalone item but was likely placed on a larger head shaped from bronze
The gold relic only weighs 0.022 pounds (100g) and measures 14.6 inches wide and 6.4 inches tall (37.2cm by 16.5cm).
The mask bears features that suggest it would slot onto the face of a large bronze head measuring 49 by 29 inches (135cm by 74cm) – the biggest bronze head ever found at the site.
Many of the other items unearthed at Sanxingdui were crafted from jade and ivory, as well as bronze and gold.
These include bronze figurines, jade knives, ceremonial vessels known as "zun" and more than 140 elephant tusks.
Since excavations began at the site in October last year, archaeologists have found nearly 2,000 artefacts.
Sanxingdui has been a source of fascinating discoveries since the late Eighties when archaeologists first stumbled upon a ceremonial pit filled with more than 1,000 items.
Most famously, excavators retrieved a number of highly decorative bronze masks and carved statues with alien-like features.
After the pit was excavated once again in 2019, archaeologists went on to discover five more ceremonial pots packed to the brim with artefacts.
Tang Fei, chief of the Sichuan Provincial Cultural Relics and Archaeology Research Institute, told Xinhua: "The new discoveries demonstrate once again that imagination and creativity of the ancient Chinese far surpassed what people today had expected."
The golden mask was discovered earlier this summer but only now has been revealed to the world.
Due to its frail state, experts have spent about a week restoring it to a shade of its former glory.
According to Mr Hongling, it likely depicts an ancient Chinese deity.
Another item of interest found at the site is a bronze figurine of a man kneeling down as if in prayer.
His hands are held together out in front of his face and he boasts an unusual, swirling haircut coming out of his head.
The Sanxingdui ruins sit about 37 miles (60km) from the provincial capital of Chengdu.
The site was first explored in 1927 but it would take another 60 years before proper excavation works were undertaken.
Many Chinese scholars suspect the site may have formed part of the kingdom of Shu – an ancient state in what is now modern-day Sichuan province.
Digs at the site have previously found evidence of a walled city dated to about 1,600 BC.
In 2013, Sanxingdui was submitted to UNESCO's list of tentative world heritage sites.
UNESCO said: "The site of ancient Shu is an outstanding representative of the Bronze Civilization of the Yangtze River Valley of China.
"It was the result of the interaction and integration of multiple cultures, and possesses a remarkable significance in the civilization and history of East Asia and the world."
Source: Read Full Article