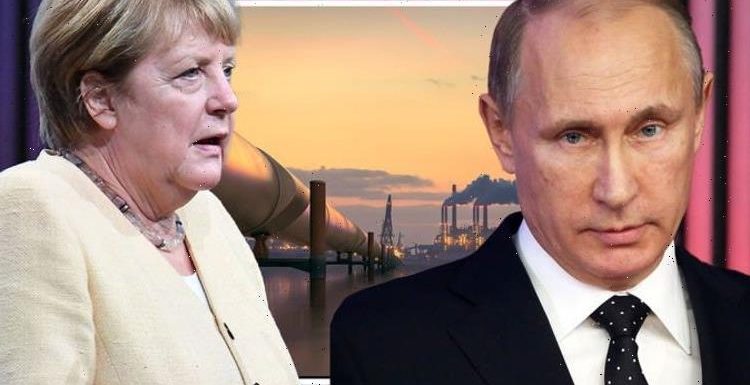 Russia: Crimean PM hails renewed Russian gas supply to Ukraine's Genichesk
We use your sign-up to provide content in ways you've consented to and to improve our understanding of you. This may include adverts from us and 3rd parties based on our understanding. You can unsubscribe at any time. More info
In the last month alone, the price of natural gas has soared to more than 35 percent and there are fears not enough gas is stored up to last for the cold months ahead. Making the situation worse for Europe is Vladimir Putin's control of gas supplies travelling into the European Union after turning the tap on gas pipelines. The Russian President dis so as the newly built Nord Stream 2 gas pipeline awaits approval from German regulators before it can start flowing gas into Europe at double the amount that Russia currently exports.
The controversial pipeline runs through the Baltic Sea and straight into Germany, bypassing Poland and Ukraine in the process.
But Mr Putin has turned the tap on gas supplies as he hopes to avoid German Chancellor Angela Merkel from implementing EU law across the system.
This has put an even greater strain on gas suppliers on top of the rising prices, with experts panicking another cold winter makes the prospect of a gas crisis even more likely.
With prices normally low around this time of year, investors have focused on the growth in demand around the world and supplies below average.
But supplies in Europe have now reached a record low, with natural gas in storage in Europe is 16 percent below the five-year average, a record low for September, according to John Kilduff, partner with Again Capital.
He said: "People are starting to throw the 'crisis' word around when it comes to Europe.
"Europe is squarely behind the eight-ball going into the winter season.
"It's going to put the focus on this commodity that's been overlooked for the last several years."
Francisco Blanch, head of commodities at Bank of America, said: "If the winter is mildly cold, it's going to be problematic for sure."
Last week, benchmark European gas futures traded in the Netherlands and prices in the UK reached record highs.
Julien Hoarau, the head of EnergyScan, the analytics unit of French utility Engie SA said: "The problem hasn't even started yet. Europe will face a very tight winter.
"If we have a weather event like the Beast of the East, I wouldn't be surprised we could have spot prices reaching three digits."
And there are fears prices are still only going to go up.
Daniel Yergin, vice chairman of IHS Markit, said: "If it's a cold winter, gas will not just be tight. It will be very tight."
DON'T MISS
Archaeologists astounded by 10,000 'unknown' Middle East ancient sites [REVEAL]
Soviet Russia launched secret spacecraft to other side of Moon [REPORT]
AstraZeneca warning as Czech Republic may destroy vaccines [INSIGHT]
If that is the case, the expert worries prices could rise even more.
He added: "It will either be physical shortages, or it will be reflected in price."
The gas supply crisis has even brought some panic to the UK as Britain fired up an old coal power plant, West Burton A as prices continue to rise.
But the Government has committed to completely phasing out coal by 2024, more than 10 years earlier than Germany's target.
Source: Read Full Article