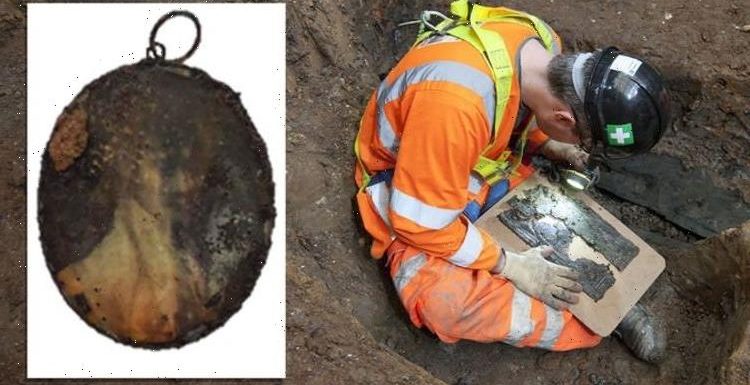 Expert explains how to tell someones age from a skeleton
We use your sign-up to provide content in ways you've consented to and to improve our understanding of you. This may include adverts from us and 3rd parties based on our understanding. You can unsubscribe at any time. More info
Archaeological excavations carried out in the heart of London have uncovered more than 57,000 burial records and it could be up to you to match them to other historical documents. The burial records relate to the St James's burial ground at Euston, London, where HS2 archaeologists have excavated more than 31,000 burials – the biggest excavation of this kind the UK has ever seen. The ambitious project, which was carried out between 2018 and 2019, has now entered the next stage, with plans to learn more about the lost history of this corner of London.
The public has been invited to participate online by helping to decipher the burial records by logging names, addresses and causes of birth in an online database.
And you don't need any previous experience, other than a keen interest in history.
Robert Hartle, a senior archaeologist at MOLA Headland Infrastructure, told Express.co.uk the initiative will marry the existing data and burials uncovered at the site with a wealth of historical records to better understand life in London at the height of the Industrial Revolution.
The burial expert said of the "massive undertaking": "We've got this huge amount of data from what we've been able to excavate, which could be studied for years.
"There are so many things that can be done with it and so many stories that can be told.
"And that will only be increased and amplified by having the historical records digitised and searchable alongside that."
The burial registers at Euston account for about 60,000 people who were buried at St James's Gardens between the late 18th century and mid-19th century.
Many of the burials were moved for the construction of Euston Station, which was opened in 1837 as London's inter-city railway terminal.
And the cemetery is one of 60 archaeological sites earmarked for excavation along the route of the HS2 high-speed rail line from London to Birmingham.
According to Mr Hartle, the burial site is something of a macrocosm of London 200 years ago.
The burials represent people from all walks of life, including many who travelled from all over the world to find a new home in England.
These include people from Eastern Europe and India, as well as Italy, France, Wales and Ireland.
The burial expert said: "You almost have a tapestry of lives, which builds up a bigger picture."
So how can you take part in the effort to digitise the uncovered burial records? The process is actually quite simple.
Because of the sheer amount of data uncovered at St James's burial ground, the archaeologists need citizen scientists to lend a helping hand.
And though the process could take years to complete, you can help today by visiting the portal Zooniverse here, to explore the Stories of St James's Burial Ground.
The website will allow you to annotate and transcribe documents from the 18th and 19th centuries, helping archaeologists and historians learn more about the people buried at Euston.
The Zooniverse process is broken down into a workflow that will help build a clearer picture of the data.
This means you can answer set questions about the documents you are looking at, but also gives you a chance to highlight any interesting or quirky discoveries you might uncover.
Enlisting the help of volunteers is vital on a project of this scale, according to Mr Hartle.
Though he thinks it might take a while to get accustomed to the 200-year-old style of handwriting.
He said: "You've only got so many people and so much time and money.
"So if you can get people interested and volunteers to help do stuff beyond what you might normally be able to, that's great.
"Historical research is endless really, I suppose. You could go on forever and look at so many records.
"But obviously you can't do that on a normal archaeological project."
Helen Wass, Head of Heritage at HS2 Ltd, believes the project honours the lives and deaths of the thousands buried at Euston.
Christianity 'turned to archaeology to promote bible' says expert
And the archaeologists have already made some breakthroughs in learning about the people buried at the site.
For instance, they have learned a great deal about the life and death of Elizabeth Montgomery.
Ms Montgomery died on May 28, 1833, in Dieppe, France at the age of 40.
She was buried in London in an "unusual coffin", likely built by local craftsmen.
Her death was described in The Times newspaper on June 11, 1833, when her coffin was brought from France to Cavendish Square and later St James's for burial.
According to her will, Ms Montgomery wished to be buried in England should she die abroad.
Buried alongside her was a miniature portrait which, unfortunately, did not survive the stress of time.
But this is just one of the many stories waiting to be uncovered at St James's burial site.
Mr Hartle believes the project will leave behind a "long-lasting legacy" that will benefit scientists, historians and the public.
And you might even learn a thing or two about your own family tree while you're at it.
The archaeologist said: "There's a huge amount of exciting research that can come from having the archaeology and the history combined."
Source: Read Full Article