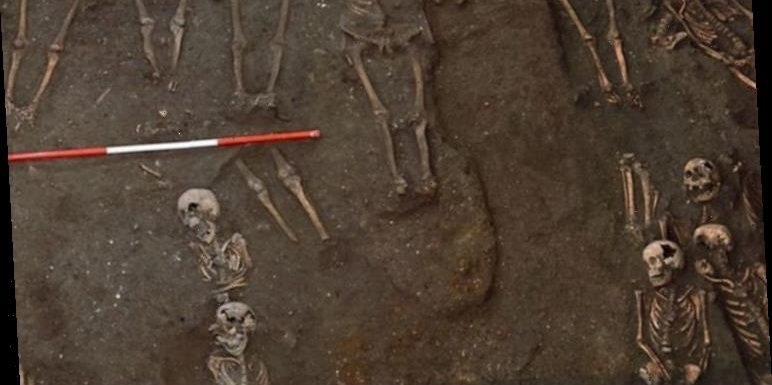 Cambridge University explore evidence of 'skeletal trauma'
Archaeologists examining the skeletal remains of more than 300 people who lived between the 10th and 14th century in Cambridge have revealed the social inequality of the time. The bones discovered were found in a wide range of places which would indicate an individual's societal standing. For example, bones found in a parish graveyard were from "ordinary working" people, while those found in an Augustinian friary were of people of the upper classes.
The team of experts from the University of Cambridge carefully analysed the nature of every break and fracture to determine the "physical distress visited upon the city's inhabitants by accident, occupational injury or violence during their daily lives".
X-ray analysis found a staggering 44 percent of working class people had suffered a bone fracture in their lives, while only 32 percent of the upper classes had.
More males (40 percent) than females (26 percent) had also suffered a fracture of some kind in their lives, according to the research published in the American Journal of Physical Anthropology.
Dr Jenna Dittmar, study lead author from the After the Plague project at the University's Department of Archaeology, said: "By comparing the skeletal trauma of remains buried in various locations within a town like Cambridge, we can gauge the hazards of daily life experienced by different spheres of medieval society.
We will use your email address only for sending you newsletters. Please see our Privacy Notice for details of your data protection rights.
"We can see that ordinary working folk had a higher risk of injury compared to the friars and their benefactors or the more sheltered hospital inmates.
"These were people who spent their days working long hours doing heavy manual labour.
"In town, people worked in trades and crafts such as stonemasonry and blacksmithing, or as general labourers.
"Outside town, many spent dawn to dusk doing bone-crushing work in the fields or tending livestock."
While the working class and poorer people may have suffered the consequences of physical labour in general, the research shows that medieval life was pretty brutal for anyone.
The research showed the most extreme injury was found on a friar, who associated with the upper class.
Dr Dittmar said: "The friar had complete fractures halfway up both his femurs.
"Whatever caused both bones to break in this way must have been traumatic, and was possibly the cause of death."
DON'T MISS
Reason Romans never abandoned UK fort explained
Ancient coins stolen from archaeology site returned to Italian museum
Archaeology evidence of Jerusalem's 'cursed' King Uzziah proves Bible
If the injuries were sustained on an individual today, medical experts would have assumed the person had been hit by a car.
However, in medieval times there obviously were no cars.
Dr Dittmar added: "Our best guess is a cart accident.
"Perhaps a horse got spooked and he was struck by the wagon."
Source: Read Full Article