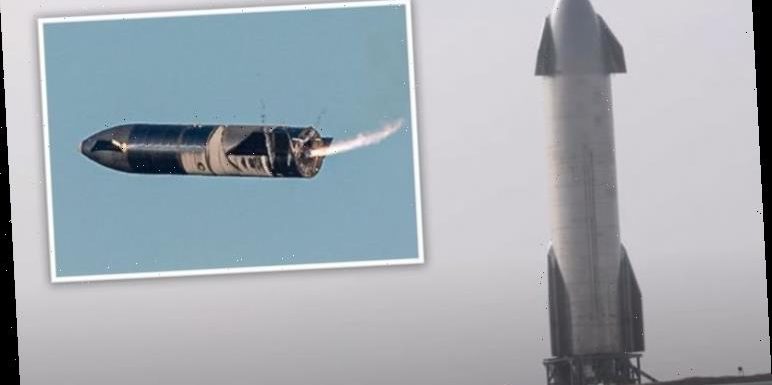 SpaceX Starship SN9 conducts static fire test in Boca Chica
The launch of SpaceX's Starship Serial Number 9 (SN9) has been fraught with delays in recent weeks and SpaceX fans are getting anxious. SpaceX looked set to launch the prototype rocket on Monday, January 25, but the test flight appears to have been scrubbed due to strong winds in the launch area near Boca Chica, South Texas. The spacecraft is due to launch on its first suborbital flight, improving on the partial success of the crash-landed SN8 last month.
SpaceX fans are now desperate to know when the next launch window opens and whether SN9 could take to the skies today (January 26).
One person tweeted: "No Starship launch today 🙁 Hopefully SN9 will earn its wings tomorrow!"
Another person said: "Shame today's #Starship test launch didn't go ahead but I'd reckon if the weather stays calm tomorrow we could see #SN9 fly for the first time!
"Personally I think it'll pull its full manoeuvre off, including a landing!"
Tim Dodd of Everyday Astronaut also tweeted: "Today's TFR has been cancelled, there will be no #SN9 launch today.
"Hopefully they can reset for an attempt tomorrow and hopefully the weather will be better too!!!"
We will use your email address only for sending you newsletters. Please see our Privacy Notice for details of your data protection rights.
Will Starship SN9 launch today?
Whether or not Starship launches depends on a number of factors, such as weather and pre-flight systems checks.
SN9 was cleared for flight this week after SpaceX completed a flight readiness review or FRR.
The US Federal Aviation Administration (FAA) has also issued flight restrictions around Boca Chica Beach, giving SpaceX the clear airspace needed to launch SN9.
The restrictions are in place between 2pm and 11.59pm GMT (8am and 6.59pm CST) on Tuesday and Wednesday.
SpaceX: Simulation demonstrates 'Super Heavy' rocket landing
Tuesday, therefore, looks to be the earliest day SN9 could launch.
Another major clue: Cameron County Judge Eddie Travino Jr has issued road closures around the Boca Chica facility this week.
Monday's closures were called off when it was clear SN9 was not going to fly but back up closures are scheduled for Tuesday and Wednesday.
The closures will be in effect between 2pm and 11pm GMT (8am and 5pm CST).
SpaceX fans have shared their excitement surrounding the SpaceX launch on social media.
DON'T MISS…
'Survival is impossible' Brian Cox's 'catastrophic' space warning [INSIGHT]
Elon Musk's plan to send one million people to Mars boosted [REPORT]
Life after death: Brian Cox says physics 'ruled out' the human soul [VIDEO]
One person tweeted: "Watch SN9 launch today while I'm at work! I don't wanna miss this one!"
Another person said: "Excited for the Starship SN9 launch this week!"
And a third fan said: "I'm calling it now no launch this week. See you next wee SN9. Weather just doesn't look good this week."
Once complete, Starship will be the most powerful launch vehicle ever built.
According to SpaceX, the spacecraft will carry up to 100 tons of cargo into orbit and will service mission to the Moon and Mars.
Starship will launch atop of the Super Heavy booster rocket and both stages will be fully reusable.
SpaceX chief Elon Musk, 49, has envisioned a fleet of Starships helping build a human colony on Mars.
SpaceX said: "Building cities on Mars will require affordable delivery of significant quantities of cargo and people.
"The fully reusable Starship system uses in-space propellant transfer to achieve this and carry people on long-duration, interplanetary flights."
Source: Read Full Article