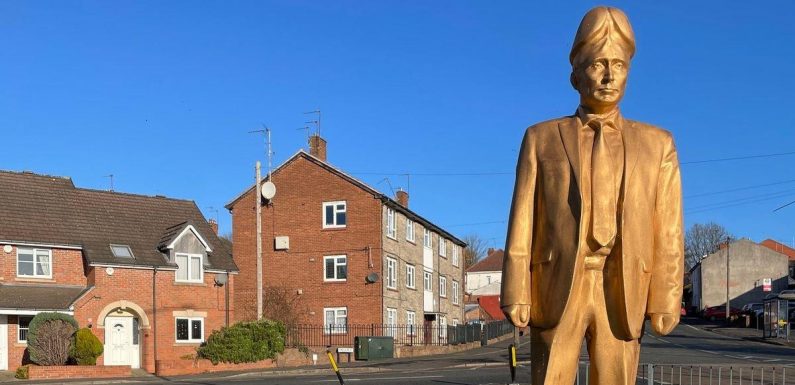 Bell End residents love living on the street that erected a Vladimir Putin statue for locals to pelt eggs at.
Greg Roberts, 31, told BlackCountryLive that rather than feel embarrassed about living on Bell End, it was a "plus reason" for moving to the road considered one of the UK's 'rudest street names'.
The historic Rowley Regis road in West Midlands is just 350 yards long but has built up quite the reputation thanks to its annual "Bellend of the year" prize.
READ MORE: Britain's rudest named places – from Crapstone and Tittyho to Shitterton and Bell End
One woman from Bell End admitted people can't help but burst out laughing when she reveals her address over the phone.
In December, a statue of Russian president Vladmir Putin was erected on Bell End, with a plaque crowning him "Bellend of the year". People also threw eggs at it.
Meanwhile a petition was launched in 2018 calling for its name change amid claims kids were being bullied at school.
But residents told us they liked the name and claimed it had even pushed up houses prices in the area. A number homes on the road featured their house number and the name 'Bell End', proudly adorned on signs.
Greg Roberts, aged 31, said: "We moved here about two years ago. It was a plus reason for moving here.
"When people hear where we live, they react as you would expect." He added: "We found out about the statue because someone posted about it on Facebook."
Nearby, another man who wished to remain anonymous said: "To be honest, the word is something from the 1980s. Before it was a word people made up, there used to a bell tower at the end of the road. That is the reason why the street was called Bell End.
"It is people's minds in this day and age. That is why they want to move down here, they find it funny. It has put the prices of houses up."
Meanwhile, Andy Swan, 74, who lived further down the road, said: "It was the clock tower, the name has been there for many years.
For more incredible stories from the Daily Star, make sure you sign up to one of our newsletters here
"It is the new people moving in making it worse."
A 50-year-old woman, who wished to remain anonymous, said: "I love the name.
"When you phone people up, you have to say your address very quickly. People start laughing."
Meanwhile, a postman who was out delivering mail, added: "I love telling people I'm the Bell End postman."
Bell End was ranked fourth on a list of the top 15 most rude-sounding street names in the UK in 2014.
READ NEXT:
Woman now 'doesn't exist' after mum steals her identity and creates an impostor

'Deadliest beach' that has more shark attacks and hurricanes than any other

Nicola Bulley's dog was most likely in 'fight or flight' mode, expert believes

Putin's desperate men survive on instant noodles and potatoes cooked on 'rockets'
Source: Read Full Article