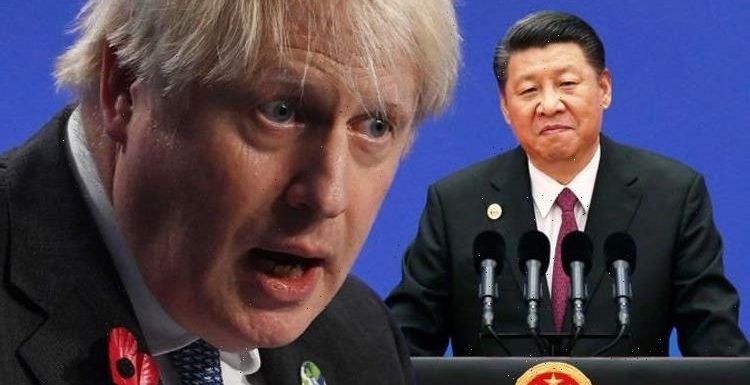 Boris Johnson: 'Huge amount to do' to meet climate targets
We use your sign-up to provide content in ways you've consented to and to improve our understanding of you. This may include adverts from us and 3rd parties based on our understanding. You can unsubscribe at any time. More info
The Prime Minister arrived in Glasgow once again on Wednesday to deliver a passionate keynote during the final stretch of the international climate summit. Mr Johnson said the "line is in sight" but the global community has to be more ambitious if global warming is to be kept below 1.5C. With just two days to go before the summit wraps up, Mr Johnson warned there is still a lot of work to do and hinted at the possibility of extending the summit beyond its remaining 48 hours "if we have to".
Towards the goal of keeping global warming in check, the UK has vowed to half its greenhouse emissions by 2030, and reach full net zero by 2050.
The ambitious target was adopted by most of the developed world, with the EU and US also committing to net zero by 2050.
However, countries like China and India have gone against the global consensus and have instead opted to pursue their own emissions targets, despite being some of the world's biggest polluters.
China confirmed last week that the country aims to reach net zero 10 years later than the rest of the developed world – by 2060.
Indian Prime Minister Narendra Modi has similarly said his country aims hit net zero no earlier than 2070.
Various estimates suggest China is the world's biggest emitter of greenhouse gasses, exceeding the output of all developed nations combined.
Data published by the Rhodium Group indicates that in 2019 alone, China emitted 27 percent of the total global output.
The US came in second on the list of polluters at 11 percent of the global output.
Boris Johnson shamed for 'failing' to meet COP26 targets
Mr Johnson, who did not name China in his speech but hinted at nations hindering the global fight against climate change, said nations, governments and corporations need to be held to account for their impact on the climate.
He also hailed the monumental achievement that was the 2015 Paris Climate Agreement but said the commitments made six years ago need to be enacted.
Mr Johnson then vented his frustration at seeing countries not pull their weight in supporting vulnerable nations that are expected to bear the brunt of the climate crisis.
Many experts fear that countries in the Global South that have not contributed to the climate crisis will suffer the worst consequences.
Mr Johnson said: "It's very frustrating to see countries that have spent six years conspicuously patting themselves on the back for signing that promissory note in Paris, quietly edging towards default, now that vulnerable nations and future generations are demanding payment here in Glasgow.
"And there's really no excuse because we know what is at stake here. We've been hearing it all week."
Twelve years ago, the world's wealthiest nations agreed to pool their resources and spend £74billion ($100billion) a year by 2020 in "climate finance".
So far, the promise has been broken, and the most recent estimates suggest only £60billion ($80billion) in aid was raised in 2019.
This has led to harsh criticism from some of the COP delegations that have shamed the developed world.
Surangel Whipps Jr, President of the Pacific island state of Palau, said last week: "Frankly speaking, there is no dignity to a slow and painful death.
"You might as well bomb our islands instead of making us suffer, only to witness our slow and fateful demise.
"Leaders of the G20, we are drowning, and our only hope is the life ring you are holding."
Source: Read Full Article