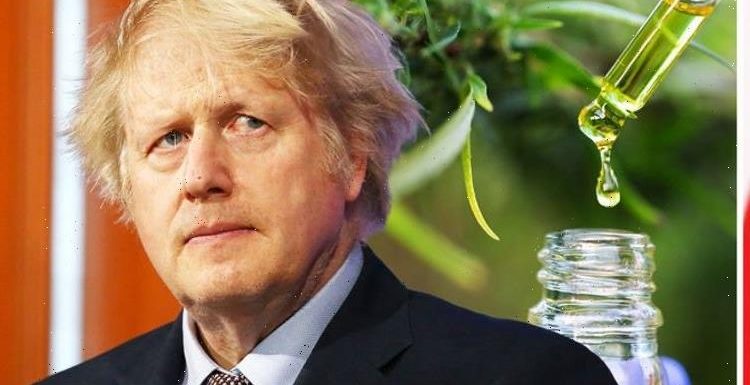 Hyde Park: Crowds gather for pro-cannabis '420' event
We use your sign-up to provide content in ways you've consented to and to improve our understanding of you. This may include adverts from us and 3rd parties based on our understanding. You can unsubscribe at any time. More info
Drug policy think tank Volteface has called on Boris Johnson to make the most of the new market of medical cannabis and CBD products opened up by Brexit, which could provide a significant boost to the UK economy. Medical cannabis has been legal in the UK since 2018, and CBD-wellness sales are on an upward trend for UK consumers.
Volteface told Express.co.uk: "The UK CBD market – the biggest in Europe – and medical cannabis markets were previously hamstrung by bureaucratic decision-making made by the EU.
"Now the UK has left the single-market, the UK can lead on these burgeoning growth markets, but only if it acts fast."
A new report from the think tank suggests that the UK medical cannabis market could rack up to a huge £1.2 billion – ripe for UK businesses to tap into.
The report adds that employment could play a big part in this new, previously unchartered territory for the UK.
Volteface said: "The report's analysis also finds that the embracement of the sector could create an enormous 41,000 thousand direct jobs, and a further 17,000 supporting roles.
"The roles would be a mix of both skilled and unskilled jobs, and crucially could provide a major boost to British farmers that would level up middle-England."
They point to particular benefits for rural areas of the UK, adding: "Streamlining licensing of hemp growth and CBD extraction – possibly through the appointment of a cannabis tsar – would allow British farmers to prosper which could level up rural communities that have long been ignored by the Westminster elite."
A post-Brexit Britain, free as it is from EU restrictions on how cannabis is cultivated, is poised to make the most of the possibilities of an emerging market.
Katya Kowalski, Head of Strategy at Volteface and lead author of the report, said: "It is an exciting time for the UK cannabis industry, as it stands on the brink of expansion.
"The space must capitalise on sustainable growth and encourage innovation in order to be seen as a serious industry.
"The report's findings indicate the opportunity for a lucrative market is there.
"Now the UK must work toward streamlined development so the sector truly takes off."
DON'T MISS:
Covid cases mapped: Cases jump 74 percent – but is your area at risk? [MAP]
Priti Patel POLL: Is Home Secretary doing a good job? [POLL]
Farage humiliates Dem Senator over Biden's slumping popularity [REPORT]
This comes a week after Germany announced that the new governing coalition is looking to legalise adult use of cannabis for recreational purposes.
They would be the first European country to legalise cannabis for recreation, having permitted its use for limited medicinal purposes.
Various other European countries have decriminalised its use, which is a step down from full legalisation.
With European countries on the cusp of changing their attitudes and their legislation towards cannabis, it could be a lucrative market now that the UK is not subject to the same guidelines as EU countries on its strength and cultivation.
Daniel Pryor, Head of Programmes at the Adam Smith Institute and author of the report's foreword, said: "The UK is in a unique position to reap the benefits of medical cannabis and CBD.
"Thanks to our sensible, liberal approach to regulation, these fast-growing markets are already attracting innovation, investment and jobs to our shores.
"But we can still do much more to become the European leader in these sectors, bringing huge benefits to patients and the economy whilst cementing our reputation as a global centre for excellence in research and development."
Source: Read Full Article