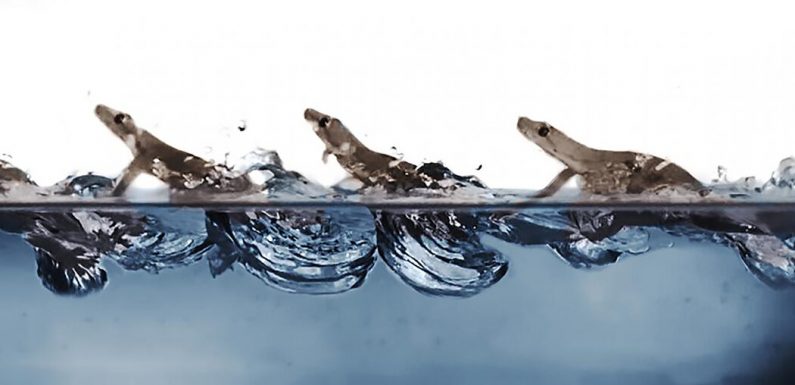 Plus: squirrel acrobats, gecko navigators, hair thieves and other natural overachievers in the Friday edition of Science Times.
By Alan Burdick
Maybe every athlete went into the Tokyo Olympics secretly worried that they hadn't prepared sufficiently for the challenge. I know I did. Would my performance be affected by the 13-hour time difference? Could I handle the long hours in front of a screen while juggling my beer and ice cream?
Fortunately, my months of indoor pandemic training — "Ted Lasso," "The Last Dance," "Sunderland 'Til I Die" — paid off. The rewards of the past two weeks have been myriad, delightful and often astonishing. Britain's Charlotte Worthington landing a 360-degree back flip to win the women's freestyle BMX. Carissa Moore of Hawaii with the first-ever gold medal in women's surfing. Those exuberant high-jumpers. Katie Ledecky. Allyson Felix.
For every other organism on Earth, competition is a strictly Malthusian affair: hunt, hide, grow, spawn, repeat. Over evolutionary time that tension has resulted in wondrous morphological adaptations. Velvet worms. Ultraviolet flying squirrels. Electroactive bacteria. Anglerfish and their live-in boyfriends.
Humans might be the first species for which this sort of competition has ceased to matter. (Of course, only a species with a disproportionally large cerebral cortex would dare think so.) So we invented the Olympics, a showcase of human drive at its purest and most niche. Canoe slalom. Hammer throw. Trampoline gymnastics. Table tennis. There's meta-competition too: new sports rising up, duller ones (croquet, anyone?) going extinct.
It's fair to ask if such a species couldn't devise and televise an even nobler competitive outlet. "What if nations competed on the best programs to reduce maternal mortality?" the novelist Joyce Hackett wondered on Facebook. "Competitive literacy rates! Countries with the most new readers reach the finals, and then formerly illiterate citizens declaim their country's greatest poets for the win."
In under a year — a record pace — we developed not one but several vaccines against the deadliest virus in a century. But we're still struggling to persuade enough people to take them, even as the virus spins out new variants of itself — Alpha, Beta, Delta — as if for a Greek contest of its own. We suppose we're done with old-school competition, but it isn't done with us.
Already some observers are wondering whether the Olympics has run its course as an enterprise. The extreme heat and humidity in Tokyo has taken a punishing toll on athletes — climbers, swimmers, runners, tennis players. (Belgium's field hockey team prepared for the conditions by training in a heat chamber, and the Olympic marathon is being held 500 cooler miles away.) A 2016 study in The Lancet found that global warming will greatly restrict where future Summer Games can be held. Winter athletes are increasingly limited in where they can train. Our competitiveness may be putting us out of the competition business, literally and figuratively.
Latest Updates
This will make for dispiriting viewing, to say nothing of a dispiriting living experience on Earth. How will we amuse ourselves when the marvels of human sport and the natural world begin to run dry? Marble racing, maybe. Kitchen athletics. No doubt one way or another, for better or worse, we'll always have curling.
What we're metabolizing lately
Carl Zimmer talks with Emma Marris, author of "Wild Souls: Freedom and Flourishing in the Nonhuman World," on Book Passage.
If you've been wondering how a piano would sound on Mars, Aeon can explain.
Clive Thompson in Wired gets to the heart of why to-do lists so often fail to help us get stuff done: "Every to-do list is, ultimately, about death."
A real-life SpongeBob and Patrick were recently spotted on a seamount 1,885 meters deep.
And someone had to ask: What if Olympic athletes went back to competing naked?
Sync your calendar with the solar system
Never miss an eclipse, a meteor shower, a rocket launch or any other astronomical and space event that's out of this world.
More Newsletters You Might Like
Site Index
Site Information Navigation
Source: Read Full Article