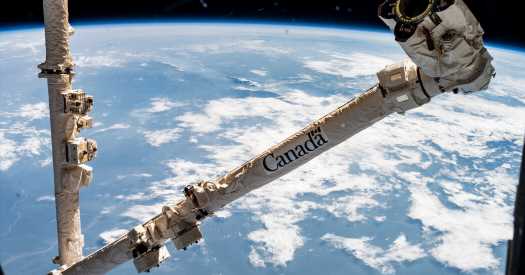 The space program in Canada may not have a whopping budget, but it does have one thing that other countries don't: a spot aboard NASA's Artemis II mission to the moon.
Jeremy Hansen, an astronaut from London, Ontario, will join three Americans on Artemis II, the first crewed mission to the moon in more than 50 years.
"I think it's a really nice reflection of the long partnership between Canada and the United States," said Chris Hadfield, who joined NASA on three missions to orbit, performed the first spacewalk by a Canadian astronaut and commanded the International Space Station before retiring.
Mr. Hansen, 47, praised American leadership and the work of Canada's scientists, engineers, military and government after he was introduced at Johnson Space Center in Houston on Monday.
"All of our leadership, working together under a vision," that he said went "step by step." He said those efforts "added up to this moment where a Canadian is going to the moon with our international partnership, and it is glorious."
The Canadian Space Agency secured Mr. Hansen's spot in 2020 through an agreement with NASA. Canada committed to provide a robotic arm called the Canadarm3 for Gateway, an American-led outpost that is to orbit the moon.
Canada was the first country to back Gateway in 2019, building on its expertise in robotic arms such as the Canadarm2, which has been used by astronauts on the International Space Station since 2011. The next-generation robotic system, Canadarm3, will use artificial intelligence to automate tasks like moving tools around the Gateway outpost and conducting repairs.
This complex engineering feat will be bolstered by part of the 2.5 billion Canadian dollars announced in the federal budget last week. Roughly 1.1 billion of those funds will support the country's presence at the International Space Station until 2023. The government is also committing 1.2 billion dollars toward a lunar utility vehicle to help astronauts on the moon.
Still, the government's spending lags behind other countries.
"Canada has always punched above its weight when you look at the relatively small space budget we have," said Gordon Osinski, a planetary geologist at Western University in London, Ontario, who is training potential Artemis astronauts in geology.
Mr. Hadfield said Canada's ties to the American space program go back decades, to the launch of the Canadian-built Alouette 1 satellite on an American rocket. Canada was the third country, after the Soviet Union and the United States, to get a satellite to orbit.
Canada's space work force employs more than 10,000 people. About one-third of companies in the sector reported hiring challenges for skilled positions, but it has seen bustling activity in commercialization despite an 11 percent dip in revenues from government-funded projects in 2019, according to a Canadian Space Agency report.
Some of the companies making waves in the sector are fairly new. Canadensys Aerospace Corporation, founded in 2013, was recently awarded the contract to build Canada's first moon rover and could launch as soon as 2026.
Dr. Osinski, who is also the principal investigator for that rover mission, said he's "incredibly excited" about the Monday announcement.
"To think that out of all the countries on Earth, we'll have a Canadian onboard Artemis II," he said, noting that Canada would be only the second country to send a person into deep space. "It's a big day."
Kenneth Chang contributed reporting.
Source: Read Full Article