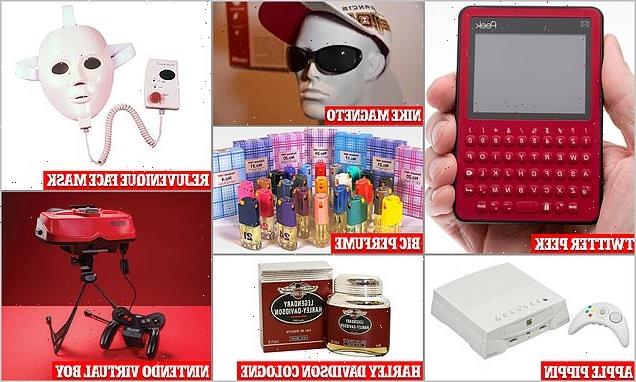 CES Wall of Shame: A scary face-toning mask deemed unsafe by the FDA and Nike sunglasses that stick to your head with magnets – just two of the 17 flops flaunted at tech show as a stark warning to wannabe inventors
The Consumer Electronics Show displayed The Gallery of Flops this year, which showcases failed products from big-name companies like Apple and Amazon
These include a tweeting-only smartphone, Nintendo's Virtual Boy and Apple's defunct Pippin game console
There is also a rejuvenating face mask that was declared unsafe by the FDA, Harley Davidson cologne and sunglasses that attach to the head with magnets 
If you are convinced you have invented the next big thing in the world of tech, you may want to think again.
As a stark warning to wannabe entrepreneurs everywhere, the annual Consumer Electronics Show (CES) in Las Vegas has this year displayed 'The Gallery of Flops' – the first in its history.
From a scary face-toning mask deemed unsafe by the FDA to a Harley Davidson cologne that will leave you smelling like tobacco, CES showcased 17 innovations that crashed and burned.
Many are the failed products are from powerhouses such as Apple, Amazon and Nintendo – which can afford to lose a few million dollars here and there. But such outcomes could be the end of a young startup.
Of the 17 items displayed in the CES Wall of Shame, here DailyMail.com has picked out ten of the worst…
The Consumer Electronics show is featuring The Gallery of Flops at the 2023 event. It features 17 failed products from big-name companies like Apple, Amazon and Ninetendo
Narek Vardanyan, founder of Prelaunch which designed The Gallery of Flops, told AFP: 'Many founders have this bias where they think they're geniuses and everything that they are doing is super right.'  
But about 80 percent of new products launched every year fail, often because founders fail to assess whether people are willing to spend money on what they are selling, Vardanyan added.
And as The Gallery of Flops shows that even the largest companies in the world can create doomed products.
Rejuvenique Face Mask: Device looks like a prop from a horror film
The products are on display inside cases with lids that allow attendees to open and interact with the device, like Rejuvenique Face Mask
Rejuvenique Face Mask: The device, launched in 1999, straps onto your head and tightens facial muscles using electrical stimulation. It claimed your skin would be youthful in just 12 weeks. The FDA declared it unsafe and it was pulled from the market
Rejuvenique Face Mask, launched in 1999, straps onto your head and tightens facial muscles using electrical stimulation. 
The 'specially designed gold-plated facial cushions' claimed to provide a workout for all 12 of your 'facial zones' to give you a youthful look. 
The company said users should use the mask for 15 minutes at least three times a week and it was 'clinically proven' to improve skin elasticity, reduction of crows feet, rinks and give you beautiful skin tone in just 12 weeks.
The Rejuvenique Face Mask required a nine-volt battery and came with a VHS owner's manual. It was sold for around $400.
However, the Food and Drug Administration (FDA) declared the mask unsafe in 2000 and, one year after it launched, stated that without FDA approval, 'marketing Rejuvenique is a violation of the law.'
Nike Magneto: Gluing magnets to your face did not sound appealing
These sunglasses debuted in 1995 – and were gone by 1997. 
Nike Magneto was designed without arms that tuck behind your ears. Instead, they used magnets that stuck to the wearer's temples.
The athletic company believed they were on to the next big thing with this futuristic design. 
Nike's vision for Magneto was met with mixed reactions, with most consumers opposed to gluing magnets to their faces.
Trevor Edwards, Nike's VP of global brand management, told Fast Company: 'Sometimes ideas are before their time. Perhaps we went too far with that idea, because we actually started to make it.' 
Harley Davidson Cologne: Sometimes it's better to stay in your lane
Harley Davidson is a household name in the motorcycle community and the company looked to capitalize on its brand in 1994 with a line of colognes.
The line was called 'Hot Road' and included Black Fire, Destiny, Legendary, Hot Rod and Territory – names of the company's motorcycles.
Harley Davidson cologne: The company launched the cologne line in 1994 with hints of tobacco. Fans were not sold and said Harley Davidson was 'Disneyfying' the brand
They all smelled like tobacco – but it was the $25 to $60 a bottle that fans really turned their nose up to.
Many accused Harley-Davidson of 'Disneyfying' the brand and believing more products equaled more sales. 
The colognes are not only at CES, but also on display at the Museum of Failure in Helsingborg, Sweden. It is not exactly clear when they were discontinued, but some sources note 1996.
Apple Pippin: The tech giant's first and only gaming system
Pippin hit the market in 1995, when the video gaming industry was booming. 
Legendary consoles like the Playstation 1 and Nintendo 64 saw the light and changed video game history when their games transitioned from 2D to 3D.
Apple Pippin: Apple's first and only gaming console hit the market in 1995 for nearly $600, but failed due to the high price and lack of games
Unsurprisingly, Apple wanted in on the action too. 
The tech giant expected to sell 500,000 units a year, touting Pippin as faster and more powerful than its competitors.
The issue was that Apple's Pippin cost about $600, while the Nintendo 64 consuls cost $200. 
In addition to the high price, there was a lack of games, and the Pippin flopped in 1997.
TwitterPeek: The device that did not quite peak
TwitterPeek, the single-use device, launched in 2009 – 15 years after Twitter hit the web.
The phone was similar to the BlackBerry smartphone, featuring buttons like a computer keyboard.
TwitterPeek: The single-use device in 2009, 15 years after Twitter hit the web. And only provided access to the social media platform
Users said the screen only displayed the first 20 characters of each message and reading an entire tweet involves users slowly scrolling
However, it only gave users access to Twitter, which meant people needed to carry around two phones in their pockets. 
Another issue was that the device did not tweet very well. 
The screen only displayed the first 20 characters of each message and reading an entire tweet involves users slowly scrolling down. It was pulled in 2010.
Nintendo Virtual Boy: Console that was 'game over' a year later
In 1995, Nintendo introduced Virtual Boy – an attempt to make a revolutionary 3D gaming experience. 
Virtual Boy was a tabletop video game console with a head-mounted display and a connected controller.
Nintendo Virtual Boy: Nintendo released a tabletop gaming console in 1995 that aimed to provide an immersive experience
The nail in the coffin was the bulky headset that caused users to lean forward while playing and suffer from neck pain
Nintendo sold the console for $179.95 but faced intense competition from Sony PlayStation and Sega Saturn.
Virtual Boy was also not easily communicated through traditional media. 
Nintendo relied on more text-heavy print advertisements to promote its fledgling console, while its competitors could use flashy footage and graphics to showcase theirs.
The nail in the coffin was the bulky headset that caused users to lean forward while playing and suffer from neck pain.
Nintendo pressed 'game over' for the console in 1996. 
Bic Perfume: French perfume bottled in a lighter-like spritzer
Bic is known for its lighters, pens and razors, but in 1989 the company launched a branded perfume called Parfum Bic.
The perfume was made in France and packaged in portable spritzers that looked like the company's lighters.
Parfum Bic retailed for just $5 a quarter-ounce, one-tenth the price of a typical French perfume. 
Bic Perfume: The company launched a line of French perfumes in 1989 which were bottled in spritzers that looked like lighters. It failed in 1991
But the late 80s and early 90s had seen a boom in branded perfumes. Gap, Tommy Hilfiger and Ralph Lauren all had a piece of the pie, leaving just a sliver for Bic's light-looking spritzers.
There were no Bic testers for customers to try out the scents. In the end, Parfums Bic pulled the fragrances from shelves in 1991 due to poor sales in the USA at a loss of $11 million.
iPod Hi-Fi: An unportable speaker designed to play a portable device 
When Apple first launched a speaker system for its iPod in 2006, it was a hit.
The iPod Hi-Fi featured a built-in dock and remote control and acted as a charging station for the iPod – and cost $394. 
iPod Hi-Fi: The speaker was a hit when it launched in 2006, but users realized that it was not a portable device, but played the iPod meant to take music on the go
However, the tech giant pulled it from shelves just 18 months later.
And the reason for its failure was simple: The iPod was for people to take their music anywhere, but the speaker was not designed for travel. 
The iPod Hi-Fi required six D batteries if it was not plugged into an electrical wall socket. And it was only $50 cheaper than an iPod.
Fire Phone: A smartphone that could not compete 
Amazon launched the Fire Phone in 2014 after the success of its Kindle and tablet – seemingly under the impression anything it released would be a success. 
Fire Phone was poised to take on Apple and Google, which dominated the smartphone market.
At launch, the handset cost $649 without a contract or $199 on a two-year deal with AT&T. 
Fire Phone: Amazon launched its first and only smartphone in 2014, but the lack of interest led to its demise in 2015
It was the first 3D-enabled smartphone and included the company's unique Firefly feature, which recognized everything from groceries to URLs through the device's camera.
Firefly allowed you to scan an item that would appear on the Amazon site. 
However, many of the features were geared toward the Amazon Store – pushing people to purchase more items from the site. 
But after just over a year, the Fire Phone vanished. The reasons for its demise were the price, a small app store and being late to market. 
DeLorean DMC-12: A car that did not make it to the future
The DeLorean DMC-12 became iconic when it was transformed into a time machine in the blockbuster Back to the Future films.
The prototype was built in 1976 when there were few competitors for this futuristic car. 
DeLorean DMC-12: The car became famous in the Back to the Future films, but production issues caused it to flop among consumers
The prototype was built in 1976 when there were few competitors for this futuristic car. The release was delayed and by that time, its competitors were already dominating the market
Production on the DeLorean was delayed for years and when it was finally released, the market was saturated with competitors.
It was marketed as a luxury sports car with futuristic wings as doors, but a severely underpowered engine meant the car was painfully slow. And many drivers did not think it was worth the $25,000.
Owners complained it was difficult to clean and the stainless steel panel required constant polishing.
DeLorean went into liquidation shortly after its founder, former General Motors executive John DeLorean, was arrested on drug charges and the company went bankrupt in 1982.
Source: Read Full Article