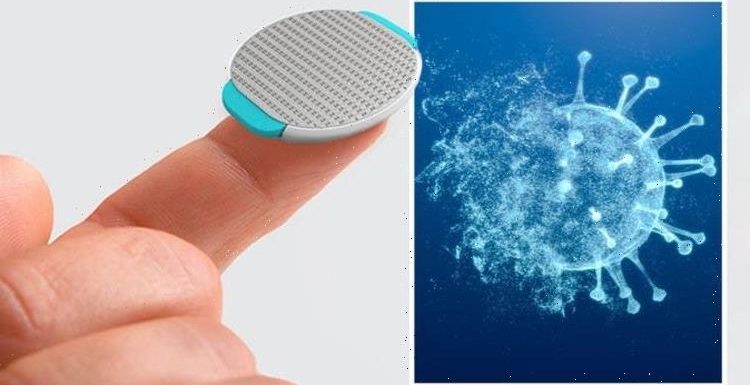 Kay Burley slams guest for 'absurd' point in vaccine debate
We use your sign-up to provide content in ways you've consented to and to improve our understanding of you. This may include adverts from us and 3rd parties based on our understanding. You can unsubscribe at any time. More info
Researchers believe the Emergex vaccine may offer longer immunity against the SARS-CoV-2 virus that causes COVID-19, when compared to the competition. Many of the Covid vaccines available today use genetic material from the coronavirus to instruct our cells on how to fight the infection. The Emergex vaccine utilises so-called T-cells – an integral part of the immune system – to kill infected cells.
This is done by releasing an antigen found on the surface of infected cells into the body that stimulates the production of T-cells.
The T-cells then track down cells with this antigen and trigger a "kill switch" to destroy it.
And unlike conventional jabs, the Emergex vaccine is administered through a thumbnail-sized skin patch lined with dozens of small needles.
Once applied, the vaccine is released into the body within seconds.
Another benefit of this technique is that the vaccine does not have to be stored in a freezer or fridge – instead, it can stay at room temperature for up to three months.
Robin Cohen, Chief Commercial Officer at Emergex Vaccines, commented: "Our T Cell priming vaccines may offer significant benefits over current COVID-19 vaccines including longer-lasting immunity and broader protection against new variants.
"We are proud to announce the initiation of this trial and look forward to gathering data to support the development of this important next-generation vaccine."
The first phase of the clinical trials will use randomised groups of 13 volunteers each, who will receive high and low doses of the vaccine.
The trials are expected to kick off in January next year under the supervision of Professor Blaise Gentonfrom the Center for Primary Care and Public Health at the University of Lausanne in Switzerland.
Beverley Turner and Owen Jones clash over covid vaccine
Professor Blaise said: "Although current COVID-19 vaccines have made significant progress in reducing mortality and morbidity challenges still remain, especially with the development of new variants.
"This exciting new scientific approach to developing a vaccine against SARS-CoV-2 addresses the need to generate a T-cell response to elicit long term immunity.
"We look forward to evaluating the results as when they are available."
In September this year, researchers at Stanford University and the University of North Carolina at Chapel Hill have also announced they had developed a 3D-printed microneedle patch used to deliver vaccines.
The patch contains 100 tiny needles each measuring just 700 micrometres long – just enough to penetrate the skin to deliver the vaccine.
The patch had been tested on mice and was found to produce an antibody response 20 times higher than a traditional jab after three weeks, and up to 50 times higher after a month.
Microbiologist Shaomin Tian said: "Our approach allows us to directly 3D-print the microneedles, which gives us lots of design latitude for making the best microneedles from a performance and cost point-of-view."
Researchers have also been looking into the possibility of administering Covid vaccines orally.
According to Vaccines Minister Nadhim Zahawi, the Government is assessing "technologies with pills" that are being developed around the globe.
One such pill is being developed by the US-based company ImmunityBio.
Mr Zahawi said: "There are technologies with pills and others being developed around the world and we will continue to look at those.
"But we're making sure the UK will always have the capability and capacity to manufacture the variant vaccines that will deal with any variant virus."
Source: Read Full Article