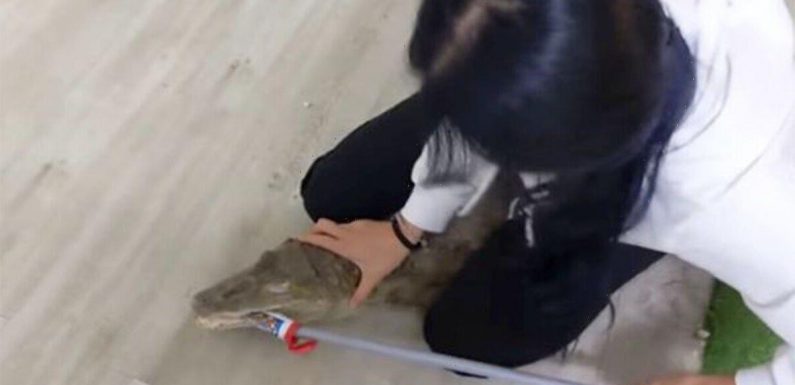 We use your sign-up to provide content in ways you've consented to and to improve our understanding of you. This may include adverts from us and 3rd parties based on our understanding. You can unsubscribe at any time. More info
Sashimi, from Taiwan, keeps six crocodiles and lets them roam free inside her home. She bought her first spectacled caiman reptile from a breeder in Taiwan, and has since developed a soft spot for crocs.
Posting a video on Facebook, Sashimi showed what happens when Phil, a central American caiman, gets hold of something in his mouth.
In the clip, she casually grabs the 1.5 metre-long reptile from under the sofa and finds him eating a Smarties tube.
She says "hey Phil, come here!" while trying to stop the crocodile from walking further away, telling the creature: "Alright, stop biting! Let it go!"
Sashimi decides to sit on the reptile's back after Phil doesn't let go of his toy.
She uses a mop handle to get rid of the plastic tube to avoid her hands being chomped down on.
In another video, Phil is seen walking around the house with Sashimi's trainers in his mouth.
She said in the clip: "He is obsessed with my shoes and I just don't understand it.
"Phil has done it again and my shoes keep 'disappearing'."
Asked if crocodiles can bond with humans and become their "best friends", Sashimi told the Daily Star the reptiles are much more affectionate than most people think.
She told the outlet: "People usually think crocodiles won't feel any pain because they have no feelings, that's actually not true.
"They have a layer of skin-like tissue underneath the scutes, which are essentially horny patches of thickened skins.
"If you touch the 'soft spot' in between the scutes, they can sense it and react to it."
DON'T MISS
Ukraine LIVE: Putin's defence minister tipped as successor
Starmer humiliated as key London borough flips
McCanns dealt horror blow as Germans slap down 'total nonsense' claim
In the UK, you can legally have a crocodile as a pet, but must declare it to authorities and have a licence for the reptile.
Under the Dangerous Wild Animals Act (1976), you need a Government-regulated DWA licence to be able to keep certain animals considered to be wild, dangerous or exotic.
Applying for a crocodile licence involves applying to your local council and adhering to strict conditions regarding their habitat.
The 2021 survey carried out by the wild animal welfare charity Born Free, discovered there are 158 crocodilians kept as pets in the UK.
Source: Read Full Article