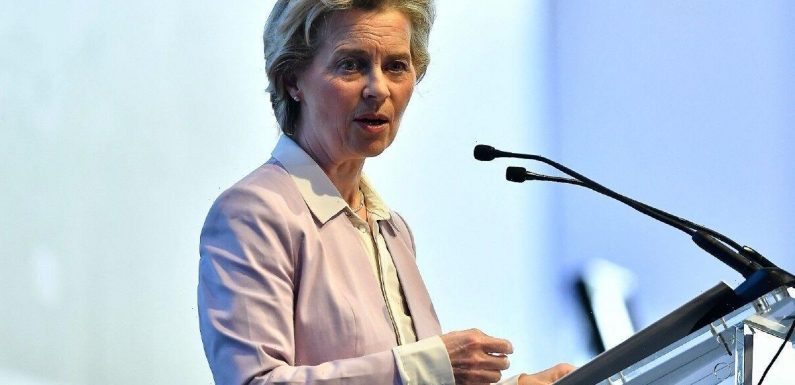 Ursula von der Leyen lays out further sanctions on Russia
We use your sign-up to provide content in ways you've consented to and to improve our understanding of you. This may include adverts from us and 3rd parties based on our understanding. You can unsubscribe at any time. More info
The European Commission has had to suggest changes to the planned embargo of Russian oil after Hungary, Slovakia and the Czech Republic unleashed their fury at the plans. Greece, Malta and Cyprus also had concerns. It comes after Commission President Ms Von der Leyen announced this week plans to completely ban all Russian oil from Europe as Vladimir Putin continues to unleash havoc in Ukraine.
She said in the proposal to European Parliament this week: "This will be a complete ban on all Russian oil, seaborn and pipeline, crude and refined.
"We will make sure that we phase out Russian oil in an orderly fashion so in a way that allows us and our partners to secure alternative supply routes and at the same time be very careful that we minimise the impact on the global market."
But the proposal was torn apart by the rebel states which argued that more time was needed for their economies to cope with the embargo.
According the EU sources, Euractiv reports that an amended proposal would give the rebel nations more help to upgrade their oil infrastructure.
It came after Slovakia tore apart the EU's original plan as it stressed it needed more time to search for alternative fuel, despite being given a year longer, along with Hungary, than the rest of the bloc to adapt to the ban.
Slovakian Deputy Economy Minister Karol Galek told Politico: "This is unfortunately not enough.
"We are expecting at least three years."
Hungary also rejected the proposal on similar grounds.
Budapest has argued that the oil sanctions do not provide any guarantees for its energy security and has demanded that the plan be changed.
The Czech Republic also called for a longer phase period or exemption like that Hungary and Slovakia were permitted.
The amendment to the EU plans would allow a three-month transition before banning EU ships from moving Russian oil, marking a change from the one month that was initially proposed.
This comes after the original plan sparked concerns among Greece, Malta and Cyprus over their shipping companies
All three nations expressed fears about this proposal to ban oil tankers under the EU flag or under EU control from carrying Russian oil as they were worried that ships from other countries will take over.
But the large bulk of EU members appeared to agree that a ban on Russian oil tankers will be able to batter Vladimir Putin's economy as the EU hands a staggering amount to Russia for oil imports.
DON'T MISS
Russia threatens to make UK 'radioactive wasteland' [REVEAL]
Russia's 'only oil pipeline to EU' in flames – 3 countries face crisis [REPORT]
Putin outsmarts EU as oil still being delivered via backdoor route [INSIGHT]
Last year, the EU imported €48.5billion (£38billion) of crude oil in 2021, and €22.5billion (£19billion) of petroleum oils other than crude.
And it currently still relies on Russia for 26 percent of its oil imports.
Ukrainian energy advisor Pavlo Kutvah told Express.co.uk that Ms von der Leyen's plan will deal a "huge blow" to Putin.
He said: "The Russian economic model is that of a gas station essentially. They are selling oil and gas and that is their main revenue, and this is what funds both their corrupt elite and their war effort.
"So, of course, any kind of hit to that is a huge blow to the Russian economy and a huge step towards pacifying Russia."
Source: Read Full Article