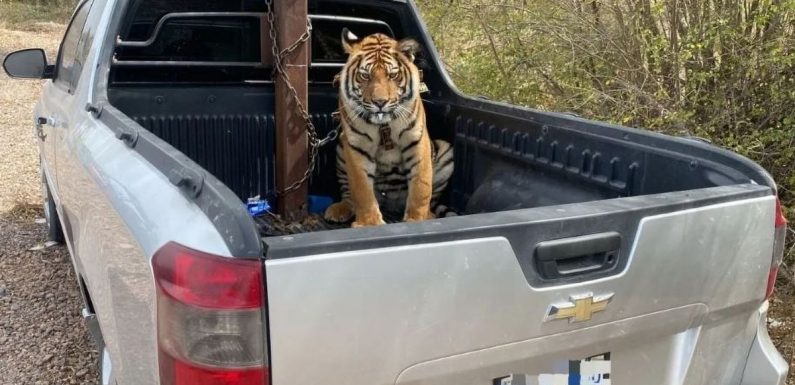 Members of the former cartel of notorious gangster El Chapo abandoned a truck with a tiger still in the back after a car chase and shootout.
A ferocious gun battle with Mexican troops erupted on April 3 and caused members of the cartel to flee – leaving a Bengal tiger in one of their vehicles in Culiacan in Sinaloa.
The convoy of vehicles was spotted by members of a Mexican anti-drug unit and, seeing the tiger in the back of a pickup truck, suspected that it was narcos.
READ MORE: Stoner Stone Age revellers busted for taking drugs at 'cave raves' 3,000 years ago
They are understood to have been members of the Sinaloa Cartel – although who exactly the tiger belonged to remains unknown.
The members of the National Guard and the Mexican Army saw the three-strong convoy and decided to approach, ultimately leading to a gunfight breaking out.
A chase followed with the members of the military firing at the convoy, but they didn't get far and soon the narcos abandoned the cars and legged it into a nearby forest.
Footage of the aftermath of the shootout has since made its way online and shows the truck – complete with a live tiger – riddled with bullet holes.
Drug cartel thugs behead captive in broad daylight in chilling ISIS-style clip
The tiger, despite having just been at the heart of a huge gun battle, seems largely unbothered.
Narcos and big cats have long been synonymous with former Sinaloa Cartel leader El Chapo himself keeping a pride of lions as his own private zoo.
Members of the gang fled the scene on foot, leaving behind their guns and ammunition as well as the beautiful apex predator.
The tiger, guns, ammo and cars were all taken into custody by authorities.
The beast was initially taken to Culiacan Zoo but was soon moved on to the nearby Ostok animal shelter.
Federal Attorney for Environmental Protection (Profepa) said the tiger was in good health and aged between 11 and 12 months at the time of its seizure.
It was not aggressive and deemed comfortable around human company.
To get more stories from the Daily Star delivered straight to your inbox sign up to one of our free newsletters here .
READ NEXT:
Infamous drug lord El Chapo's glam ex-lawyer launches new career as singer
Mexico's 'J. Edgar Hoover' guilty of taking millions from El Chapo cartel
'I kept Anthony Joshua out of jail, took on strongman tasered 14 times and then FBI'
El Chapo's son breaks silence from inside prison following arrest with one-word message
Jailed El Chapo top brass 'The Engineer' who used drug submarines hatching escape plan
Source: Read Full Article