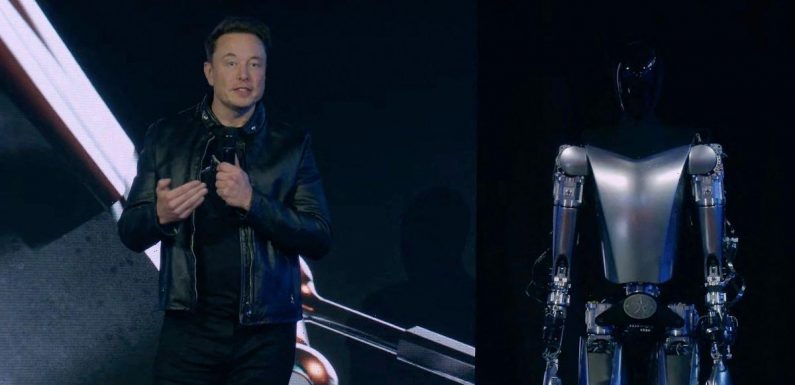 Maverick billionaire Elon Musk has unveiled phase three of his "Master Plan" for humanity, which is – he promises – "sustainable energy of all of Earth".
Musk revealed the wildly ambitious scheme at a Tesla "investor day" where he was supposed to be updating shareholders on the company's progress with the much-discussed Cybertruck and other projects.
But instead of dwelling on his company's short-term prospects the South African-born tycoon made a series of bold, sweeping announcements about his grand plan for the future of mankind.
READ MORE: Elon Musk says it's 'high time mankind built permanent occupied base on the Moon'
He spoke about various eco technologies such as heat pumps, "green" hydrogen, electric boats and planes – and suggested that Tesla might at some point get involved in them.
Musk also offered a vision of the future where humans were outnumbered by robots, as a video presentation about the company's prototype Optimus robot played on a giant video screen behind him.
"Assuming the things I'm saying are true… well, I think they are true, it's just a matter of timing," he said, there would soon be more Optimus type robots than people.
"It's not even clear what an economy means at that point," the billionaire added – suggesting a "Star Trek-style" post-scarcity society where money becomes irrelevant.
NASA project boss predicts humans will be living on the Moon 'within this decade'
After hinting that the next generation of electric cars would be much cheaper than current models, the richest man on Earth then left it to his underlings to outline a few developments in Tesla's day-to-day car-making business.
However, the entire Tesla presentation was accompanied by a comprehensive 500-word disclaimer which made clear that any promises made by any of the company's representatives – including its outspoken boss – weren't necessarily guarantees.
"Certain statements in this presentation…" the disclaimer said, "… are 'forward-looking statements' that are subject to risks and uncertainties".
To stay up to date with all the latest news, make sure you sign up for one of our free newsletters here .
After a long list of details about things that could prevent any of the company's predictions from coming true, the statement concluded: "Tesla disclaims any obligation to update information contained in these forward-looking statements whether as a result of new information, future events or otherwise."
As the presentation concluded, Musk tweeted: "Detailed whitepaper with calculations and assumptions to be released by Tesla shortly"
READ MORE:
Elon Musk in hysterics at 'new manager' course email from Twitter following takeover
Elon Musk's Twitter takeover sees users move to little-known rival after dubious changes
Elon Musk loses £8bn net worth since buying Twitter – but he's still world's richest man
What is a Twitter blue tick and how do you get one as Elon Musk unveils fee plans
Source: Read Full Article