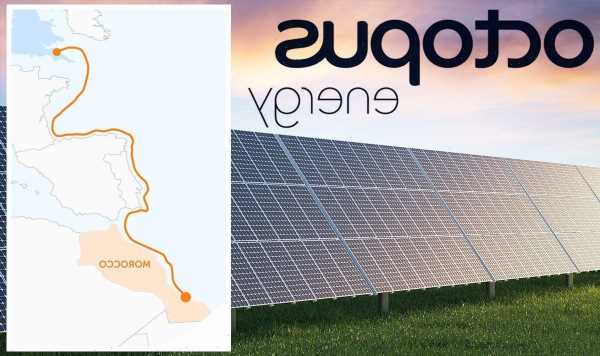 UK 'hasn't invested enough' in domestic energy says Johnson
We use your sign-up to provide content in ways you've consented to and to improve our understanding of you. This may include adverts from us and 3rd parties based on our understanding. You can unsubscribe at any time. More info
Octopus, the British energy firm, is collaborating with Xlinks, to build the world's longest undersea power cable, that will provide enough energy to power seven million British homes. The 3,800km-long subsea cables will connect the UK to a huge solar farm in Morocco. This cable will harness energy from Guelmim Oued Noun in Morocco and is expected to generate 10.5GW of zero-carbon electricity from the sun and 3.6 GW of wind energy for an average of 20+ hours a day.
Xlinks has stated that the cable will provide clean energy at half the price of what the UK will pay for their upcoming nuclear power plant Hinkley Point C.
At £48/MWH, the expected cost of the energy from the Xlinks cable is far lower than the £92.50 that the Government has agreed to pay for Hinkley Point C, which could help ease the current energy price spike.
Building renewable energy capacity rapidly has been considered a major necessity since Russia's invasion of Ukraine highlighted Europe's dependence on Russian fossil fuel exports.
The Project is expected to take four years to produce, costing around £16billion, half of which is for constructing the cable.
Greg Jackson, founder of Octopus Energy Group, who also personally invested in the project a number of years ago to demonstrate his support, comments: "Going green will cut energy costs for Britain.
"Freeing ourselves from volatile fossil fuels was already important to help combat climate change, but it's now clear we need to do this for affordability and security.
"Layering different sources of green energy helps answer the question 'what do we do when the wind's not blowing'.
"This project is magic because it's all proven technology – on a huge and ambitious scale.
"The renewables revolution has not just begun, it's now accelerating at an unprecedented pace for the good of people and the planet."
Powering seven million homes in the UK, this cable will account for about eight percent of the country's energy needs.
Morocco has become a major leader in solar energy, with the country benefiting from having one of the highest rates of solar insolation – or power per unit area – in the world.
According to Xlinks, Morocco benefits from ideal solar and wind resources, required to develop renewable projects that could guarantee suitable power production throughout the year.
The country's proximity to the equator also means that, even on the shortest winter day, Morocco receives over 10 hours of sunshine, providing a consistent source of electricity year-round.
Simon Morrish, CEO of Xlinks, says: "This partnership presents an enormous opportunity to bring down energy bills significantly and help the UK achieve net zero.
"The investment demonstrates the ambition of both Xlinks and Octopus to deliver a cheaper, greener future for the UK public."
Source: Read Full Article