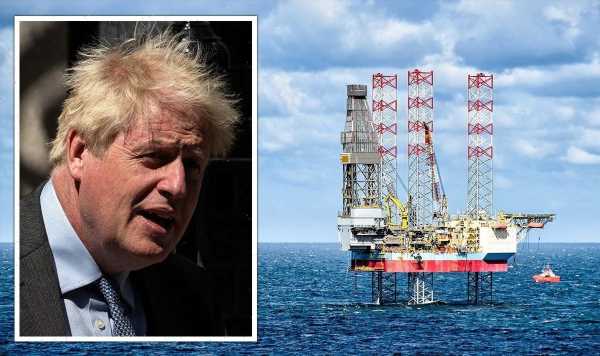 Electric diggers showcased on energy efficient construction site
We use your sign-up to provide content in ways you've consented to and to improve our understanding of you. This may include adverts from us and 3rd parties based on our understanding. You can unsubscribe at any time. More info
Centrica, a UK-based international energy company has struck a major deal with Norway's Equinor to secure Britain's energy with an additional one billion cubic meters (bcm) of gas supplies for each of the next three winters. As Russia's invasion of Ukraine drags on, European countries are scrambling to find replacements after relying on Moscow for a large portion of their supply.
This new gas supply agreement will see Equinor deliver to Centrica sufficient gas over the coming three winters to heat an additional 4.5 million homes.
The company will now purchase a total of 10 bcm of gas per year from Equinor, which constitutes a significant portion of the country's typical yearly gas demand.
Britain will now rely on Norway for about a third of its requirements, as the two countries deepen their relationship over North Sea oil and gas extraction.
Business and Energy Secretary Kwasi Kwarteng said: "While we ramp up cheap renewables and accelerate British nuclear to boost our greater energy independence, we will still need natural gas for many decades to come.
"With Russia's criminal invasion of Ukraine, it is more important than ever that we source more of the gas we need domestically, but also from safe and reliable import partners while we transition.
"We cannot, and will not, turn off the taps overnight.
"This major supply deal agreed today will help underpin British energy security over the next few years, and also reinforce our partnership with Norway as a key international energy ally."
Meanwhile, European countries have been left scrambling after Russian President Vladimir Putin throttled gas supplies flowing through the Nord Stream pipeline earlier this week.
Gazprom, the Russian state-backed gas behemoth announced on Tuesday that it would cut gas supplies flowing through the Nord Stream pipeline on account of repair work on compressor units by German company Siemens.
However, Germany pushed back against this justification, calling it a "political decision" intended to drive up prices.
Chris O'Shea, Centrica Group Chief Executive, said: ''This agreement is good news for our customers and the country. At a time when energy security is paramount, I'm pleased that we are able to do our bit to ease the pressure and provide some more certainty ahead of what may be a difficult winter.
DON'T MISS:
Mars mystery as rover spots shiny silver litter on Red Planet [REPORT]
UK tipped to 'go in and kick Putin out' of Ukraine [INSIGHT]
Putin makes mistake as nuke threat to UK BACKFIRES [REVEAL]
"As Britain's biggest gas and electricity supplier we take our responsibility to over 8 million British Gas domestic and business customers very seriously.
"This important agreement with Equinor underpins vital domestic supplies and strengthens the strategic relationship between the UK and Norway.''
Source: Read Full Article