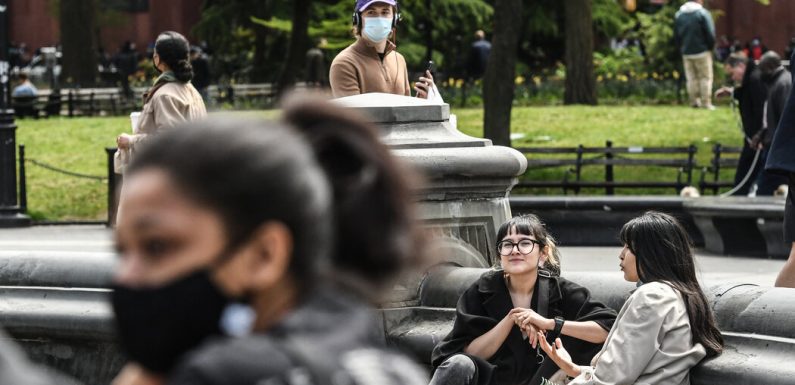 Officials offered mixed messages about masks in the early days of the coronavirus pandemic before embracing them as a simple but effective tool for slowing the spread of Covid-19.
By Marie Fazio
A lot has changed since early 2020, when countries around the world first realized the potential threat of a highly contagious, and still mysterious, flulike virus.
In the early days of the coronavirus pandemic, no one knew for sure how the virus spread. People were scrubbing their groceries. Governments urged people to stay home, to wash their hands frequently and to avoid touching their faces.
Masks quickly emerged as a point of confusion, as public health officials at first discouraged people from wearing them, citing shortages, and then endorsed them. Mask mandates became a flash point in the culture wars as states, counties and cities across the country adopted a patchwork of policies.
On Tuesday, the Centers for Disease Control and Prevention said that it was no longer necessary for fully vaccinated people to wear masks in small groups outdoors, bringing the public guidance in line with a growing body of research indicating that the risk of spreading the coronavirus is much greater indoors.
Here is how the public health guidance on masking in the United States has shifted since the start of the pandemic.
February 2020
'Stop buying masks,' surgeon general pleads
"Seriously people — STOP BUYING MASKS!" the surgeon general at the time, Dr. Jerome M. Adams, wrote on Twitter in February 2020. "They are NOT effective in preventing general public from catching #Coronavirus, but if health care providers can't get them to care for sick patients, it puts them and our communities at risk!"
Dr. Adams said in another post that the best way for people to avoid catching or spreading the coronavirus was by washing their hands often and by staying home if they felt sick.
At the time, masks — particularly N95s, which are thicker, fit more tightly around the mouth and nose, and block smaller particles than surgical masks do — were in high demand, leading to price gouging. Shortages abounded in hospitals across the country.
Even Dr. Anthony S. Fauci, the director of the National Institute of Allergy and Infectious Diseases, voiced concern at the time that urging Americans to wear masks could lead to even worse shortages of medical masks, including N95s.
Source: Read Full Article