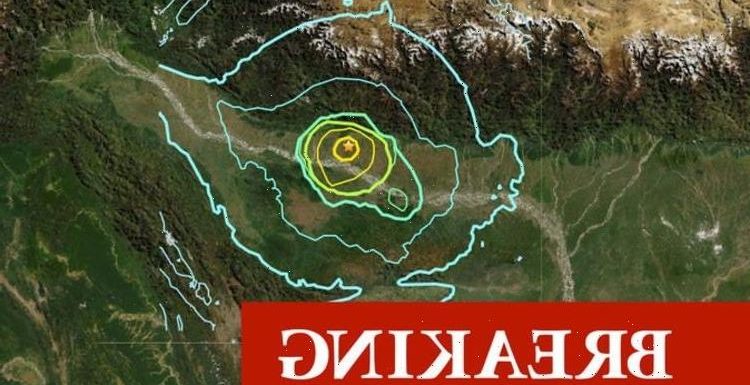 India 'took its eye off the ball with coronavirus' says expert
When you subscribe we will use the information you provide to send you these newsletters. Sometimes they'll include recommendations for other related newsletters or services we offer. Our Privacy Notice explains more about how we use your data, and your rights. You can unsubscribe at any time.
The Assam earthquake struck today at 7.51am local time and at a depth of 17km. The quake's epicentre was traced to the Sonitpur district in Assam. At least two aftershocks followed the powerful tremor, reaching magnitude 4 and 3.1 respectively. The earthquake struck amid the chaos caused by the deadly COVID-19 pandemic in India.
Houses were rattled and buildings were damaged, according to reports flooding social media.
A video shared to Twitter by Minister Himanta Biswa Sarma, showed water seeping out of the ground in the aftermath of the quake.
Tremors were felt as far the state of Meghalaya in northeast India and West Bengal.
Assam has been particularly stricken by the Covid pandemic, with up to 2,000 cases of COVID-19 in the past week along.
Last Sunday, the state reported 1,844 new cases and 14 deaths.
On the same day, there were nearly 16,000 active cases in Assam.
Responding to today's earthquake, India's Prime Minister Narendra Modi said on Twitter: "Spoke to Assam CM Shri @sarbanandsonwal Ji regarding the earthquake in parts of the state.
"Assured all possible help from the Centre. I pray for the well-being of the people of Assam."
Priyanka Gandhi Vadra, General Secretary of the Indian National Congress, also tweeted: "To my sisters and brothers in Assam who are now dealing with the double blow of an earthquake and the rampaging second wave of COVID, I send you my love and prayers."
According to India's National Centre for Seismology, the Assam earthquake peaked at a magnitude of 6.4.
As of 8am UTC, six aftershocks followed the main event, with Minister Sarma tweeting: "There has been at least six aftershocks felt in Assam since the massive 6.7 magnitude earthquake shook the state at 7.51am.
"Of the total 7 tremors, the epicentre of six was in Sonitpur district and one in Nagaon district."
Earthquake trackers at the US Geological Survey (USGS), meanwhile, have recorded a tremor at magnitude 6.
The USGS tracked the quake to within 5.6 miles (nine kilometres) northwest of Dhekiajuli in Sonitpur, Assam.
This is a breaking story. Refresh the page to see more.
Source: Read Full Article