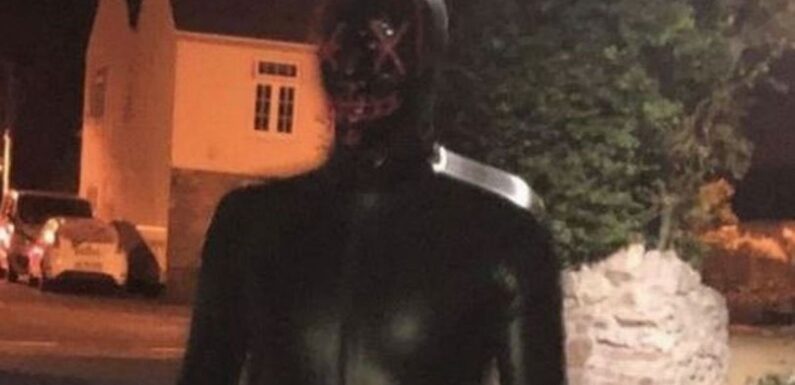 A victim of the 'Somerset gimp' fears that without "proper therapy," the creep could return to terrorising the community.
Alex Warren, 20, and his mate Charlie Bond bumped into Joshua Hunt in his gimp suit while walking home from the pub in Cleeve, North Somerset. Last week, self-employed gardener Hunt was found guilty of causing intentional harassment, alarm, or distress after scaring female drivers while dressed in a gimp suit.
The 32-year-old was fined £100 and ordered to pay £200 compensation to each of his victims and £620 in prosecution costs.
READ MORE: Somerset Gimp 'was sexually motivated' and hit with five year ban from skulking around
Initially, he was charged with outraging public decency when he confronted the pair of chefs. But the CPS let Hunt off the hook, writing to Mr Warren in June, stating that "the audio footage captured on the mobile phone (taken by Mr Warren) suggests it did not impact you in that way".
Despite laughing and offering Hunt a cigarette before sending him on his way, the chef, from Yatton, said that he was still affected by the incident.
He explained: "The week after, I was walking back from Cleeve shops. I was already a little bit on edge but played it off. As I walked around the corner, I could see a pretty big guy walking towards me, shrouded in darkness.
"I tensed up and had a can of Monster in my hand ready to batter him because all I could think of after the incident," he said after he encountered the random man.
"All the things you don't think of in the moment because you are paralysed trying to process it – because it's so absurd."
Four Ebola-like viruses will kill 12 times more people by 2050, scientists warn
Despite being affected by the incident, he believes that prison "doesn't work" and that Hunt needs "proper therapy" from specialists.
"If he reoffends I think depends on how well he is rehabilitated," he said. "He needs proper rehab with specialist experts to try and help him.
"He needs therapy, and I don't think prison will work. I think it will either fuel him from the isolation – I can't imagine he'll have much contact with his family, and he'll get even worse. I can't see how that will be an effective way forward. I don't want to undermine the feelings of the women or the girls who were alone."
Bloke with 'worst criminal record you've seen' jailed after committing 517th offence
Mr Hunt was speaking ahead of giving a statement to magistrates on Friday as part of Avon and Somerset Constabulary's application to extend a Sexual Risk Order.
The order has already been granted on an interim basis and prohibits Hunt from possessing specific items of clothing and acting in certain ways. If he breaches this condition of the order, he could be arrested.
Despite appearing to take the confrontation well, Mr Warren says it still affected him.
"It definitely impacted me – anything that happens to anyone impacts them," he said. "There were a few incidents afterwards where I could directly link my behaviour to that night."
He explained his laugh on the night was a "nervous" one.
To stay up to date with all the latest news, make sure you sign up to one of our newsletters here.
Source: Read Full Article